Trading the overshoot
Unilever (UL) sold off Tuesday on acquisition bid
Stock dropped to lowest low since March 2020
Volatility spike pushed up some options more than 500%
Even though surprises—unpleasant or otherwise—are an unavoidable part of the markets, one of the things that distinguishes successful investors and traders is not giving in to emotions in the face of a "news shock."
The ability to take a beat and assess the situation can sometimes mean the difference between, say, selling out at a low and potentially benefiting from a temporary market dislocation.
For example, household products company Unilever (UL) fell sharply on Tuesday, but not (just) because the rest of the market was on the decline. The stock sold off more than 14% after the company announced a $68 billion bid for the consumer health arm of GlaxoSmithKline (GSK). The move dropped UL shares to their lowest point ($46.07) since March 2020: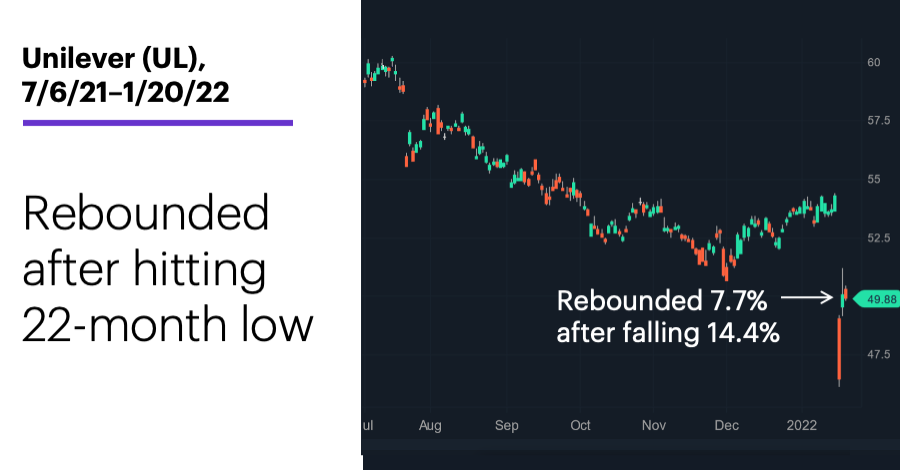 Source: Power E*TRADE. (For illustrative purposes. Not a recommendation.)
---
That was just the beginning of the volatility saga. Although UL closed near its intraday low on Tuesday, it jumped out of the box on Wednesday and, unlike the broad market, held on to close in positive territory, up nearly 8%. By late Wednesday, reports emerged that UL had effectively abandoned its bid, which GSK described as "fundamentally undervalued."1
The original acquisition announcement—which one activist hedge fund UL shareholder described as a "near-death experience"2—was the type of news shock that often produces two related events: a price overshoot, and a surge in options implied volatility (IV). Even two days after the sell-off, Unilever's IV was a little more than 33% higher than it had been a week earlier:
Source: Power E*TRADE. (For illustrative purposes. Not a recommendation.)
---
In this case, the window certainly shut quickly, but traders who thought the stock's reaction to the acquisition news was overdone would have discovered that formerly deep out-of-the-money put options that were nearly worthless a day earlier had jumped to contract-high levels on Tuesday.
For example, the UL February $45 puts—which hadn't traded for a week—rallied nearly 600%, from $0.15 to $1.03. Traders who sold those puts expecting the stock to recover would have seen them fall back to $0.25 (-76%) on Wednesday: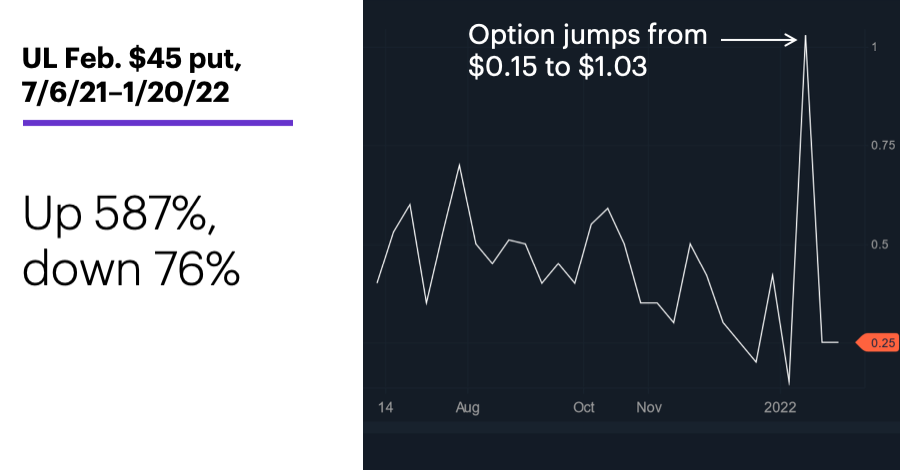 Source: Power E*TRADE. (For illustrative purposes. Not a recommendation.)
---
Tuesday was UL's biggest-volume day in nearly five years, so plenty of people were selling as the stock dropped, briefly, to a nearly two-year low. True, this was a somewhat unusual case—there was no way to know that UL would pull its bid almost as soon as it announced it—but the episode showed how potential overreactions to unexpected news can trigger even larger price dislocations in the options market.
But remembering that surprises often result in overreactions can lower emotions when the market is dialing up volatility—and that can help traders and investors avoid unnecessary errors, and potentially position themselves to take advantage of short-lived market opportunities.
Today's numbers include (all times ET): Leading Indicators (10 a.m.).
Today's earnings include: Schlumberger (SLB).
Click here to log on to your account or learn more about E*TRADE's trading platforms, or follow the Company on Twitter, @ETRADE, for useful trading and investing insights.
---
1 Barron's. Unilever Stock Rises After $68 Billion Bid for Glaxo's Consumer Arm Is Abandoned. 1/20/22.
2 Reuters. Shareholder Terry Smith labels Unilever's GSK bid "near death experience." 1/20/22.
What to read next...
01/20/22
The tech sector's recent underperformance comes with an important disclaimer for traders.
---
01/19/22
Will traders take note of this data stock's contrarian behavior on Tuesday?
---
01/18/22
Outside the oil patch, volatility continued to reign in the stock market.
---