Trading market relativity
FVRR options volatility appeared to be relatively low Wednesday
Volatility levels can help determine whether options are over- or underpriced
Stock has rallied more than 8% since testing May lows last week
While traders and investors crave certainty, the markets tend to deal in relativity—things that can be either high or low depending on what you compare them to. Yesterday may have been the most volatile day of the past two weeks for one of your favorite stocks, but it may also have been less volatile than average compared to all days over the past two years.
A different type of example popped up Wednesday morning when online freelancer marketplace Fiverr (FVRR) had relatively low options implied volatility (IV). In fact, its 30-day IV was around 43% below its 30-day historical volatility (HV)—meaning, the options market was expecting FVRR to be less volatile over the next 30 days than it was over the past 30 days. And that may have piqued the interest of options buyers, who often look for IV that is low relative to HV, since that can potentially mean options are underpriced. In this case, though, there was a possible snag in FVRR's "relatively low IV" condition:
Source: Power E*TRADE (For illustrative purposes. Not a recommendation.)
---
The bottom of the chart shows that IV was low relative to HV not because IV had dropped significantly, but because HV had soared in early August after FVRR's earnings release, which topped estimates but was accompanied by disappointing future guidance.1 Fiverr tumbled 24% to $175.06 on August 5, eventually trading as low as $158.50 last Thursday (testing its May lows) before rebounding more than 8% over the past four days.
Does that mean FVRR's IV isn't "relatively low" and its options are potentially overpriced? Not necessarily. The above chart also shows IV was near the lower end of its six-month range, while the following chart shows IV for FVRR September and October options was below average—perhaps not dramatically, but relatively low is better than relatively high for options buyers: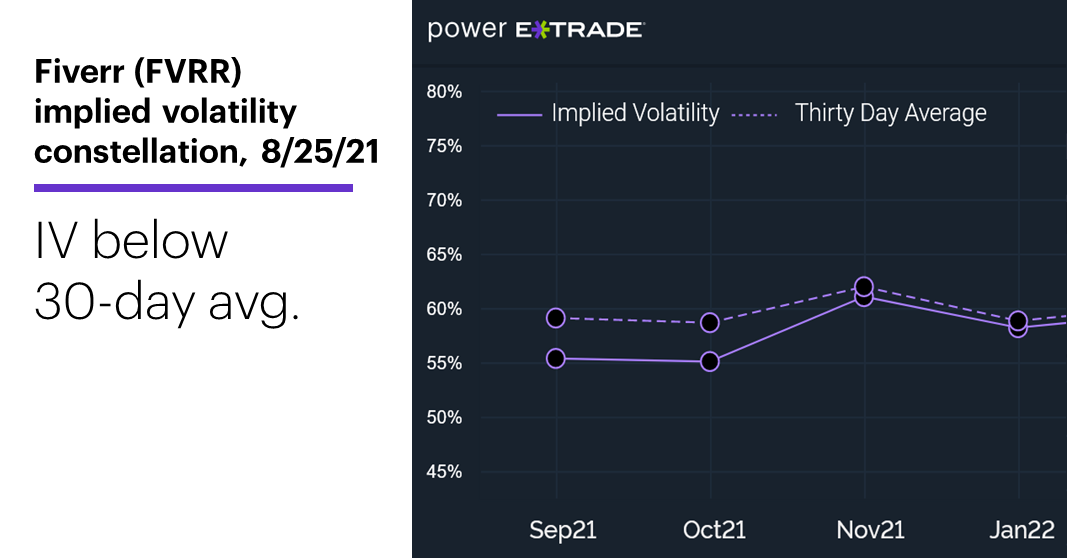 Source: Power E*TRADE (For illustrative purposes. Not a recommendation.)
---
So, while FVRR's IV might not have been as low as it initially appeared to be because of the comparison to HV, it was still leaning lower rather than higher.
The lesson: Traders interested in using volatility to identify potentially under- or overpriced options may want to triangulate different sources and time frames to make sure their "relatively low" and "relatively high" definitions are as comprehensive as possible.
Market Mover Update: NetEase (NTES) dipped yesterday, but not after putting together a move that illustrates the potential benefits of options as risk-management tools, especially when prices are swinging wildly (see "Options for volatile stocks"):
Source (data): Power E*TRADE. (For illustrative purposes. Not a recommendation.)
---
Traders who bought NTES when it tested its late-July low last Tuesday (when it closed at $83.76) and entered stop-loss orders below the market may have gotten knocked out of their positions when the stock dropped another 5.5% (to $77.97) by Thursday. But those who instead protected their positions with put options wouldn't have gotten shaken out of a stock that subsequently rallied 17.4% over the next three days.
For example, traders who went long NTES on the August 17 close could have bought October $80 puts for 4.82 ($482). Yesterday, those options were going for roughly 2.65 ($265), which means traders comfortable removing this protection could have sold their options and recouped more than half their initial cost.
Today's numbers include (all times ET): GDP (8:30 a.m.), weekly jobless claims (8:30 AM ET), Jackson Hole Economic Symposium begins.
Today's earnings include: Burlington Stores (BURL), Bill.com (BILL), Dollar General (DG), Dollar Tree (DLTR), Gap (GPS), HP (HPQ), Peloton (PTON), Marvell Technology (MRVL), Workday (WDAY).
Click here to log on to your account or learn more about E*TRADE's trading platforms, or follow the Company on Twitter, @ETRADE, for useful trading and investing insights
---
1 StreetInsider.com. Fiverr International (FVRR) Tops Q2 EPS by 9c, Guidance Misses. 8/5/21.
What to read next...
08/25/21
Initial appearances can be a dangerous guide to action in the markets.
---
08/24/21
Stock makes news for 52-week low, but that may have distracted from a more notable development.
---
08/23/21
Stocks will seek to build on late-week bounce after renewed taper talk and ongoing delta uncertainty tripped up market.
---