Trading earnings, patiently
Dollar General (DG) scheduled to announce earnings tomorrow
Stock in multi-week consolidation after strong rally off March lows
Crude oil pause presents strategic considerations for traders
While the dollar itself has been fighting a bearish trend in recent months, dollar stores—those places where you can buy all manner of merchandise for a buck (or so)—have been on a roll.
Both Dollar General (DG) and Dollar Tree (DLTR) have rallied around 50% off their March lows, although DG has been outperforming since late 2019, and DLTR closed the gap recently by virtue of soaring 14% after its November 24 earnings beat:
Source: Power E*TRADE
---
While DLTR topped earnings estimates during the pandemic, DG crushed theirs—topping forecasts by 51% in May and 28% in August.1 The company is scheduled to release its latest numbers tomorrow, which some traders may see as an opportunity for the stock to break out of the trading range it's been in since setting a record closing high in mid-October.
The following chart shows DG has recently pushed into the upper half of that consolidation, a little more than 2.5% below its high around $225, and roughly 6.8% above the low around $206: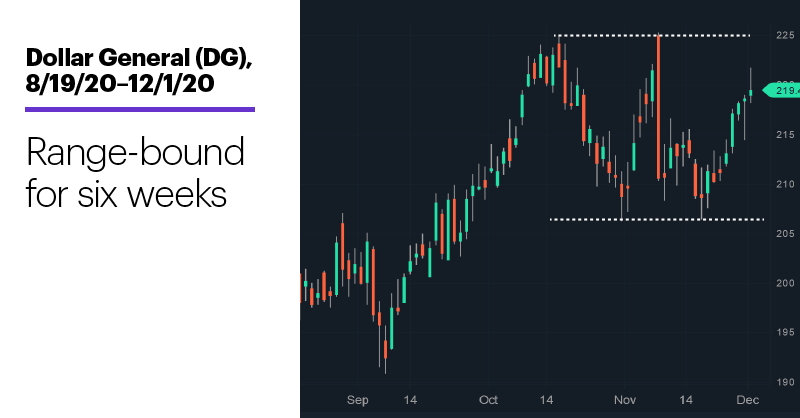 Source: Power E*TRADE
---
A typically volatile earnings rally or sell-off could easily hit either of those boundaries, which could prove to be important guideposts for short-term traders:
1. A pullback that doesn't violate the low of the range (e.g., by falling significantly below it or closing below it two or more days) may be seen as a buying opportunity by traders who think DG's longer-term bullish case is intact (the average Street analyst target is $2472). A decisive breakdown below the bottom of the range would open the possibility to a challenge of, say, the September low around $191.
2. While a rally above the top of the range to new highs could trigger stops and a short-term momentum move, experienced traders are familiar with the tendency of price breakouts to reverse after the initial move and test those levels (in this case, the top of the range) before resuming the trend—i.e., "second-chance" trades.
While there's no guarantee such a pullback will occur, patient traders who wait for these moves avoid chasing prices and reduce the odds of buying at a high.
In other words, in these situations, it's not about guessing correctly which way or how much a stock will move after earnings, it's whether a trader has a plan in place regardless of what it does.
Fill 'er up, check the oil. There's no mystery why energy stocks have been the strongest S&P 500 (SPX) sector over the past month or so—and it's just as clear why they've trailed the market over the past five days. The following chart of January WTI crude oil futures (CLF1) shows black gold has pulled back in recent days after an epic November rally: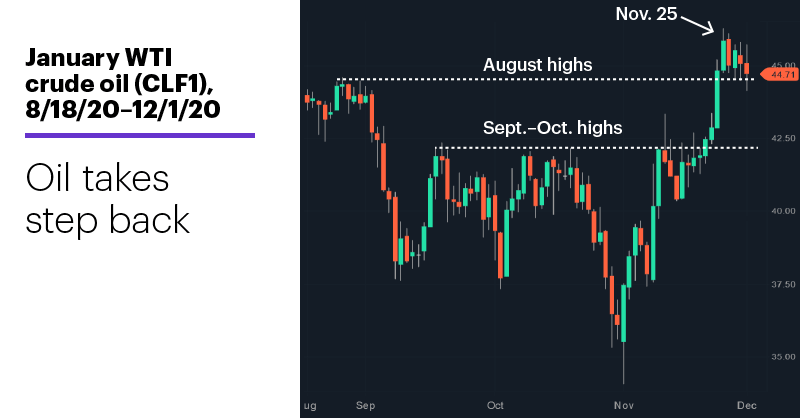 Source: Power E*TRADE
---
Crude oil, which was up 27% for the month at its November 25 high, has more than doubled the SPX's return over the past 30 days, and has even outperformed the red-hot Russell 2000 (RUT).
Its pullback/consolidation over the past four days—which has come amid the latest OPEC tussle over output levels3—dropped prices to the August highs. While some traders may see a relatively quick resolution of the OPEC debate (as well as vaccine optimism maintaining an edge over second-wave pessimism) as a reason to think the pullback could remain shallow and short-lived, others may see the potential for a test of the September–October trading range highs around $42.
Today's numbers (all times ET): Mortgage Applications (7 a.m.), ADP Employment Report (8:15 a.m.), Beige Book (2 p.m.), Motor Vehicle Sales.
Today's earnings include: Five Below (FIVE), Crowdstrike (CRWD), PVH (PVH), Verint Systems (VRNT), Zscaler (ZS), Okta (OKTA), RH (RH).
Click here to log on to your account or learn more about E*TRADE's trading platforms, or follow the Company on Twitter, @ETRADE, for useful trading and investing insights.  
---
1 StreetInsider.com. Dollar General (DG) Earnings. 12/1/20.
2 TipRanks. Dollar General Stock Forecast & Price Targets. 12/1/20.
3 Bloomberg.com. Oil Sinks With OPEC Struggling to Reach Production Consensus. 11/30/20.
What to read next...
12/01/20
Traders may see retailer's recent price action and heavy options volume as a near-term momentum signal.
---
11/30/20
Four-day week doesn't slow down stock rally, as market heads toward December setting new records.
---
11/27/20
Anything can happen in the market—especially this year—but history still favors a bullish December.
---