Trading bullseye?
Target reported weaker-than-expected holiday sales
Shares fell nearly 7%, approached support level
Stock still up around 70% YOY
This week saw one of the stalwarts of the retail sector take a hit after releasing softer-than-anticipated holiday sales numbers.
Target (TGT), which disrupted the "tech wreck" narrative that had been unfolding last November by crushing its Q3 earnings, took a step in the opposite direction on Wednesday when it reported its holiday sales numbers—which, while up from 2018, weren't up as much as the Street thought they'd be.1
The stock tumbled, approaching the bottom of the up gap it formed after its earnings beat, and ultimately closed down 6.6%:
Source: Power E*TRADE
---
Shares were trading modestly lower midday on Thursday, but had not dropped below Wednesday's low.
Chatter in the immediate aftermath of the announcement seemed to be split between two camps: "Maybe investors have been too enthusiastic about certain retail stocks" and "Maybe TGT's pullback is a buying opportunity." Truth be told, the two views aren't necessarily contradictory.
Those in the latter camp may have noted that Target maintained its outlook for Q4 earnings2 (currently scheduled for March 3), and that while toys and electronics sales were soft (definitely a drawback during the holidays), numbers in apparel, beauty, and food items—three areas the company has tagged for future growth—were strong.3
Traders are also likely aware that TGT racked up a 94% gain in 2019, and was still up around 70% year-over-year after this week's drop. The chart below shows that rally, as well as the fact that this week's pullback has dropped the stock (so far) close to the upper boundary of its fall 2019 consolidation—the level it broke out above in November: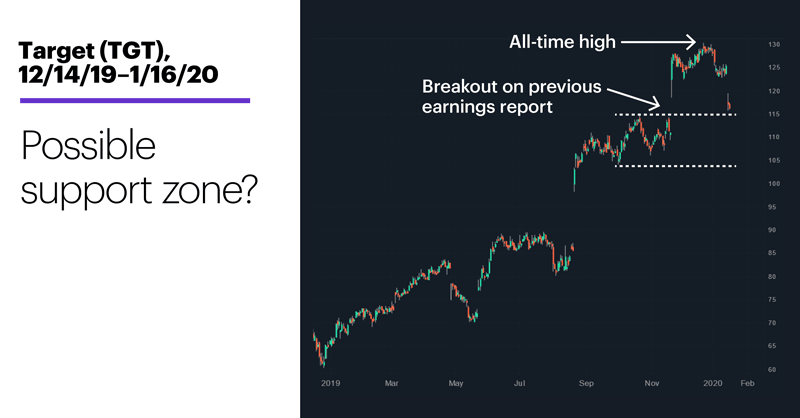 Source: Power E*TRADE
---
So, if Wednesday's drop was a product of catching the Street off guard with information that may not necessarily be long-term bearish, some opportunistic bulls are likely considering where the stock could potentially reverse course.
Many technical traders expect previous consolidations and upside breakout levels to act as support levels. In this case, the most liberal interpretation of this principle could be for the stock to potentially rebound after re-entering the consolidation zone (roughly $104–$115), while a move below the bottom of the zone would suggest prices are doing more than simply pulling back within an uptrend. More cautious traders would probably be skeptical of a move below, say, the midpoint of the consolidation.
Whether the stock's recent downturn is relatively brief and contained, or the start of something bigger, will have a lot to do with whether the broad market can sustain its upward momentum. But if it can, some traders may be thinking TGT could soon have a bullish target on its back.
Holiday reminder: Don't forget, US stock and Treasury markets will be closed Monday for Martin Luther King Jr. Day. Some futures markets will have limited trading.
Today's numbers (all times ET): Housing Starts (8:30 a.m.), Industrial Production (9:15 a.m.), JOLTS (10 a.m.), Consumer Sentiment (10 a.m.), Baker-Hughes oil rig count (1 p.m.).
Today's earnings include: JB Hunt (JBHT), Fastenal (FAST), First Horizon National (FHN), Kansas City Southern (KSU), Schlumberger (SLB).
Click here to log on to your account or learn more about E*TRADE's trading platforms, or follow the Company on Twitter, @ETRADE, for useful trading and investing insights. 
---
1 The Wall Street Journal. Target Says Holiday Sales Missed Its Forecasts. 1/15/20.
2 BusinessInsider.com. Target slips 7% after a weak holiday season forces it to slash sales forecast by more than half (TGT). 1/15/20.
3 CNBC.com. Target was strong where it needed strength, and that bodes well for the rest of the year. 1/15/20.
What to read next...
01/16/20
Chipmaker seeks to maintain its relative strength amid a potential breakout scenario.
---
01/15/20
Don't let a slow trading day fool you—there are usually price moves worthy of your attention.
---
01/14/20
Heavy options activity and volatility highlight potential trader interest in healthcare stock.
---