Traders playing support?
Heavy call options activity in AAP on Tuesday
Stock has bounced since testing support last week
Bull spread offers targeted upside exposure with limited risk
Advance Auto Parts (AAP) appearance on scans for high call-put ratio (64:1) and unusual call volume yesterday morning may not have given many traders pause—if they hadn't been following the stock's price action recently.
Those that were saw AAP jump 3.8% yesterday morning, pushing above $156.50 just four days after the stock traded as low as $143.15, thanks to a 19% correction from its January 12 record close around $177: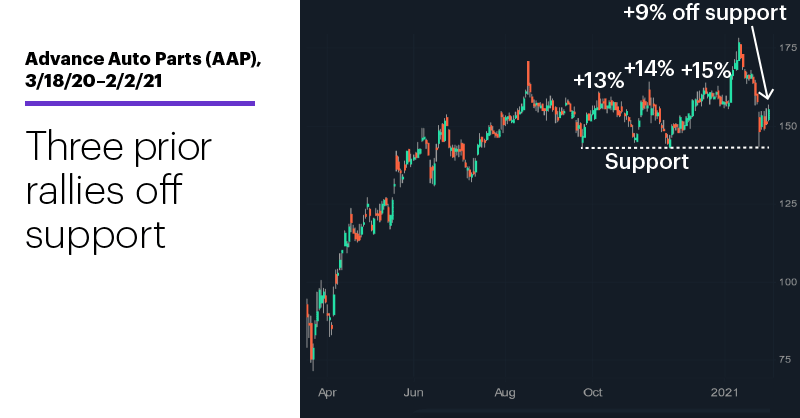 Source: Power E*TRADE
---
When AAP was last mentioned in this space in early July 2020, the stock was pulling back from its June highs. It subsequently rallied around 27% over the next five weeks to its August high around $170.50, but other than January's brief push to new-high territory, the stock has moved sideways more than anything else.
But in doing so, it established what is now a very well-defined support level around $142.50–$144 that turned out to be a launching pad for rallies in September, October, and November. At yesterday's high, AAP had already rallied around 9% since tagging support on January 27; its previous bounces off the level maxed out at 13%, 14%, and 15%, respectively.
On the options side, these types of situations offer a good opportunity for a refresher on "vertical" call spreads—a strategy some traders use to put on limited-risk, limited-reward positions.
Source: Power E*TRADE
---
For example, a conservative vertical (bullish) call spread consisting of a long $155 call and a short $175 call (shown here using March options) would allow a trader to participate in a rally all the way up to the higher strike price (above which gains are capped), while limiting losses to the cost of the position—in this case, 6.50 ($650) per spread, which was around 30% cheaper than simply buying a $155 call outright. And with a maximum potential profit of $1,350 per spread, the position's reward-risk ratio was a little better than 2:1.
Pragmatism usually pays dividends in trading: Price patterns and technical levels can provide useful guideposts, but it helps to be able to structure trades that clearly define your risk for the times they don't.
Note: AAP is currently scheduled to release earnings on Tuesday, February 16.
Market Mover Update: Quanterix (QTRX) followed up on Monday's rally with a 10%-plus intraday surge yesterday (see "Correcting a correction").
March WTI crude oil's (CLH1) 3.2% intraday rally yesterday broke the market out of its nearly three-week trading range, pushing prices to their highest level ($55.26/barrel) since January 8.
The bursting of the GameStop (GME) bubble—at yesterday's low, GME was 85% below last Thursday's high—didn't just take down names like AMC Entertainment (AMC) and Koss (KOSS), it also pulled the plug on what was reported to be the chat-room crowd's most recent play:1 March silver futures (SIH1) tumbled 10% intraday, more than erasing Monday's gain.
Novavax (NVAX) pulled back more than 3% intraday yesterday, but that hardly put a dent in the stock's 100% rally over the previous two days (see "Next chapter of vaccine story?").
Today's numbers (all times ET): Mortgage Applications (7 a.m.), ADP Employment Report (8:15 a.m.), PMI Composite Final (9:45 a.m.), ISM Services Index (10 a.m.), EIA Petroleum Status Report 10:30 a.m.).
Today's earnings include: Abbvie (ABBV), Spirit Airlines (SAVE), Cognizant Technology Solutions (CTSH), Check Point Software (CHKP), eBay (EBAY), Royal Gold (RGLD), GrubHub (GRUB), PayPal (PYPL), NETGEAR (NTGR), Qorvo (QRVO), Qualcomm (QCOM), Spotify Technology (SPOT).
Click here to log on to your account or learn more about E*TRADE's trading platforms, or follow the Company on Twitter, @ETRADE, for useful trading and investing insights.  
---
1 BusinessInsider.com. Silver spikes 13% to 8-year high as Reddit day traders turn their buying power towards a fresh target. 2/1/21.

What to read next...
02/02/21
With options positions running above average, stock reverses recent correction from record highs.
---
02/01/21
A volatile end to January sends broad market back to the drawing board for the year.
---
01/29/21
A look at the action in two tech giants—one that just released earnings, and one that's about to.
---