Traders bid up online auctioneer
RBA up more than 130% from its March lows
Benefiting from COVID economic dynamics?
Heavy options participation could help fuel future moves
In the market for a Kenworth T800B 6x4 cement truck but don't want to pay top dollar for this year's model?
If you answered "yes," chances are you're familiar with Ritchie Brothers Auctioneers (RBA), the world's biggest industrial machinery auctioneer, whose stock exploded to the upside earlier this month. Since tumbling nearly 43% from its January (and former all-time) high of $45.16, RBA is up more than 130% from its March low despite a recent pullback: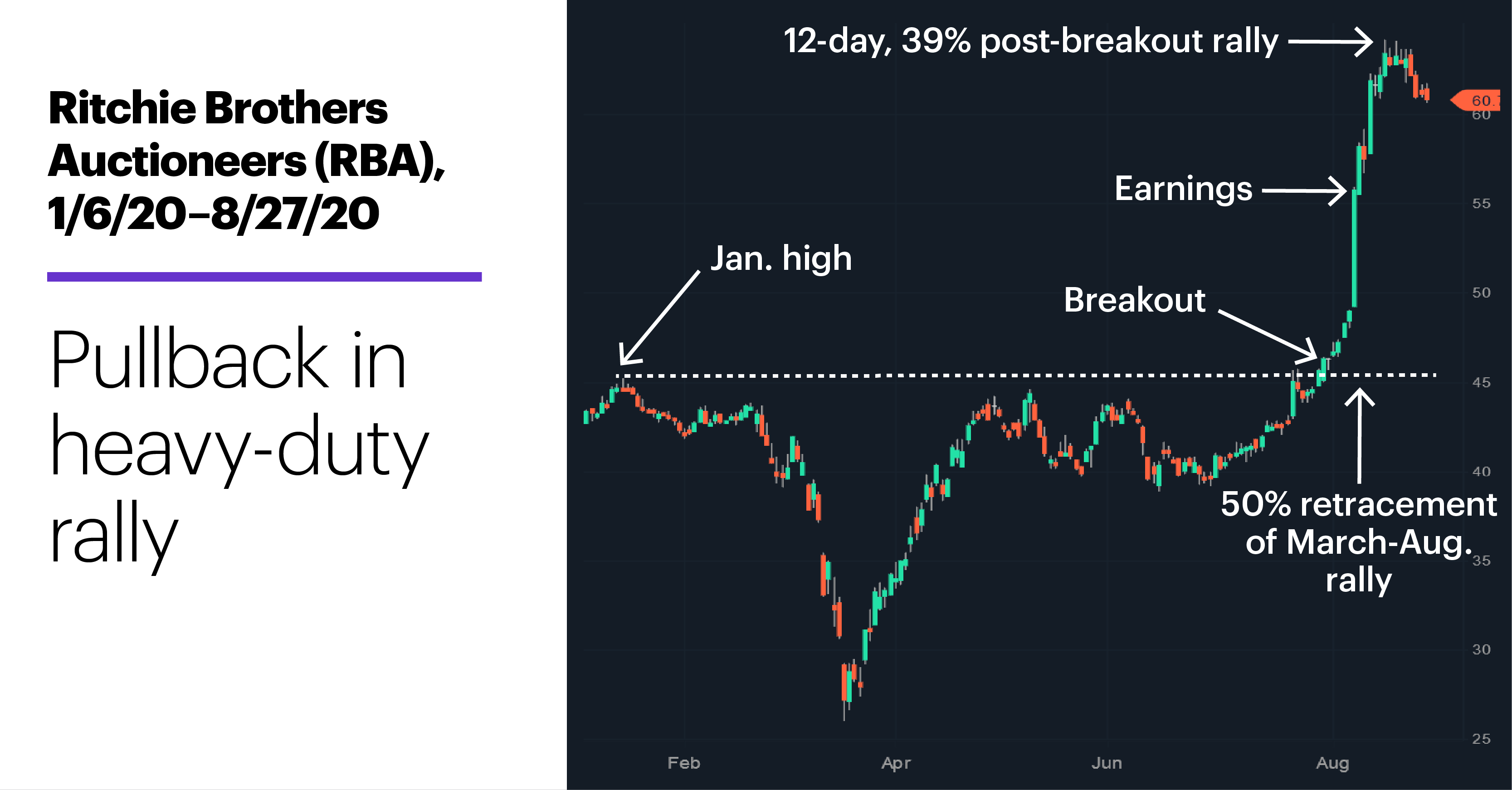 Source: Power E*TRADE
---
The last leg of that rally was a 12-day, 39% sprint after RBA broke out to new highs, pushing prices to their current record of $64.17 on August 17. And that move was turbocharged by the 14% jump on August 7 after the company released estimate-topping earnings numbers.1 Even after yesterday's selling, the stock was trading around 15% above its average analyst price target of $52.2
All this action has made itself felt in the options market, too. Traders who have been regular visitors to the LiveAction scans in recent weeks have probably noticed RBA's high open interest (OI), which yesterday was more than 45 times average: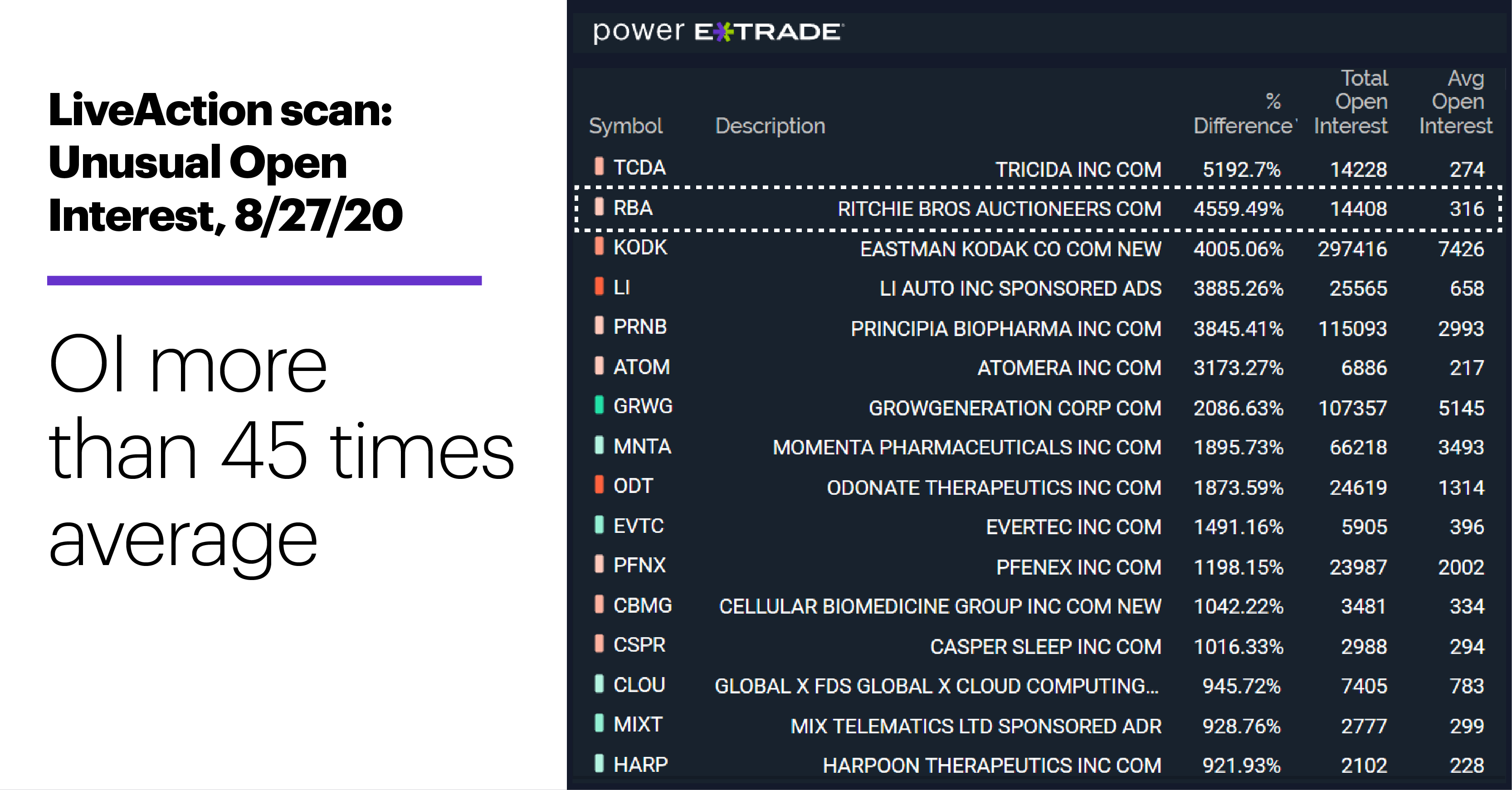 Source: Power E*TRADE
---
With average daily volume of around 500,000 shares, RBA isn't a heavily traded stock by any stretch of the imagination, and its options volume is also relatively modest (notice its average OI is 316 contracts). As of yesterday, most of the positions were in the September options, mostly (but not overwhelmingly) calls, with the $60 and $65 strikes the most active.
RBA is a dominant player in its field, but given the stock's last strong, multi-year uptrend arguably ended in 2008, and it underperformed the S&P 500 (SPX) from February 2009–January 2020 by 124 percentage points (roughly 185% vs. 339%), some market watchers may be wondering what the recent rally has been all about. A few factors may be at play:
1. The exceptional rally off the March lows. You can't discount the extent to which a historically rising tide has lifted so many boats.
2. RBA didn't miss a beat as its industry went almost exclusively virtual. The company already had a strong digital presence, and in the spring, registrations for its online auctions were reportedly up 40%-100% from 2019.3
3. The economic pinch. Hard times can mean businesses have to sell assets to stay afloat.
No one knows whether a sustained COVID retreat will reverse some of the dynamics that may have helped fuel RBA's rally, but since its August 17 high the stock has pulled back around 6%, with most of that drop occurring this week. By comparison, the S&P industrial sector is up more than 2.5% in the past five days and more than 8% over the past month.
Long-term prospects aside, anyone who's been to an auction knows people sometimes get caught up in the excitement of a hot market. If RBA's recent pullback turns out to be more than a minor blip, traders may have noticed that the stock's recent breakout level (around $45)—which many technical traders would consider a likely downside target in the event of further near-term selling—is also the 50% retracement level of the March–August rally.
Either way, with larger-than-average options positions, there could be more potential fuel for future price moves.
Today's numbers (all times ET): Advance Trade in Goods (8:30 a.m.), Personal Income and Outlays (8:30 a.m.), Personal Consumption Expenditures (8:30 a.m.), Advance Retail and Wholesale Inventories (8:30 a.m.), Chicago PMI (9:45 a.m.), Consumer Sentiment (10 a.m.).
Today's earnings include: Big Lots (BIG).
Click here to log on to your account or learn more about E*TRADE's trading platforms, or follow the Company on Twitter, @ETRADE, for useful trading and investing insights.  
---
1 StreetInsider.com. Ritchie Bros. Auctioneers (RBA) Tops Q2 EPS by 18c, Revenues Beat. 8/6/20
2 Ritchie Bros Stock Forecast & Price Targets. 8/27/20.
3 Regina Leader Post. State of Agriculture: COVID-19 forces auctioneers, farm shows to retool. 6/11/20.
What to read next...
08/27/20
It was easy to see the immediate impact of the decision to replace three Dow stocks, but what's the potential trading angle?
---
08/26/20
There's no immunity to volatility in the COVID-vaccine race. Traders need to be prepared for when potential opportunities arise.
---
08/25/20
Different types of options activity highlights energy stock's position on the price chart.
---