Stocks embrace "phase one"
Possible trade breakthrough ends choppy week on high note
Friday surge: S&P 500 up more than 1%
This week: Q3 earnings season is underway
After a week of whipsaws, the stock market opens a new earnings season on an upswing as positive vibes from last week's US–China trade negotiations pushed the S&P 500 (SPX) to its highest close since September 30, and less than 2% from its all-time high: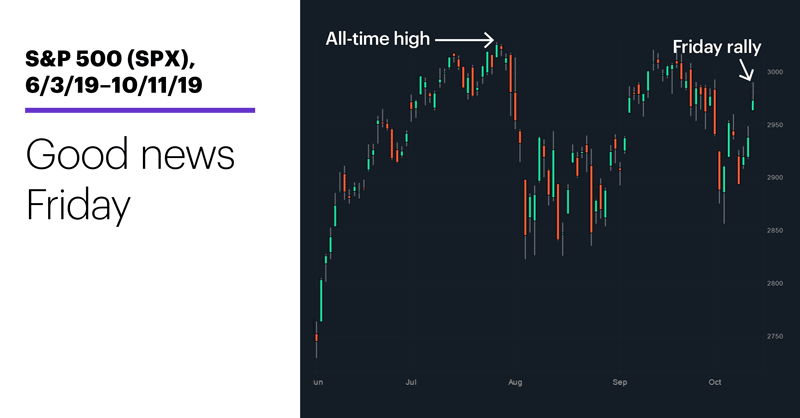 Source: Power E*TRADE
---
While good and bad trade headlines seemed to jerk the market higher and lower on an almost hourly basis, it was Friday's reports of a potential breakthrough—a partial trade agreement described by President Trump as a "very substantial phase one deal"1—that helped end the SPX's three-week losing streak.
But the fact that the market also gave back a substantial portion of the day's gain in the final 20 minutes of trading suggests traders, having been burned more than once on trade, were taking the latest news with a grain or two of salt.
Nonetheless, the SPX posted the smallest weekly gain of any major US index, while the Nasdaq 100 (NDX) notched its second-consecutive week at the top: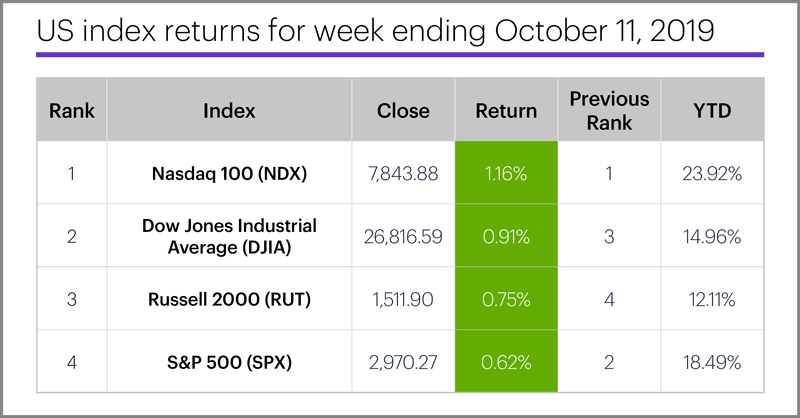 Source: Power E*TRADE
---
Sector roundup: The strongest S&P 500 sectors last week were materials (+1.9%), industrials (+1.5%), and information technology (+1.3%). The weakest sectors were utilities (-1.9%), consumer staples (-0.9%), and real estate (-0.6%).
Power moves: On Thursday, RA Pharmaceuticals (RARX) exploded +101% to $45.64 on a takeover announcement. Other notables: Akcea Therapeutics (AKCA) +31.33% to $19.87 on Monday, James River Group (JRVR) -23% to $37.88 on Wednesday, and Forescout Technologies (FSCT) -37% to $24.57 on Thursday.
Futures action: After meandering near its recent swing lows early last week, November WTI crude oil futures (CLX9) turned higher on Thursday, then got another boost on Friday after Iran claimed one of its oil tankers was damaged in a missile attack.2 The market closed Friday around $54.80/barrel, up 3.4% for the week.
December gold (GCZ9) consolidated the first four days of last week before selling off on Friday, ending the week around $1,492/ounce, down roughly $18 for the week.
Forward momentum on the Brexit front (the working deadline remains October 31) helped propel December British pound futures (6BZ9) to 1.2735 on Friday—the currency's highest level since July 1.
Coming this week
OK, saddle up, earnings season gets underway this week—and it's not just the usual slate of financial names kicking things off. The lineup is also peppered with high-profile pharma, tech, airline, and consumer retail names:
●Tuesday: United Airlines (UAL), BlackRock (BLK), Citigroup (C), JPMorgan Chase (JPM), Wells Fargo (WFC), UnitedHealth (UNH), Goldman Sachs (GS), Johnson & Johnson (JNJ), Prologis (PLD)
●Wednesday: Alcoa (AA), Bank of America (BAC), Abbott Laboratories (ABT), U.S. Bancorp (USB), International Business Machines (IBM), CSX (CSX), Progressive (PGR), Danaher (DHR), PNC Financial Services (PNC), PayPal (PYPL), Netflix (NFLX), Comerica (CMA)
●Thursday: Atlassian (TEAM), Union Pacific (UNP), Honeywell International (HON), Intuitive Surgical (ISRG), PPG Industries (PPG), Philip Morris International (PM), KeyCorp (KEY), Morgan Stanley (MS), Medidata Solutions (MDSO)
●Friday: American Express (AXP), State Street (STT), Kansas City Southern (KSU), Coca-Cola (KO), Citizens Financial Group (CFG), Synchrony Financial (SYF), Schlumberger (SLB)
Economic numbers this week include:
●Monday: US Holiday: Columbus Day (bank holiday; US Treasury market closed)
●Tuesday: Empire State Manufacturing Survey
●Wednesday: Retail Sales, Atlanta Fed Business Inflation Expectations, Business Inventories, Housing Market Index, Beige Book
●Thursday: Housing Starts, Industrial Production
●Friday: Leading Indicators
Go to the E*TRADE market calendar (logon required) for an up-to-date earnings schedule and a complete list of splits, dividends, IPOs, and economic reports. The Active Trader Commentary also lists earnings announcements, IPOs and economic report times each morning.
Everyone is kind of narrowing in on this idea that we will get a smaller, partial deal—a phase one deal, if you will—and then worry about the trickier bits later.
Fed tailwinds? In addition to being expected to cut interest rates again after its October 29-30 meeting, the Federal Reserve added to Friday's good mood with the announcement that it would buy $60 billion worth of T-bills a month. The program, seen as a move to help stabilize short-term interest rates, is expected to continue until at least the second quarter of next year.4
Market Mover Update: Twilio (TWLO) rallied more than 4% on Friday (see "Trend retracement hits key level"). Aimmune Therapeutics (AIMT) is up more than 10% since September 20, and up nearly 20% from its October 1 low of $20.47 (see "Stocks move ain't peanuts").
Click here to log on to your account or learn more about E*TRADE's trading platforms, or follow the Company on Twitter, @ETRADE, for useful trading and investing insights.
---
1 CNBC.com. Trump says US has come to a substantial phase one deal with China. 10/11/19.
2 The Wall Street Journal. Oil Prices Climb After Iranian Tanker Damaged in Possible Strike. 10/11/19.
3 CNN.com. Dow rallies 400 points. Investors hope Trump can make a trade deal with China. 10/11/19.
4 Reuters. Fed launches Treasury bill buys in bid for 'ample' reserves. 10/11/19.
What to read next...
10/11/19
Stock finds support at duel technical level.
---
10/10/19
Three stocks, three scenarios, even more possibilities.
---
10/09/19
And not just the dogs: Bulls, bears test appetite for pet food stock.
---