Trade war sends stocks on wild ride
China halts commodity purchases, weakens yuan
US tags China as currency manipulator
This week: Inflation data, retail earnings…and more trade developments?
It's long-term impact on the economy may be up for debate, but last week the trade war showed how quickly—and how much—it can sometimes move the stock market. The major shots fired:
Monday: China retaliates to the new US tariffs announced the previous week by depreciating its currency, the yuan, to its lowest level since February 2008 (triggering currency-war fears), and halting purchases of US agricultural products.1 The S&P 500 (SPX) drops -3%, its biggest one-day loss of the year. Later, the US Treasury Department tags China as a "currency manipulator" for the first time since the 1990s.2
Friday: President Trump announces the US will stop doing business with Chinese tech giant Huawei, and says the US isn't ready to make a trade deal.3 The SPX falls -1.3% in early trading, but recovers later to cut that loss roughly in half.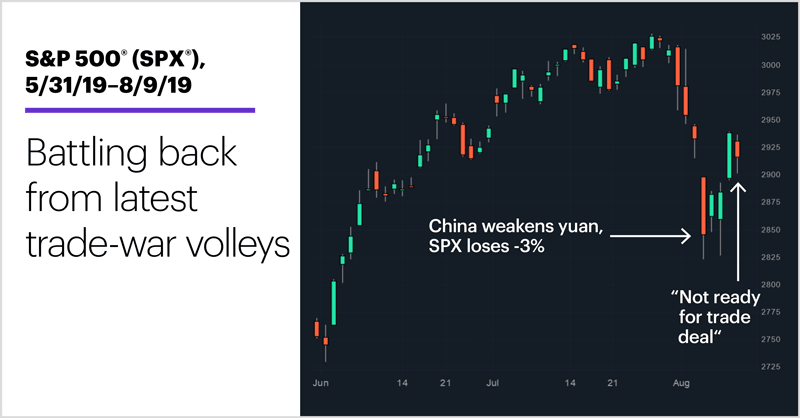 Source: Power E*TRADE
---
On Tuesday and Thursday, the two days with no major trade-war headlines, the SPX posted gains of +1.3% and +1.9%, respectively. And just to keep things interesting, on Wednesday the market plunged (SPX -2%) in the first 20 minutes of trading after President Trump called for more rate hikes and tweeted "Our problem is not China."4 But the index recovered to close slightly up on the day.
Despite pushing into the green for the week on Thursday, Friday's give-back sealed the deal on a second-consecutive down week. Here's the index rundown:
Source: Power E*TRADE
---
Sector roundup: The strongest S&P 500 sectors last week were real estate (+1.8%), utilities (+1.1%), and materials (+0.8%). The weakest sectors were energy (-2.2%), financials (-1.7%), and information technology (-0.8%).
Power moves: On Monday Allakos (ALLK) skyrocketed +110.5% to $65.26, while Green Dot (GDOT) slid -42% to $27.42 on Thursday.
Futures action: A breakout week for gold ended with the December futures contract (GCZ9) closing around $1,509/ounce, near its highest levels since 2013. September WTI crude oil (CLU9) dropped to an eight-month low of $50.52/barrel on Wednesday, but rallied more than 3% on Friday to close the week around $54.40.
Brexit, trade left: After spending much of last week stabilizing, on Friday the British pound tumbled to its lowest level since January 2017 in the wake of the UK's first GDP contraction in since Q4 2012. September British pound futures (6BU9) fell to 1.2044 and closed around 1.2052.
Coming this week
More inflation data, retail sales, and housing numbers highlight this week's economic calendar:
●Monday: Check out earnings (below), nothing much happening here.
●Tuesday: NFIB Small Business Optimism Index, Consumer Price Index (CPI)
●Wednesday: Import and Export Prices, Atlanta Fed Business Inflation Expectations, China Industrial Production, European Union Industrial Production.
●Thursday: Retail Sales, Productivity and Costs, Industrial Production, Business Inventories, Housing Market Index
●Friday: Housing Starts, Quarterly Services Report, Consumer Sentiment
Yes, it's one of those strange late-season earnings weeks—light overall, but peppered with high-profile names, especially in retail and tech:
●Monday: Array Biopharma (ARRY), Baozun (BZUN), Global Blood Therapeutics (GBT), Sysco (SYY), Tencent Music Entertainment Group (TME), WageWorks (WAGE)
●Tuesday: 58.com (WUBA), Elanco Animal Health (ELAN), Advance Auto Parts (AAP), Myriad Genetics (MYGN), Tilray (TLRY), YY (YY), JD.com (JD)
●Wednesday: Altaba (AABA), Agilent Technologies (A), Luckin Coffee (LK), Progressive (PGR), Cisco Systems (CSCO), Dillard's (DDS), Nordstrom (JWN), NetApp (NTAP), Macy's (M)
●Thursday: Applied Materials (AMAT), Alibaba Group (BABA), NVIDIA (NVDA), Walmart (WMT)
●Friday: Deere & Co. (DE)
IPOs this week include: Crossfirst Bankshares (CFB) on Thursday.
Go to the E*TRADE market calendar (logon required) for an up-to-date earnings schedule and a complete list of splits, dividends, IPOs, and economic reports. The Active Trader Commentary also lists earnings announcements, IPOs and economic report times each morning.
You could take the view, as I have, that inflation alone would call for more accommodation than we put in place with just our last meeting.
Memo from the Big-Picture Dept. Now that last week is history, a little reflection: Despite losing ground three of the past four weeks, the Nasdaq 100 (NDX) is still sitting on a 21% year-to-date (YTD) gain. And the SPX's 16.5% YTD return as of Friday (153 trading days into 2019) was better than in all but 11 other years since 1950.
And don't forget the market's intraday rebound on Wednesday.
Click here to log on to your account or learn more about E*TRADE's trading platforms, or follow the Company on Twitter, @ETRADE, for useful trading and investing insights.
---
1 The Washington Post. Lashing back, China lets yuan drop, halts US farm purchases. 8/5/19.
2 Reuters. U.S. designates China as currency manipulator for first time in decades. 8/6/19.
3 The Wall Street Journal. Stocks Fall as Trump Says China Meeting Might Not Happen. 8/9/19.
4 CNBC.com. Trump calls for the Fed to cut rates 'bigger and faster' and says China is not the problem. 8/7/19.
5 Reuters. Fed's Evans signals support for reducing borrowing costs further. 8/7/19.
What to read next...
08/09/19
Tech may outperform during rallies, but which tech may have less downside during tariff-driven downturns?
---
08/08/19
Amid the gloom, there were signs of potential bullish momentum yesterday.
---
08/07/19
Just as with a stock, the goal is to sell volatility high and buy it low.
---