Traders take interest in biotech's options
DICE up more than 20% in past five days
Stock still off roughly 50% from last year's IPO highs
Options open interest more than 35 times average
Since its all-time low close of $13.19 on June 16, Dice Therapeutics (DICE) has climbed roughly 40%, including more than 20% over the past five days, pushing the biotech stock to a test of resistance at its May–June highs: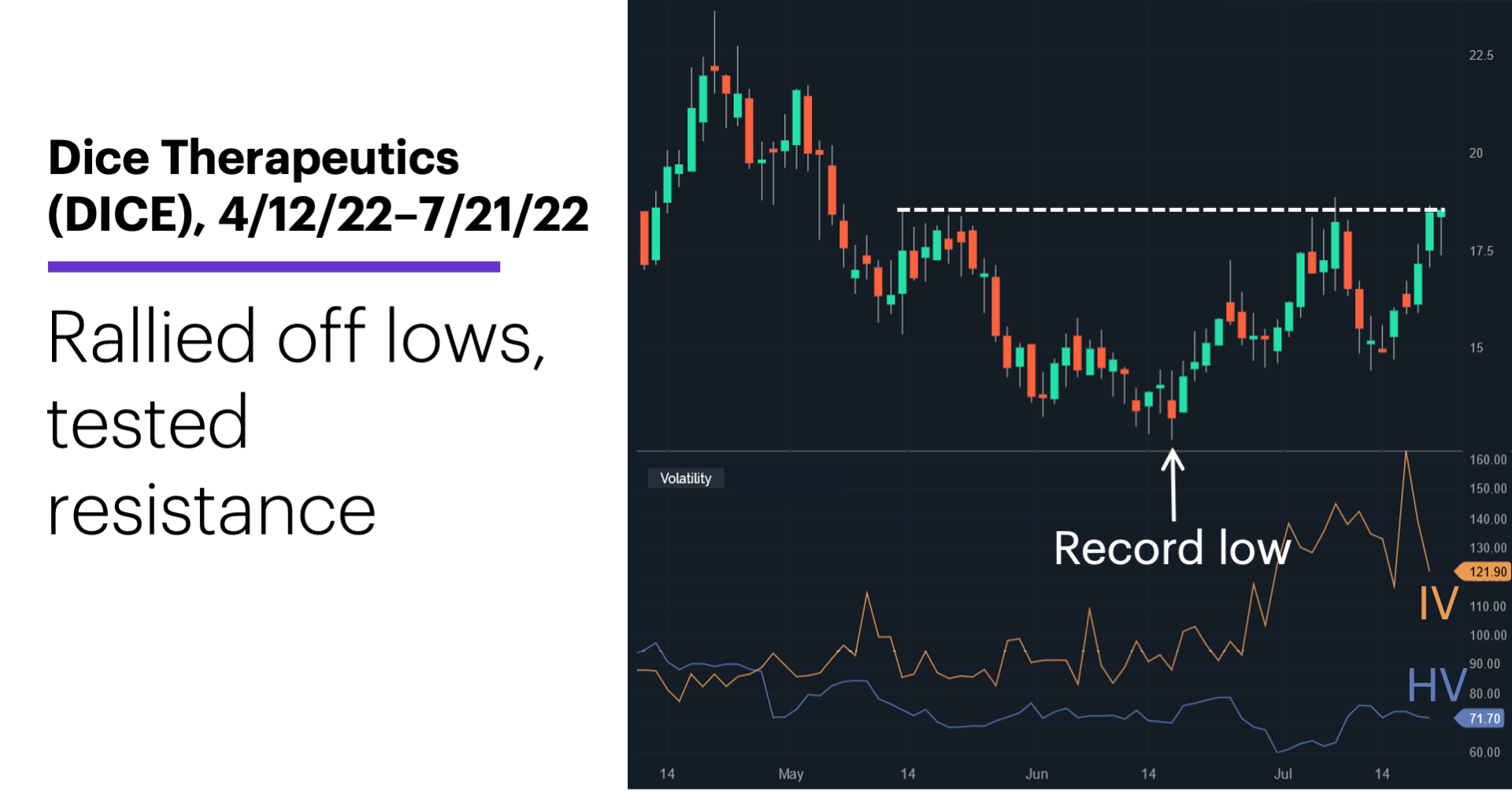 Source: Power E*TRADE. (For illustrative purposes. Not a recommendation.)
---
The bottom portion of the chart compares DICE's 30-day implied volatility (IV) to its 30-day historical volatility (HV). Although DICE's IV has declined in recent days, it's still toward the upper end of its three-month range and it's also significantly higher than HV—an indication the options market is pricing in more price movement over the next 30 days than the stock has experienced over the past 30 days.
Regardless of whether the options market's "forecast" is correct, this observation takes on additional significance in light of DICE's appearance on the LiveAction scan for unusual open interest (OI). Yesterday, DICE was on top of the list, with nearly 36 times its average number of options positions—more than 22,000, compared to a daily average a little above 600: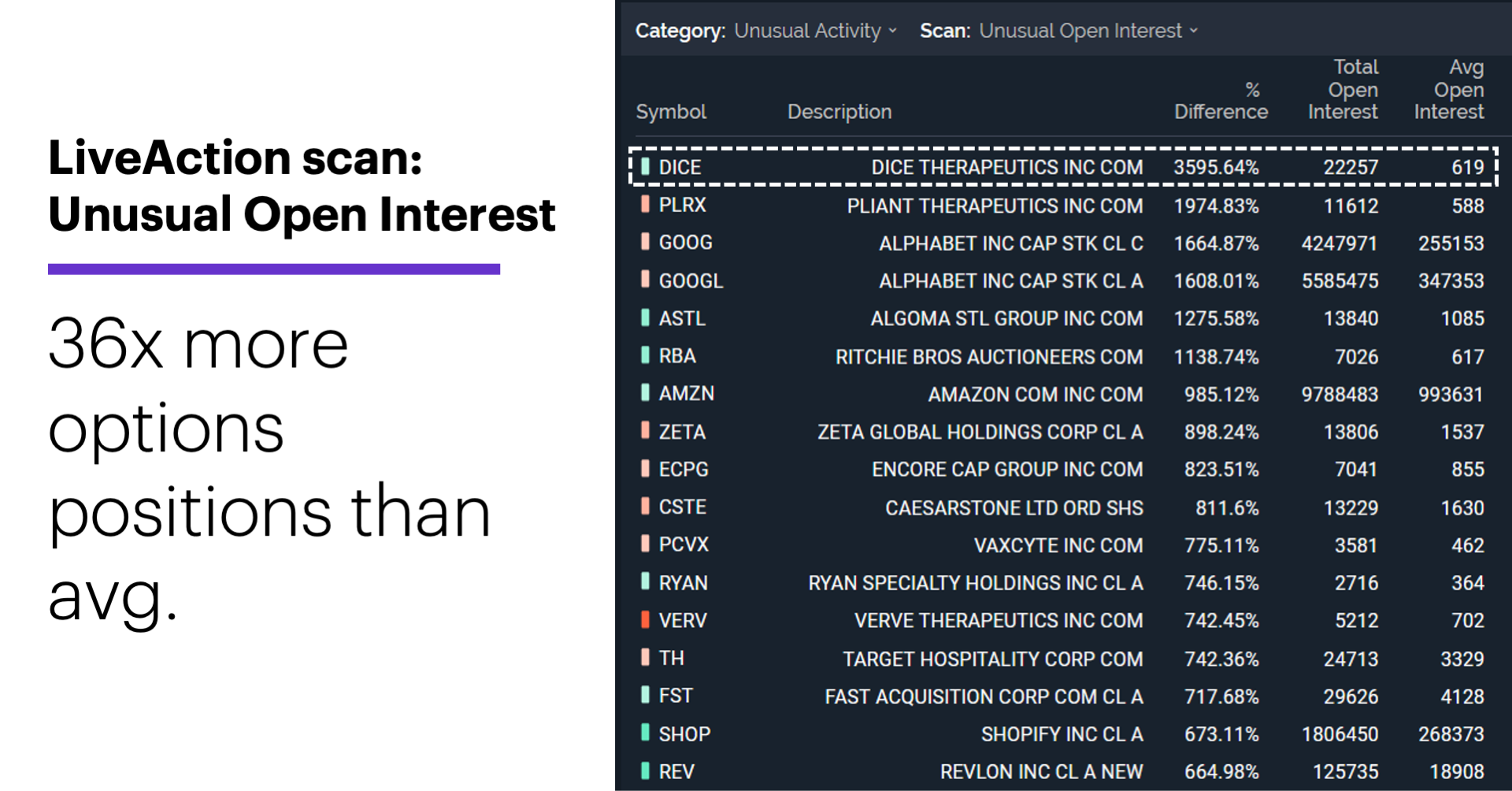 Source: Power E*TRADE. (For illustrative purposes. Not a recommendation.)
---
If nothing else, high and/or increasing OI indicates traders are engaged in a particular market, regardless of what their goals are. In other words, it's always difficult to know whether any given options position is a hedge of an underlying position, a directional trade, a volatility trade, or part of a multi-legged spread.
That said, it can be helpful to see exactly where traders are accumulating positions. In this case, DICE's options chain showed that:
1. Call positions outnumbered put positions—there were 2.6 open calls for every open put.
2. Positions were mostly in the August and October expirations, with calls more heavily concentrated in October and the majority of puts in August.
3. Most of the positions were opened this week (primarily on Tuesday and Wednesday).
4. Most of the positions were out of the money relative to yesterday's stock price. More calls had strike prices of $20 or higher, while more puts had strike prices of $17.50 or lower.
While high or rising OI means there's more participation in a stock (and more potential future participation, in the event traders exercise their options), positions can close as quickly as they open. The key is to track changes over time. Traders who monitor levels from day to day—and how they relate to changes in a stock's price—may have more insight into which way traders are leaning over time.
Market Mover Update: August natural gas futures (NGQ2) bounced back from an intraday sell-off to close higher for the ninth time in the past 12 trading days (see "Natural gas back in energy spotlight").
Today's numbers include (all times ET): PMI Composite Flash (9:45 a.m.).
Today's earnings include: Twitter (TWTR), HCA Healthcare (HCA), Schlumberger (SLB), American Express (AXP), Verizon (VZ), Cleveland-Cliffs (CLF).
Click here to log on to your account or learn more about E*TRADE's trading platforms, or follow the Company on Twitter, @ETRADE, for useful trading and investing insights.
---
What to read next...
07/21/22
When companies are reporting their numbers, it can spell trouble for certain types of options strategies.
---
07/20/22
Discounted stock illustrates why options traders can't always bargain hunt the way investors do.
---
07/19/22
What do the crosscurrents in global energy suggest for US natural gas exports?
---