Toy story
Mattel (MAT) call options volume 20 times avg. yesterday
Shares up 158% since March 2020
Stock consolidating near 2017–2018 inflection point
By now most traders are probably aware of the splash Disney (DIS) made when it announced earnings last week—a surprise quarterly profit and a surge in subscriptions for its Disney+ streaming service.1 Although the stock has since pulled back, it jumped to a new all-time high shortly after the news amid a flurry of positive notices from the Street.
One of the potentially interesting sidebars of this story is in the toy industry. As anyone with kids—or anyone who has been a kid—knows, the cash registers don't necessarily stop ringing after you subscribe to a streaming service or pay to see the latest blockbuster. Action figures and other goodies tied to popular movie and TV franchises are huge business for toymakers like Hasbro (HAS) and Mattel (MAT).
Source: Power E*TRADE
---
How huge? Well, consider that despite a 12% decline in overall sales over the past year, Hasbro's sales of Star Wars toys (a Disney-owned franchise) grew by 70%.2
While both stocks have rallied robustly off last year's lows, the chart above shows MAT—which makes the merch for Disney's Pixar releases (Toy Story, etc.)—has pulled away since September. The stock is up more than 60% since then, and more than 160% since March 2020.
That brings us to yesterday's market action. In early trading, MAT was up nearly 3% and its call options volume was running more than six times average:
Source: Power E*TRADE
---
By noon ET, it was running around 20 times average, even though the stock had pulled back to breakeven on the day.
What may have made that activity interesting to some traders (aside from the fact that MAT was up on a down day for the broad market) was that the stock has been consolidating near a long-term technical level—the resistance zone containing the November 2017 and January 2018 highs, which was previously a support zone that broke down in July 2017: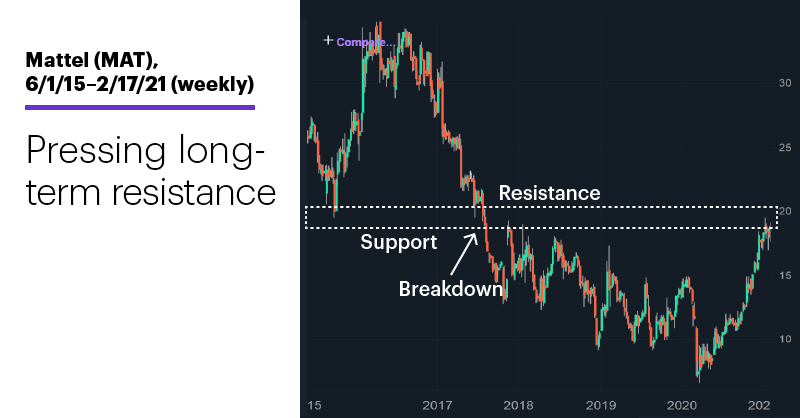 Source: Power E*TRADE
---
Although there doesn't appear to be a news catalyst on MAT's near-term horizon (like DIS and HAS, the company released earnings last week), momentum traders may be watching to see if the stock continues to push against, or through, this price ceiling—especially if call options activity remains elevated.
The lesson is that it can be helpful to know where a stock's potential inflection points are, especially when something unusual is happening in the options market. The more puzzle pieces you have in hand, the clearer the picture.
Market Mover Update: April WTI crude oil futures (CLJ1) hit a new contract high ($61.31) yesterday for the third time in the past four days.
Today's numbers (all times ET): Housing Starts and Permits (8:30 a.m.), Weekly Jobless Claims (8:30 a.m.), Import and Export Prices (8:30 a.m.), EIA Petroleum Status Report (11 a.m.).
Today's earnings include: Applied Materials (AMAT), Arista Networks (ANET), BigCommerce (BIGC), Norwegian Cruise Line (NCLH), Newmont (NEM), Dropbox (DBX), EPAM Systems (EPAM), eHealth (EHTH), First Solar (FSLR), Walmart (WMT), Keysight (KEYS), Waste Management (WM), Roku (ROKU), Marriott (MAR).
Click here to log on to your account or learn more about E*TRADE's trading platforms, or follow the Company on Twitter, @ETRADE, for useful trading and investing insights.  
---
1 MarketWatch.com. Disney earnings: Surge by Disney+ to nearly 95 million subscriptions leads to surprise profit. 2/11/21.
2 CNBC.com. Disney+ will fuel Hasbro gains long after the pandemic is over as Star Wars toy sales jump. 2/8/21.
What to read next...
02/10/21
A couple of recent breakouts show why you don't necessarily need to rush in with the crowd to capture momentum moves.
---
02/09/21
Traders jumped into this soaring fintech stock's put options in the wake of its earnings-beat price surge.
---
02/08/21
Market kicks off February with its best week in three months.
---