Timing trades, and pricing time
TPR calls outnumbered puts 20:1 early Tuesday
Stock pushed to highest level since Oct. 2018
May and June options highlight IV, pricing differences
Traders looking for a lesson in how implied volatility (IV) can affect options prices—and potential trading decisions—may have gotten a good example from Tapestry (TPR) on Tuesday.

The luxury goods retailer (Coach, Kate Spade) appeared on the LiveAction scan for high call-put ratios Tuesday morning, with call volume outpacing put volume nearly 20 to 1: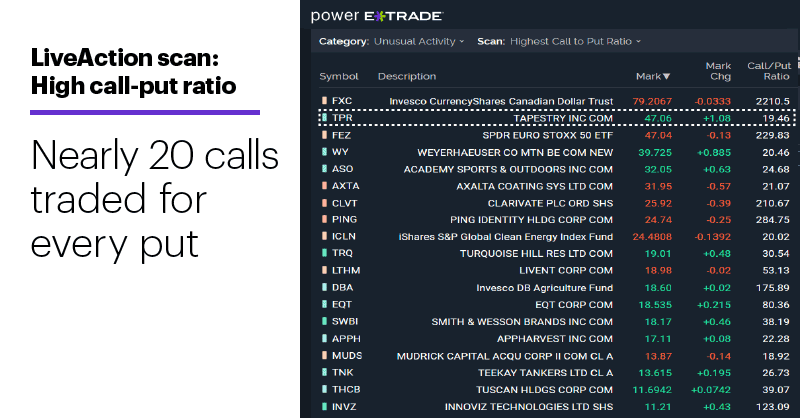 Source: Power E*TRADE
---
Meanwhile, the stock had rallied more than 3% intraday to push above its March and mid-April peaks and hit its highest level ($47.68) in more than two-and-a-half years: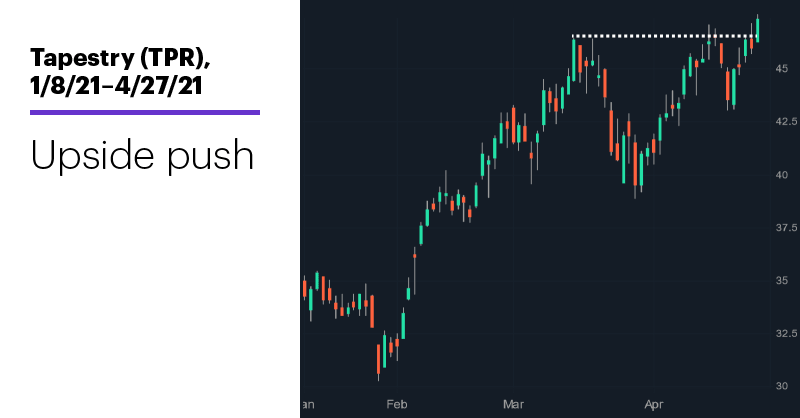 Source: Power E*TRADE
---
Most of the call volume (3,700 contracts worth) turned out to be in the $46.50 calls expiring this Friday, with at least some of it appearing to represent traders getting out of their positions. But some traders—especially those operating on a longer time horizon than this week—may have been more interested in the price differences between TPR options expiring on May 7 and those expiring nearly a month later on June 4.
Or, maybe it would be more accurate to say "similarities" instead of differences, since the prices of the at-the-money options for these two expirations weren't too far apart, even though the June 4 options had 28 more days of shelf life.
With the stock trading around $47 early yesterday morning, traders could have bought the at-the-money May 7 $47 call for 2.20 (the ask price) and the June 4 $47 call for 3.00—which means that for an additional 0.8 ($80 per contract), traders could get an additional 28 days of "trade time:"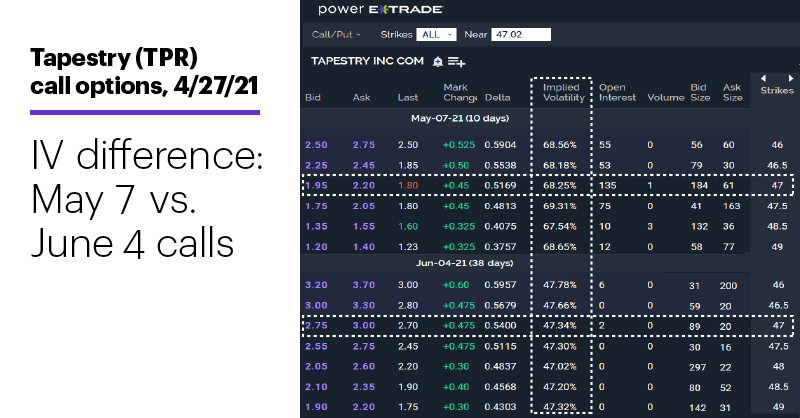 Source: Power E*TRADE
---
Meanwhile, an at-the-money call option expiring on June 21—just 14 days after the June 4 option—was trading around 3.30 (not shown).
A little back-of-the-envelope math helps show why the June 4 $47 calls may actually have been "cheaper" than the May 7 $47 calls despite their higher price tag. If we divide the price difference between the two options ($80) by the number of days separating their expirations (28), we find that the cost of the June 4 option's additional time comes with a price tag, on average, of $2.90 per day. If we do the same thing with the June 4 and June 21 options ($30 price difference ÷ 14 days), we find out we're paying only $2.10 per day.
Why this apparent discrepancy in the cost of time between the May and June options? The answer lies in the implied volatility column. The IV for the May 7 $47 call was 68.25% while the IV for the June 4 $47 call was only 47.36%—and the higher the IV, the higher (relatively) the option price, all else being equal.
In this case, the May option's higher IV is explained by Tapestry's scheduled earnings date—May 6, one day before those options expire. In other words, the market was bumping up the price of May options because of the uncertainty—that is, the expected volatility—surrounding earnings.
While such pricing differences may seem like minor details, they have practical implications for traders. When you buy options, one of the things you're paying for is time, and if you can avoid overpaying for it, the better your odds will be.
Market Mover Update: Builders FirstSource (BLDR), which has rallied more than 15% since March 25, hit a new all-time high on Tuesday (see "Sector deep dive").
Today's numbers include (all times ET): Mortgage applications (7 a.m.), International Trade in Goods (8:30 a.m.), Advance Retail and Wholesale Inventories (8:30 a.m.), EIA Petroleum Status Report (10:30 a.m.), FOMC Announcement (2 p.m.).
Today's earnings include: Apple (AAPL), Rockwell Automation (ROK), Boeing (BA), Yum Brands (YUM), Ford (F), Ultra Clean Holdings (UCTT), Waste Connections (WCN), General Dynamics (GD), eBay (EBAY), Facebook (FB), Teladoc Health (TDOC), Qualcomm (QCOM), Shopify (SHOP), Spotify (SPOT).
Click here to log on to your account or learn more about E*TRADE's trading platforms, or follow the Company on Twitter, @ETRADE, for useful trading and investing insights.
---
What to read next...
04/27/21
Will this household-name stock's earnings announcement break it out of its range?
---
04/26/21
Market just misses fifth-straight up week despite capital-gains bombshell.
---
04/23/21
Renewable energy stocks get Earth Day boost as White House sets ambitious greenhouse gas target.
---