Lessons from 2021, Pt. 2
KRYS jumped more than 100% on November 29
Put options appeared to underperform after the rally
Volatility and time working against long positions?
You can find an example of this every day, but it's something options traders always need to remember: Buying options that are too far out of the money (OTM), have high implied volatility (IV), or have too little time until expiration can undermine even the most accurate market forecast. In a nutshell:
1. The further OTM an option is, the lower its delta—that is, the less it will respond to moves in the underlying market. That means you'll likely get less bang for your buck than you would with an option that has a strike price closer to the stock price.
2. High IV can translate into high-priced (i.e., potentially overpriced) options.
3. Options lose value throughout their lives, but that time decay accelerates the closer expiration gets.
Any one of these factors will work against a long option position, but a combination of two or more can make buying options particularly challenging.
Consider what happened on November 29 in Krystal Biotech (KRYS), which jumped 122% after news of successful clinical trial results for one of its wound-treatment therapies. (At least a week earlier, by the way, the stock appeared on the LiveAction scan for highest 30-day IVs.) The stock traded above $100 before closing at an all-time high of $88.24: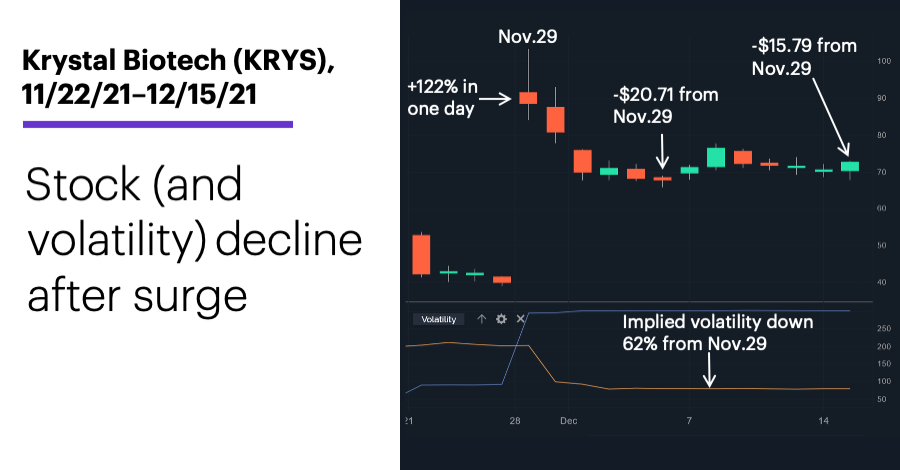 Source: Power E*TRADE (For illustrative purposes. Not a recommendation.)
---
Let's say a trader thought the stock would pull back after such a big up move and decided to buy a put option to act on that forecast. As it turned out, the trader was absolutely right—five days later, on December 6, KRYS was trading nearly $21 lower, and by December 15 the stock was still nearly $16 below its November 29 close.
Let's assume that on November 29 the trader thought the stock would quickly drop below $75 and decided to buy a December $75 put option (expiring on December 17) for $4.40 ($440 per contract), partly because it was trading for almost half the price of a December $85 call: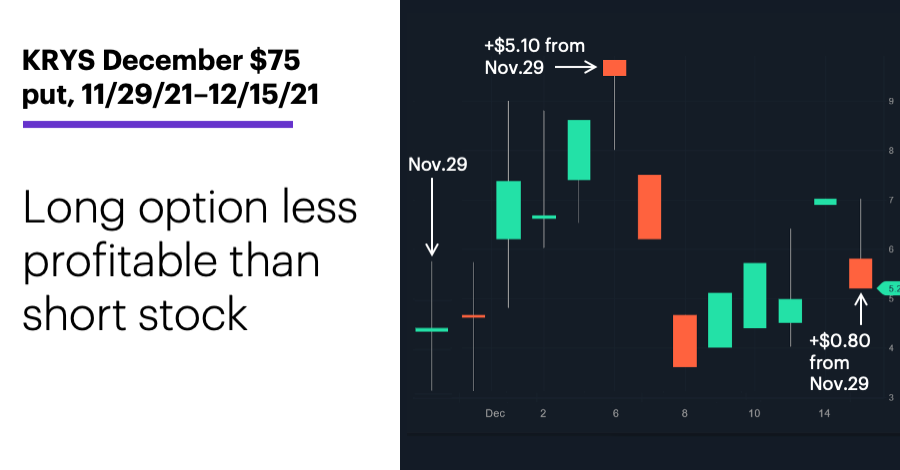 Source: Power E*TRADE (For illustrative purposes. Not a recommendation.)
---
While the call did close at $9.50 on December 6 (when KRYS closed at $65.62), that $5.10 increase was roughly only 25% of the dollar gain that a short stock position would have returned. On December 15, the option closed at $5.20, only 80 cents above the original purchase price, while a short stock position would still have been up nearly $16. Here's what may have been going on:
1. The December $75 call's delta was only 0.18 on November 29, which means traders could expect its price to move only 18 cents for every $1 move in the stock price. It actually did a little better than that between November 29 and December 6, but for comparison, the December $85 put rallied $10 between those dates—almost twice as much as the $75 call.
2. While the stock's 122% price jump on November 29 certainly made put options much cheaper than they were a day earlier, they were still affected by KRYS's extremely high IV. The 62% IV that followed helped deflate options premiums across the board—a positive for traders who shorted calls on November 29, but a negative for those who bought puts.
3. With a little less than three weeks until expiration when they were purchased, the December $75 calls were entering their period of maximum time decay. By December 16 (one day before expiration, and the day after the last day on the chart), the call was virtually unchanged at $5.30—even though KRYS shares were down more than 3% on the day, trading below $70.
Regardless of the position type, and no matter how confident they are in a particular market forecast, traders need to make sure that volatility, time, and delta aren't lined up against them.
Today's numbers include: Weekly Jobless Claims (8:30 a.m.), Chicago PMI (9:45 a.m.).
Click here to log on to your account or learn more about E*TRADE's trading platforms, or follow the Company on Twitter, @ETRADE, for useful trading and investing insights
---
What to read next...
12/28/21
This year has provided more than a few "teaching moments" for students of the markets.
---
12/23/21
The market's getting ready to take its midterms—find out what kind of grades it's gotten in the past.
---
12/22/21
Crude oil may be the best-known commodity story of the year, but a few other markets made much bigger moves.
---