Selling time and volatility
On Tuesday CCCC's implied volatility was near its 52-week highs
Volatility much higher for April options than May options
Nearby options poised to lose time value at accelerated pace
While many options traders think mainly in terms of price direction, experienced traders know time and volatility can play major roles in determining whether a trade is profitable. Sometimes, in fact, traders structure positions specifically designed to capture the key characteristics of time and volatility—but they have to recognize when conditions are favorable.
First, because options are worthless after their expiration dates, all long options lose some of their value over time, regardless of what the underlying stock does. Also, this process of "time decay" speeds up with the approach of expiration—an option with just two weeks until expiration, for example, will lose more value from one day to the next than the same option with two months until expiration.
This tendency is the basis for the "calendar spread," which combines a short call option in a nearby expiration with a more-distant long call with the same strike price. The logic: The short (nearby) option will lose more value, faster, than the more-distant long option, thus generating a net profit.
It sounds simple, but as with most aspects of trading, the devil is in the details. An example in C4 Therapeutics (CCCC) helps illustrate why. The stock appeared yesterday on the LiveAction scan for 52-week high IV levels, and the options chain showed IV for CCCC's April options was much higher than it was for May options: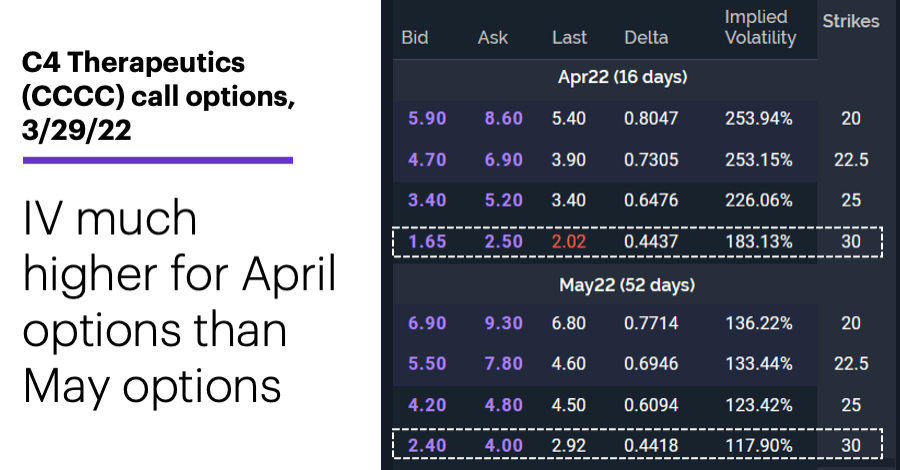 Source: Power E*TRADE. (For illustrative purposes. Not a recommendation.)
---
When the stock was trading around $25 yesterday, for example, the IV for the April $30 call (183.13%) was more than one-and-a-half times the IV for the May $30 call (117.9%). That may have interested potential calendar spread traders because, all else being equal, high implied volatility (IV) tends to inflate options prices. And if you're considering shorting an option, you'd naturally want it to be as high-priced as possible.
In this case, let's say a trader expected CCCC to continue trading below $30 until April monthly options expire on April 15. Because those options 1) are potentially overpriced because of high IV, and 2) should experience accelerated time decay because they have less than three weeks until expiration, the trader decides to sell the April $30 call while buying the May $30 call, creating a calendar spread. (Note: While calendar spreads are typically executed with at-the-money options, traders sometimes use in-the-money or out-of-the-money options depending on how they think the stock may move in the near term.)
As the following risk-reward profile shows, an at-the-money calendar spread has a fixed maximum loss—the cost of putting on the trade—as well as a fixed maximum profit, which occurs if the stock price is relatively stable: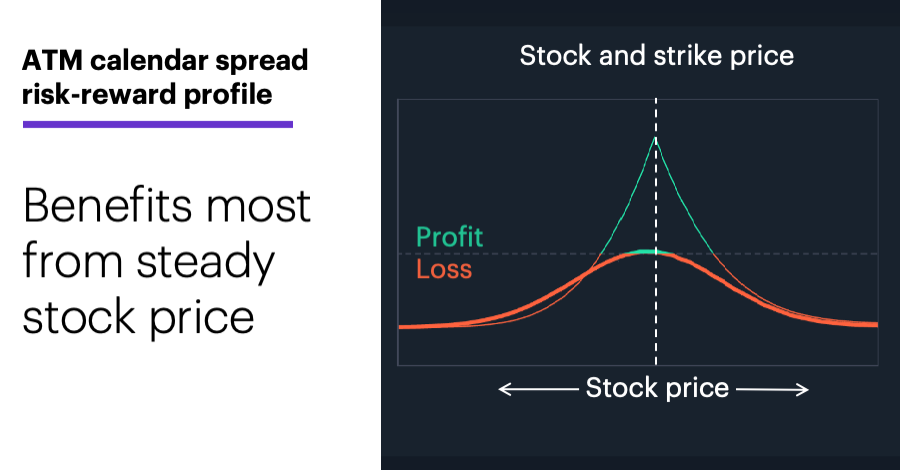 Source: Power E*TRADE. (For illustrative purposes. Not a recommendation.)
---
As this profile suggests, the calendar spread is not a strategy to use if you expect a stock to make a sizeable move, up or down. In effect, it is a way to short time and volatility, while remaining relative neutral about overall price direction.
Finally, because the calendar spread uses multiple expiration dates, it can require some additional maintenance: When the nearby option expires, the trader will still have a long call position in the more-distant option. Unless that call has some potential benefit (perhaps because of a change in market conditions), the typical approach is to buy back the short option for as little as possible (or let it expire worthless), while simultaneously selling the long option.
Market Mover Update: Intel (INTC) is up more than 18% over the past two weeks—the stock's most recent rally off a support level that dates back to early 2018.
Prior to releasing earnings after yesterday's close, PVH (PVH) rallied nearly 5%, extending its rally since March 7 to 32% (see "Sell-offs and support"). Meanwhile, EPAM Systems (EPAM) is up more than 75% since March 7 after yesterday's 12% rally (see "Sell-offs: Buying stock vs. options").
Today's numbers include (all times ET): Mortgage Applications (7 a.m.), ADP Employment Report (8:15 a.m.), Q4 GDP, final revision (8:30 a.m.), EIA Petroleum Status Report (10:30 a.m.).
Today's earnings include: BioNTech (BNTX), Five Below (FIVE), Paychex (PAYX).
Click here to log on to your account or learn more about E*TRADE's trading platforms, or follow the Company on Twitter, @ETRADE, for useful trading and investing insights.
---
What to read next...
03/29/22
Will options traders get on board as tech stock tests technical level after five-month correction?
---
03/28/22
Another up week for broad market as Russia–Ukraine conflict passes one-month mark.
---
03/24/22
Social media stock illustrates real-time considerations for options straddle traders.
---