Tickers on the move
Levi's has a sale…on its stock?
BA bulls keep throwing counterpunches
DHR recently returned to three-month-old support level
Even on the dullest days, there's usually action in some overlooked corner of the markets, but yesterday you didn't even have to get anywhere near the corners.
In no particular order, here are Three Stocks Worth Watching (not a new feature)—some high-profile names that jumped off the trading screen, for very different reasons.
First up, Levi Strauss (LEVI), which took a hit after its second earnings announcement since its March IPO, falling as much as 9% intraday yesterday (which followed a 4% decline on Tuesday), presumably because of the revelation that Q3 profits fell 4%: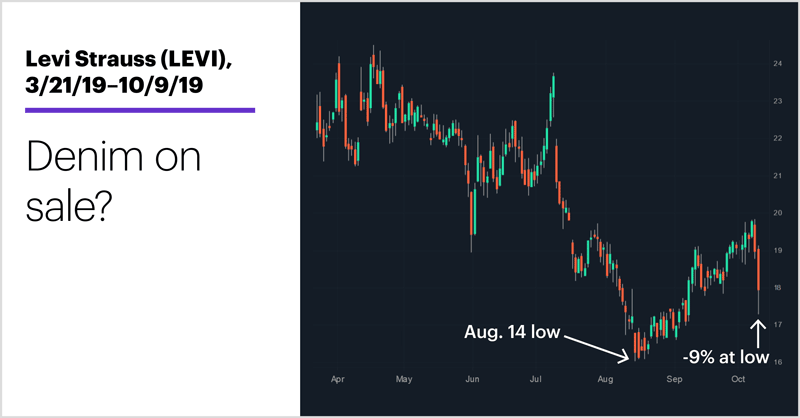 Source: Power E*TRADE
---
But the numbers also included these tidbits:
●The company's headline earnings and revenue numbers topped estimates.
●Online business, as well as sales in Europe and Asia, both increased.1
●The company affirmed its guidance for 2019.2
So, on the whole, perhaps not a complete disaster. Yesterday's pullback dropped LEVI to a one-month low, but not quite to its mid-August low of $16—a level more-conservative bulls may wait to be tested. Those who feel the numbers have good in them as well as bad may see a stock that, if not on sale now, could be soon. But that August low remains the line in the sand.
Boeing (BA) may occupy the opposite end of the spectrum: a stock that has repeatedly refused to drop significantly, or for long, in the face of bad news. The most recent development, that the company's 737 MAX airline will remain grounded until at least January 2020 (Boeing had previously vowed the plane would be back in the air this year),3 appeared to have minimal effect on the stock yesterday: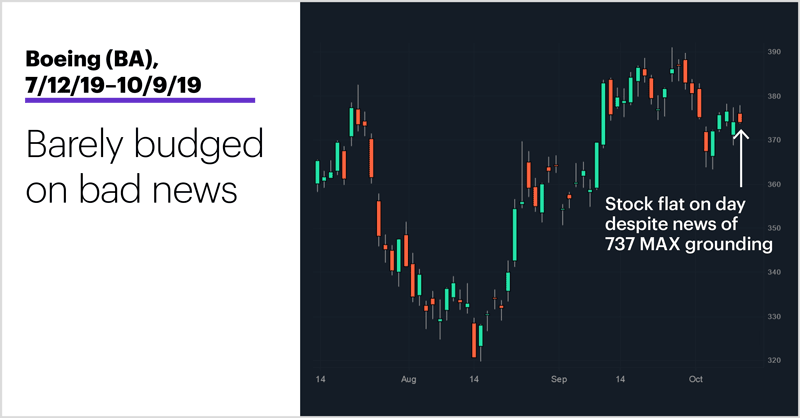 Source: Power E*TRADE
---
Despite pulling back from its intraday high, shares were still slightly in the green around midday. There's not much to say about this, other than BA has shown similar resiliency after other negative headlines in recent months (the stock is up around 16.5% since August 14). There's an old bit of Street wisdom about paying attention to stocks that rally on bad news or fall on good news: They may be hinting at reservoirs of bullish or bearish strength that traders can sometimes tap into.
Finally, medical tech company Danaher (DHR), which is scheduled to release earnings next Wednesday, may provide food for thought for anyone inclined to casually dismiss support and resistance levels. The stock, which is up around 33% on the year, provides an exceptional example of a former resistance level transitioning into a support level, and that level functioning as the base for short-term rebounds for the better part of three months: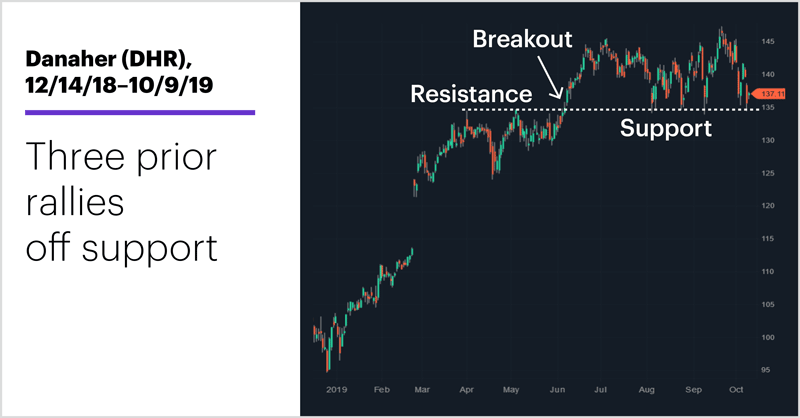 Source: Power E*TRADE
---
After temporarily topping out around $135 in early April, DHR tested that high in May and retreated, confirming a resistance level. After breaking out above this level in June and rallying to all-time highs, the stock pulled back to it four times—in July, August, September, and two days ago. After the first three pullbacks, DHR staged rebounds of roughly 4.5%, 6.5%, and 7%, the last one leading to the stock's current record high of $147.33 from September 20.
Will the stock repeat the pattern? There's no way to know (DHR was up around 1% midday yesterday), but the important point is that with a technical level this well-established, there's a good chance of a momentum move, up or down, because many longs have likely placed protective stops below the support level. If it breaks, those stops would get triggered, fueling bearish momentum.
Until that happens, though, the bulls retain control of the line of scrimmage.
Market Mover Update: Despite yesterday's broad-market rally, Freshpet (FRPT) followed through on Tuesday's sell-off, dropping more than 2% intraday (see "Who let the dogs out?"). Meanwhile, Microsoft (MSFT) outpaced the market's gains, a day after getting an analyst upgrade (see "Investing theme, trading opportunities").4
Today's numbers (all times ET): CPI (8:30 a.m.), EIA Natural Gas Report (10:30 a.m.).
Today's earnings include: Delta Air Lines (DAL), Tootsie Roll Industries (TR).
Click here to log on to your account or learn more about E*TRADE's trading platforms, or follow the Company on Twitter, @ETRADE, for useful trading and investing insights.
---
1 The Washington Post. Levi Strauss's 3Q profits drop 4.1%. 10/8/19.
2 Barrons.com. Levi Strauss & Co. Reports Third-Quarter and Year-to-Date 2019 Earnings, Affirms Annual Guidance. 10/8/19.
3 Reuters. American Airlines cancels 737 MAX flights until Jan. 16. 10/9/19.
4 Barrons.com. Buy Microsoft but Be 'Selective' on Pricey Enterprise Software Stocks. 10/8/19.
What to read next...
10/09/19
And not just the dogs: Bulls, bears test appetite for pet food stock.
---
10/08/19
Is the energy sector poised to power up after a rough two weeks?
---
10/07/19
After a shaky start to October, the market finds its footing toward the end of last week.
---