This lane open
Bulk retailers weathered the pandemic sell-off better than most stocks
COST and WMT have recently pushed to new highs
Options offer different ways to trade recent price setups
Are traders bulking up on bulk retailers?
Discount "warehouse" retailers like Costco (COST) and Walmart (WMT) have seen an uptick in business in recent weeks as states have relaxed lockdown restrictions. The fact that Costco enjoyed a year-over-year sales increase for the week ending July 6 isn't insignificant, considering evidence that shoppers are still leery of returning to their pre-pandemic shopping habits—weekend shopping is still down from 2019 levels, for example.1
Their stock prices have been ticking higher, too. After slumping in much of May and June, both COST and WMT took out their June highs in the past couple of weeks to set fresh all-time records, and both have been consolidating near these highs since: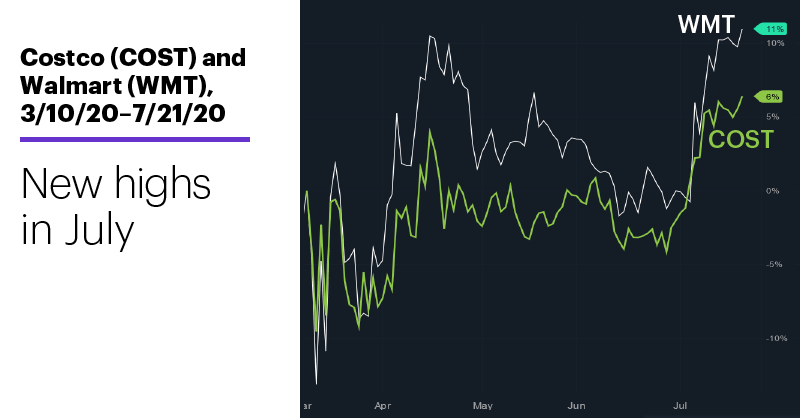 Source: Power E*TRADE
---
If those gains off the March lows look somewhat anemic compared to many of the blockbuster moves that have littered the market in recent weeks, keep in mind that COST and WMT barely missed a beat during the pandemic sell-off: Both fell less than 15% from their February highs (compared to a 34% drop for the SPX), both began rebounding before the broad market, and both are up around 12% for the year.
Given the boost they got during the early hoarding phase of the pandemic (they remained open even during the strictest portions of the lockdown), some market watchers anticipate these retailers could continue to be resilient even in the event some states are forced to reinstate quarantine measures.
But what about the near-term price action? The following chart shows COST's current consolidation (which the stock was attempting to escape from yesterday morning as it punched out a new record high) is forming at a longer-term resistance level—the top of the larger, more jagged consolidation dating back to February: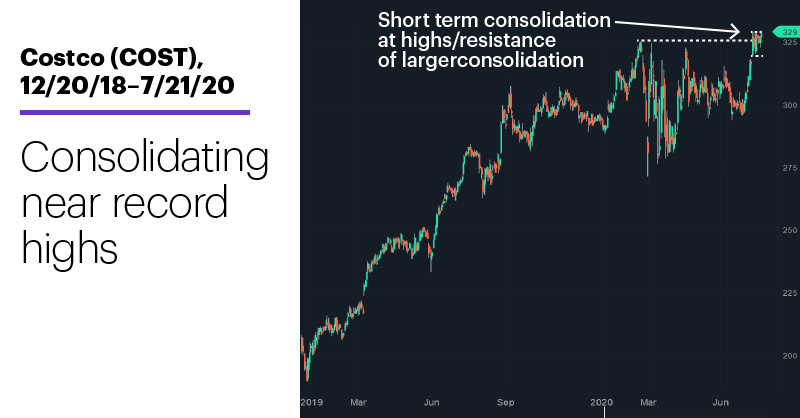 Source: Power E*TRADE
---
Some traders look to trade breakouts of short-term consolidations that coincide with larger-scale breakout points precisely because of the potential for additional momentum, since longer-term trend-following systems may trigger buy orders and short sellers may be pressured to cover their positions.
Options traders who think these stocks may have more room to run may be looking at a few strategies, depending on their risk tolerance and how big of a post-breakout move they anticipate. Extremely aggressive traders, for example, may consider a "synthetic" long position (long call and short put with the same strike and expiration—a doubly-leveraged trade), while more conservative types may lean toward the bull call spread, like the September $330-$345 spread shown here: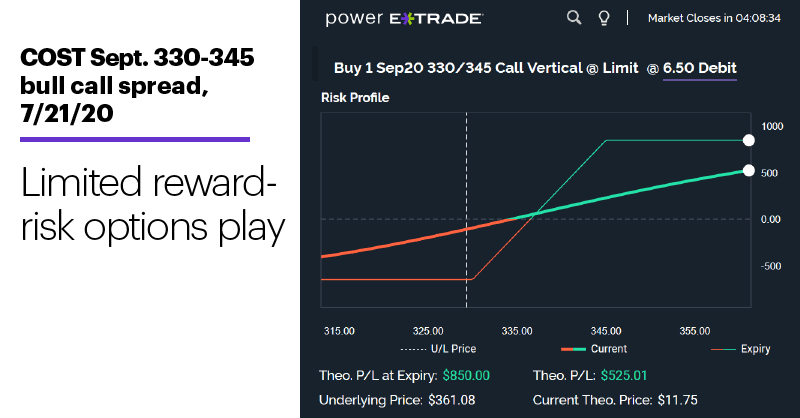 Source: Power E*TRADE
---
This trade typically combines a long at-the-money call option (in this case, the September $330 call) with a higher-strike short call (the September $345). Yesterday, when the stock was trading just a little below $330, the $330 call was trading around $11 and the $345 call was trading around $450.
The advantage of using this approach is that it's cheaper than simply buying calls outright—in this case, the premium collected from the short call reduced the cost of gaining long exposure by around 41% ($6.50 vs. $11)—and lowers the trade's breakeven point. The compromise is that gains are capped even if the stock continues to rally above the higher strike price.
Just like going to the store, though, it's always better to have plenty of choices at your fingertips.
Market Mover Update: DraftKings (DKNG) has rallied nearly 40% in six days since retracing 50% of its March–June rally (see "The name of the game").
Gold's short-term consolidation breakout yesterday pushed the yellow metal to its highest level since September 2011. August gold futures (GCQ0) rallied to a new contract high of $1,844.90.
Germany's DAX stock-market index got back into the black for the year yesterday—one day after the S&P 500 (SPX) accomplished the same feat. European officials yesterday announced a new $2 trillion economic recovery package.
Today's numbers (all times ET): FHFA House Price Index (9 a.m.), Existing Home Sales (10 a.m.), EIA Petroleum Status Report (10:30 a.m.).
Today's earnings include: Microsoft (MSFT), Tesla (TSLA), Chipotle (CMG), Meritage Homes (MTH), Spirit Airlines (SAVE), Biogen (BIIB), CSX (CSX), Citrix Systems (CTXS), Corelogic (CLGX).
Click here to log on to your account or learn more about E*TRADE's trading platforms, or follow the Company on Twitter, @ETRADE, for useful trading and investing insights.  
---
1 Barron's. Costco, BJ's, Walmart's Sam Clubs See More Shoppers Even With Uptick in Retail Restrictions. 7/21/20.
What to read next...
07/21/20
One of the hottest areas of tech is one you probably don't pay much attention to.
---
07/20/20
Last week saw an inversion of the market status quo, as traders rotated away from tech.
---
07/17/20
Are traders eyeing a summer vacation for online education stocks?
---