The options option
NVDA options volatility up more than 30% from last week
After rough May, stock up around 25% since June 3
High-volatility put options can offer bullish play
There's nothing more frustrating than being right about market direction but still losing money on a trade, but that's probably an all-too-common experience for traders who dive into options without fully understanding the, shall we say, "quirks" of these instruments.
To wit: You buy call options (expiring in roughly one month) on a stock that, over the course of two days, jumped 4% off a three-month low. It's the upside reversal you've been waiting for, and you believe this turnaround signals the stock is poised to rally even more.
After around 10 days of trading sideways, your stock again begins to climb, and by the time options expiration arrives, it's up around 6%. Congratulations—you were right. Unfortunately, your call options have barely budged—in fact, they've actually dipped slightly. Here's likely what happened:
1. You bought the call options when implied volatility (IV) was high, which made them relatively overpriced.
2. You bought the options just as time decay—the loss of value that naturally occurs over time in any long option position—was about to accelerate (the two to three weeks before expiration).
IV is the part of an options price that reflects the market's expectation of future price volatility in the underlying stock—which, given the stock made a dramatic turnaround at the time you bought your options, may well have been high, thus inflating their prices. And although the stock ultimately rallied, the fact that it did so in the final two weeks of the option's life meant those gains were fighting an uphill battle against time decay. It's a double–whammy.
If it makes sense to, in most cases, buy options with relatively low IV that are not too close to expiration, it also stands to reason that if you want to sell options, you'd want to do it when IV is relatively high and time decay is going to be working in your favor. That way, you're positioning yourself to sell something that's potentially overpriced when it's poised to begin losing value faster than ever.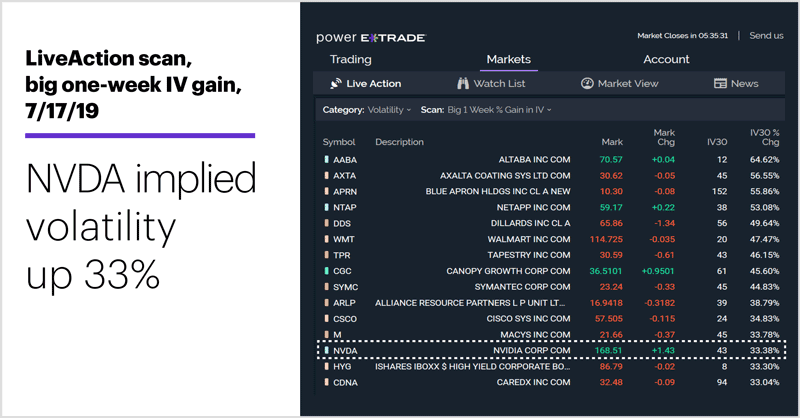 Source: Power E*TRADE
---
Flash back to yesterday, when a LiveAction scan showed Nvidia (NVDA) implied volatility was up more than 33% from a week earlier (above).
The chart below shows that NVDA, which took a beating earlier in the year along with many other semiconductor stocks as the US–China trade war dragged on, was up around 26% from its early–June low, and just $5 or so below its July 1 high around $174.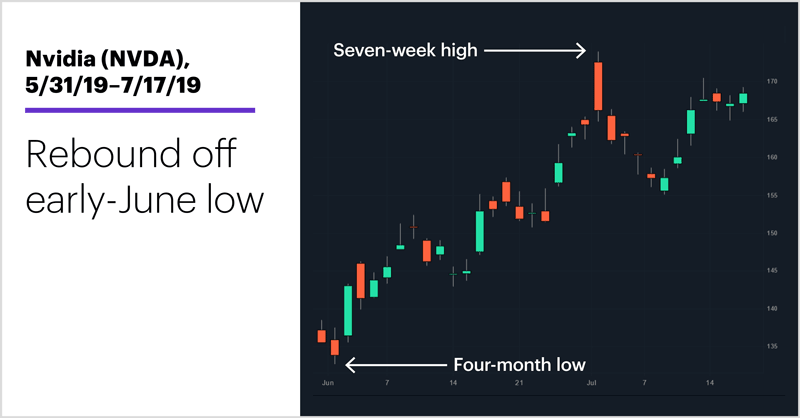 Source: Power E*TRADE
---
In this type of scenario, traders expecting more NVDA upside may look to sell put options rather than buy calls. Yesterday, for example, the August $155 NVDA put options were trading around 3.00 ($300), which means if NVDA was trading anywhere above $155 on August 16, the options would expire worthless and the trader would pocket that premium. Of course, if the stock dropped below $155, the trader would effectively be long the stock at that price, and in a losing position.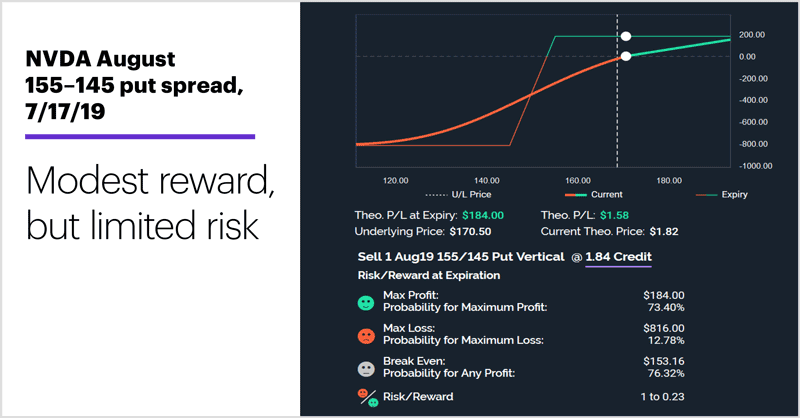 Source: Power E*TRADE
---
The chart above shows a more conservative options approach: a bullish put spread. Combining the short $155 put with a long put—in this case, an even more distant August $145 put—caps the trade's loss in the event the stock sells off more dramatically. The trade-off is a reduced potential profit, which in this case is a maximum of 1.84 ($184) per spread (the 3.00 collected for each short $155 put minus the 1.16 spent on each long $145 put). But the trade would realize some profit if NVDA is anywhere above $145 at expiration.
Also, at the risk of missing out on the trade, in these situations some traders may wait a few days for a down move in the stock, which would inflate the value of the put options they're interested in selling.
Remember, with options, you're not just trading the direction of the underlying stock, you're also trading volatility and time. Keeping yourself on the right side of IV and time decay may help add to your profits when you're right about the market, and minimize your losses when you're wrong.
Today's numbers: Leading Indicators (10 a.m.), EIA Natural Gas Report (10 a.m.).
Today's earnings include: Blackstone Group (BX), Union Pacific (UNP), Nucor (NUE), Danaher (DHR), Chewy (CHWY), Microsoft (MSFT), Crowdstrike (CRWD), UnitedHealth Group (UNH), Honeywell International (HON), Skechers USA (SKX), Philip Morris International (PM), Morgan Stanley (MS).
Today's IPOs include: Mirum Pharmaceuticals (MIRM), Assetmark Financial Holdings (AMK), Phreesia (PHR), Fulcrum Therapeutics (FULC).
Click here to log on to your account or learn more about E*TRADE's trading platforms, or follow the Company on Twitter, @ETRADE, for useful trading and investing insights.
---
What to read next...
07/17/19
737 MAX woes have failed to ground the industry in recent weeks, and earnings are about to pull into the gate.
---
07/16/19
Attention shoppers: Negative headlines sometimes translate into favorable short-term buying opportunities.
---
07/15/19
Stocks advance on dovish Fed testimony.
---