The Fed Factor
After falling 70%, APTV up around 115% since mid-March
"Leveraged" company positioned to benefit from targeted Fed stimulus?
Traders may look for test of recent breakout level
Everyone knows the US Federal Reserve is pulling out all the monetary policy stops, including buying assets from almost every aisle of the financial supermarket, but that's not the same thing as knowing how such unprecedented spending will affect markets, both immediately and in the long-term. No one has a crystal ball.
We can all guess about the broad strokes—the Fed is trying to support the markets, after all—but it's worth wondering whether its policies may point toward opportunities in specific—and overlooked—areas of the market.
Source: Power E*TRADE
---
Yesterday, for example, auto components manufacturer Aptiv (APTV) was in second place on the LiveAction scan for high call-put ratios, with call options volume around 262 times put options volume in early trading (above). At the time, APTV stock was up roughly 4% on the day—around twice as much as the S&P 500 (SPX).
Jumping over to the options chain showed where the bulk of volume was—two 3,000-contract trades in the August $65 and $80 calls: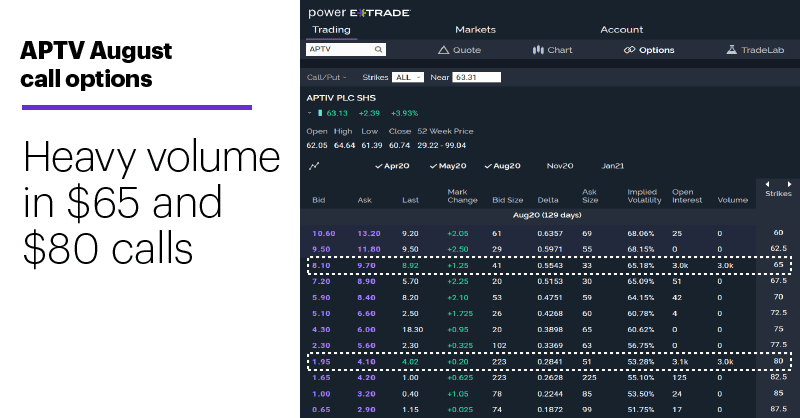 Source: Power E*TRADE
---
Just a couple of big trades, or a possible bull call spread, where some large trader was buying the $65 calls and shorting the $80 calls to profit from an expected rally into the zone between the two strike prices? Perhaps—there's no way to be certain, either way—but if it was the latter, some traders wouldn't see it as an excessively aggressive play, since a bull call spread is a limited-risk, limited-reward trade.
Nonetheless, a stock up more than 4% with some large call options trades may set off bullish bells for some traders. Here's where Fed stimulus may provide a back story. The central bank last week expanded its quantitative easing (QE) program to authorize the purchase of up to $750 million of corporate bonds, including those of "fallen angels" who have seen their debt downgraded to junk (or near-junk) status.1
And that, according to some analysts, could be good news for highly leveraged companies that have been considered especially vulnerable (some would say "toxic") because of the coronavirus crisis. Investment bank Jefferies, for example, put together a list of 18 companies on which it had "buy" ratings that it also saw as "misunderstood" because of their debt—that is, the company thinks the stocks may have been disproportionately punished during the recent sell-off.2
APTV, which sold off a little more than 70% from December 20 to March 18, was one of them:
Source: Power E*TRADE
---
The other side of the coin is that, although it's still more than $35 below its December 20 high of $99.04, APTV has already rebounded roughly 115% off its March low—around 45% in just the past six days, when it also broke out above its late-March swing high around $56.
If the Fed stimulus does pay dividends for stocks like APTV (and that translates into an extended rally), savvy traders know even the strongest price moves take place in fits and starts, which is why they watch for pullback opportunities—say, to technical points like a recent breakout level or swing low.
Market Mover Update: Speaking of Fed stimulus, the central bank's loose purse strings may be helping keep a bid under gold prices, which hit a seven-and-a-half-year high. June gold futures (GCM0) tagged $1,788.80 early Tuesday before retreating later in the day (see "Ground-floor rally"). Gold has jumped around $170/ounce so far this month.
One day after global oil suppliers finalized the biggest daily production cut in history, May WTI crude oil futures (CLK0) tumbled 11% intraday, trading as low as $19.95/barrel.
Dollar General (DG) blasted out of its consolidation yesterday, jumping more than 4% to a new record high (see "Not small change").
Today's numbers: Retail Sales (8:30 a.m.), Empire State Manufacturing Survey (8:30 a.m.), Industrial Production (9:15 a.m.), Business Inventories (10 a.m.), Housing Market Index (10 a.m.), EIA Petroleum Status Report (10:30 a.m.), Beige Book (2 p.m.).
Today's earnings include: Atlassian (TEAM), Bank of America (BAC), Bed Bath & Beyond (BBBY), U.S. Bancorp (USB), Citigroup (C), PNC Financial Services (PNC), UnitedHealth Group (UNH), Goldman Sachs (GS).
Click here to log on to your account or learn more about E*TRADE's trading platforms, or follow the Company on Twitter, @ETRADE, for useful trading and investing insights.  
---
1 CNBC.com. Federal Reserve unveils details of $2.3 trillion in programs to help support the economy. 4/9/20.  
2 MarketWatch. Opinion: These stocks may bounce as the Federal Reserve buys junk bond ETFs, according to Jefferies. 4/13/20.
What to read next...
04/14/20
Discount retailer flourishes despite coronavirus market woes, consolidates after pushing to new highs.
---
04/13/20
Another historic week pushes S&P 500 to the 50% retracement level of the coronavirus sell-off.
---
04/09/20
Initially hammered in the coronavirus sell-off, chip stocks have bounced back with a vengeance.
---