Breaking down a breakdown
Tenet Healthcare (THC) recently broke down to 22-month low
Stock has rebounded to test previous breakdown levels this year
Options traders opened new positions in Nov. options on Tuesday
Traders who watch the ebb and flow of prices over time tend to notice patterns that appear with regularity, if not quite like clockwork—for example, the tendency for prices to "test" a prior breakout or breakdown level, even when they are mostly trending in one direction.
Tenet Healthcare (THC), for example, has fallen more than 50% since hitting a nearly 20-year high of $92.65 in March, but it hasn't been an uninterrupted slide.
Over the course of the past seven months, THC has repeatedly broken below various support levels—defined by previous swing lows or consolidations—but has, so far, rebounded to test each breakdown level before turning lower: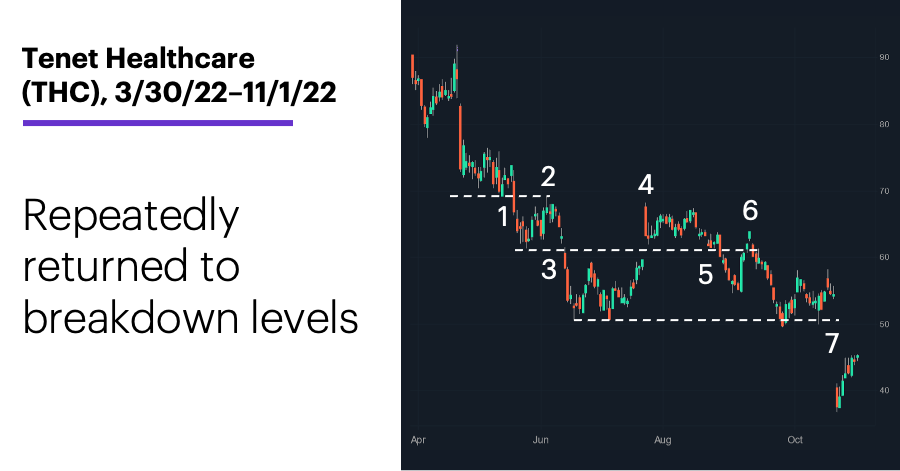 Source: Power E*TRADE. (For illustrative purposes. Not a recommendation.)
---
Roughly two weeks after the stock's mid-May breakdown below a price consolidation (1), shares tagged the former support level (2) before drifting lower again. The next breakdown occurred six trading days later (3) and, after roughly five weeks of choppy trading, the stock gapped back above the breakdown level (4). After another consolidation, THC broke again in late August, sold off for about a week, then pivoted to the upside, jumping back above the breakdown level (6).
Finally, on October 21, THC broke down below the longer-term support level defined by its June–October lows after announcing earnings (7)—a 31% drop that sent shares to their lowest level since December 2020. (The company beat its headline earnings number and matched revenue estimates, but it lowered its revenue outlook for the year.1 )
While there's no guarantee that THC can repeat its 2022 pattern of rebounding to test this latest breakdown level, as of yesterday the stock had rallied more than 20% off its October 21 low, and was a little more than 8% below the approximate breakdown point ($49.50–$50).
But the stock may have gone unnoticed by many traders if it hadn't put up some sizable numbers in the options space:
Source: Power E*TRADE. (For illustrative purposes. Not a recommendation.)
---
On Tuesday morning, 2,000 of the November $45 calls changed hands (when the stock was trading right around the strike price), and by midday the volume had ballooned to 3,300 contracts—more than 11 times THC's average total call volume on any given day, and more than double the existing open interest.
While these positions could have been initiated by sellers who expect THC to decline between now and November 18 (when the calls expire), the other side of the trade is just as valid. Bottom line, someone was buying at-the-money calls expiring in less than three weeks—options that won't have any value at expiration unless THC is trading higher than it was at Tuesday's open.
Mark Mover Update: The oil seesaw continued. After starting the week with a 2.5% sell-off, December WTIR crude oil futures (CLZ2) rallied more than 2% on Tuesday to close above $88 and near the upper end of their two-week range.
Today's numbers include (all times ET): Mortgage Applications (7 a.m.), ADP Employment Report (8:15 a.m.), EIA Petroleum Status Report (10:30 a.m.), Fed interest rate announcement (2 p.m.), Vehicle Sales.
Today's earnings include: CVS Health (CVS), Martin Marietta (MLM), Rockwell Automation (ROK), Yum Brands  (YUM), Allstate (ALL), eBay (EBAY), Etsy (ETSY), Piedmont Lithium (PLL), Qualcomm (QCOM), Qorvo (QRVO), Royal Gold (RGLD), Workiva (WK).
Click here to log on to your account or learn more about E*TRADE's trading platforms, or follow the Company on Twitter, @ETRADE, for useful trading and investing insights.
---
1 Hospitals Erase $5 Billion as Tenet, HCA Results Disappoint. 10/21/22.
What to read next...
11/01/22
This industrial stock's short-term momentum appears strong, but it may have longer-term barriers to confront.
---
10/31/22
High-profile tech names come up short, but market holds its ground.
---
10/28/22
Calendar spreads may appear to "trade time," but they have a key volatility component.
---