Testing the market's mettle
Major US indexes approached Monday's lows yesterday
Volatility lower than on Monday
Stocks erased early -2% loss to close higher
It will take more than a day or two to find out if Monday's stock-market lows are destined to be more than a short-term stopping point within a larger down move, but yesterday may have dropped a few hints that bulls haven't entirely fled the market pasture, despite a flurry of "Look out below!" lightning bolts from the financial media. A few things to chew on:
1. Except for the Dow, which got weighed down by Disney's (DIS) earnings miss,1 the major US stock indexes approached Monday's lows, but didn't trade below them.
2. The indexes rallied off their lows to close up on the day and in the upper portions of their ranges.
3. Index options implied volatility was notably lower than on Monday.
Early on it seemed like the S&P 500 (SPX) was going to make it seven down days out of eight since July 26, but take a look at the following chart: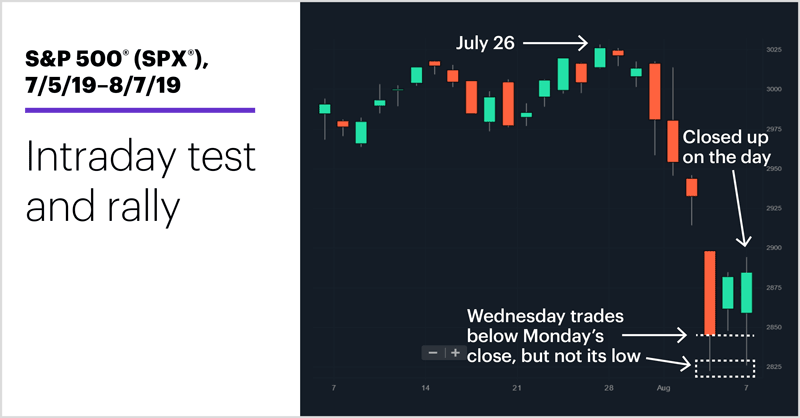 Source: Power E*TRADE
---
One could argue that yesterday's down close was as much a function of Tuesday's extremely high close as anything else, since the SPX ended the day much closer to its intraday high than its low.
In fact, E-Mini S&P 500 futures (ES) were trading in positive territory most of Tuesday night and Wednesday morning before the stock market opened. A presidential tweet lambasting the Federal Reserve and dismissing China as a "problem"2 may have stoked market fears about monetary policy and the trade war, as the SPX dropped around -2% in the first 20 minutes of trading before reversing to the upside.
That positive intraday mood swing held until the close, as the index ended the day in the green, above its open, and near the top of its range.
Also, when things were at their worst yesterday morning as the SPX fell to 2,825.71—below Monday's close and just 3.5 points above its low—the Cboe Volatility Index (VIX) implied the market was experiencing less "fear," as it peaked at 23.67, more than -4% below where it closed on Monday: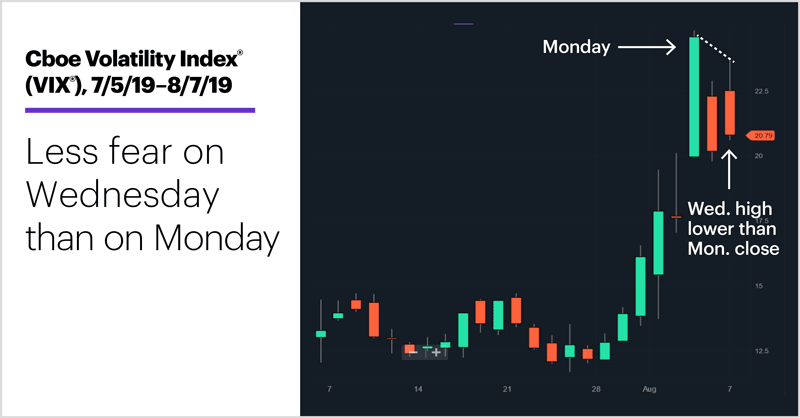 Source: Power E*TRADE
---
In other words, even when the SPX was trading below Monday's closing price, the VIX (which typically rallies when the market sells off) was trading at a lower level than it had then, suggesting reduced market anxiety despite lower stock prices, which is sometimes a signal that bearish momentum is waning, at least in the short term.
Of course, we've seen more than once recently how one tweet can pull the rug out from under a rally, but such surprises are part of trading. If the SPX breaks below its Monday low—for whatever reason—technicians will point out there aren't many roadblocks on the way to a test of the June 3 low around 2,744.
That challenge may or may not be on the near-term horizon. But yesterday's price action may have suggested bulls are looking for an excuse to run.
Market Mover Update: Gold kept rolling, topping $1,500/ounce for the first time since 2013. December gold futures (GCZ9) capped their third-straight up day by trading as high as $1,522.70.
Today's numbers (all times ET): Wholesale Trade (10 a.m.), EIA Natural Gas Report 10:30 a.m.), Japan GDP (7:50 p.m.).
Today's earnings include: Activision Blizzard (ATVI), Murphy Oil (MUR), Progressive (PGR), Cheniere Energy (LNG), Symantec (SYMC), Norwegian Cruise Line (NCLH), CBS (CBS), Paylocity (PCTY), Kraft Heinz (KHC), Trade Desk (TTD), Keurig Dr Pepper (KDP), Dropbox (DBX), EPAM Systems (EPAM), Fastly (FSLY), Yelp (YELP), Viacom (VIAB), Uber (UBER), Nektar Therapeutics (NKTR).
Click here to log on to your account or learn more about E*TRADE's trading platforms, or follow the Company on Twitter, @ETRADE, for useful trading and investing insights.
---
1 Investor's Business Daily. Dow Jones Plunges; 10-Year Yields Hit Lowest Level Since 2016.
2 CNBC.com. Trump calls for the Fed to cut rates 'bigger and faster' and says China is not the problem. 8/7/19. 
What to read next...
08/07/19
Just as with a stock, the goal is to sell volatility high and buy it low.
---
08/06/19
History—both recent and more distant—has some interesting things to say about yesterday's stock sell-off.
---
08/05/19
Stock retrench amid Fed frets and trade tweets.
---