Temporary grounding?
Airline stocks sold off on Friday's airstrike news
Higher fuel costs a concern, but stock-price connection debatable
Also: A look at the so-called "first five days" stock market indicator
One of the immediate casualties of last week's US airstrike that killed an Iranian general was airline stocks, the presumed logic being that higher fuel costs (crude oil prices surged in the wake of the news) would weigh on airlines' profit margins.
Southwest Airlines (LUV), American Airlines (AAL), United Airlines (UAL) each dropped at least 3% intraday on Friday, although they also trimmed their losses by the close.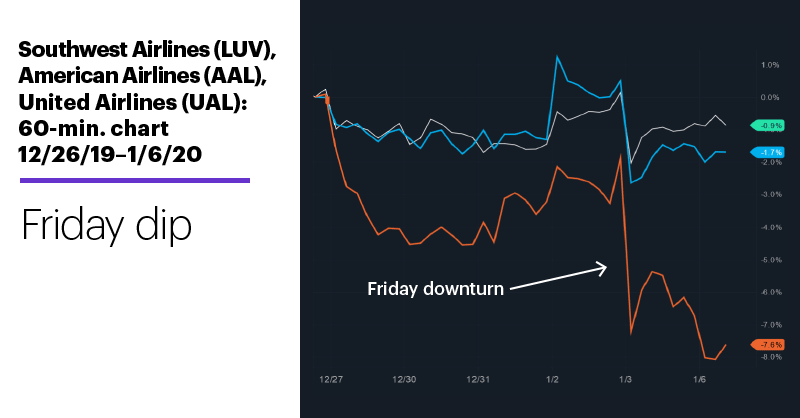 Source: Power E*TRADE
---
Roughly halfway through yesterday's trading session, all three stocks were again trading in the red, with two of them (UAL and AAL) down much more than the S&P 500's (SPX) incremental loss of -0.05% around 1 p.m. ET.
Although airlines haven't exactly been lighting the world on fire lately (AAL, LUV, and UAL are all up roughly 4% since August 30, compared to a 10% gain for the SPX), short-term traders may be looking for the group to bounce back from its recent dip, for a few reasons:
1. The broad market typically recovers some of its losses after an initial shock if events stabilize. There's already been some evidence the market is beginning to absorb recent events: The SPX closed well off its lows on Friday, and did the same yesterday after initially falling to a lower intraday low.
2. Similarly, if confrontation doesn't ratchet higher, oil prices could retreat from their recent highs. (Crude oil initially traded more than 2% higher yesterday, but ultimately closed near its session low.)
3. Finally, the fuel–profitability connection in airline stocks may be overstated. While it's true that higher fuel costs make it more expensive for airlines to do business, they can usually pass most of those costs on to customers. Airlines have, historically, been profitable when oil was trading at much higher levels than it is now.1 Also, some airlines, including LUV, reportedly hedge their fuel costs months in advance.2
If the recent geopolitical tensions don't immediately escalate into something bigger, traders may be looking for areas of the market that suffered disproportionally during the initial disruption, like airlines, to rebound even more than the broad market.
The S&P 500 has lost ground in the first five days of the year 21 times over the past six decades, but only nine of those years ended in the red.
Market Mover Update: February gold (GCG0) hit a new contract high of $1,590.90 yesterday, but retreated to close below $1,570 (see "Commodity key"). February WTI crude oil futures (CLG0) hit a new multi-month high of $64.72 yesterday, but pulled back to around $63 in the afternoon.
Forget about the first five days? Tomorrow will be the fifth trading day of the year, and popular wisdom holds that whether the stock market is net up or down in the first five days of a year is a good predictor of whether the year as a whole will be positive or negative.
History, though, suggests traders may not want to take this "signal" much more seriously than they do the Super Bowl indicator.
Since 1960 the S&P 500 has had a positive annual return 31 out of 39 times after gaining ground in the first five days of the year. That 79.5% win rate sounds pretty impressive—until you find out that the S&P has been up 72% of years since 1960 regardless of what's happened during the first five days.
And the predictive value of a negative first five days of the year is actually worse than a coin toss. The S&P has lost ground in the first five days of the year 21 times over the past six decades (most recently in 2016 and 2014), but only nine of those years ended in the red—a 43% accuracy rate.
Today's numbers (all times ET): PMI Services Index (9:45 a.m.).
Today's earnings include: AngioDynamics Inc (ANGO).
Click here to log on to your account or learn more about E*TRADE's trading platforms, or follow the Company on Twitter, @ETRADE, for useful trading and investing insights.
---
1 Barron's. Buy Airline Stocks. Friday's Surge in Oil Prices Doesn't Matter. 1/3/20.
2 The Motley Fool. Why Southwest Airlines Is Shrugging Off the Oil Price Spike (but American Airlines Isn't). 9/17/2019.
What to read next...
01/06/20
Market opens 2020 on volatile note as Middle East tensions crash New Year's party.
---
01/03/20
After a surge in call options volume, aerospace stock fires its booster rockets on first day of new trading year.
---
01/02/20
2019 saw big moves in gold, oil, coffee, and other markets. Will they still be hot commodities in 2020?
---