Just what the doctor ordered?
TDOC stabilized past two days after four-day, 25% sell-off
Calls cheaper after price drop—and volatility decline
Options spreads may have edge over outright positions
Virtual healthcare platform Teladoc (TDOC) was a big stay-at-home economy winner as lockdowns accelerated the adoption of telemedicine last year, but it's recently given back some of its gains as many investors have dumped tech in general and former pandemic winners in particular.
After rallying 164% from last March to last month—and 79% just from November 30 to February 16—TDOC shed 25% from February 19–25, dropping shares nearly $100 below their record high of $308: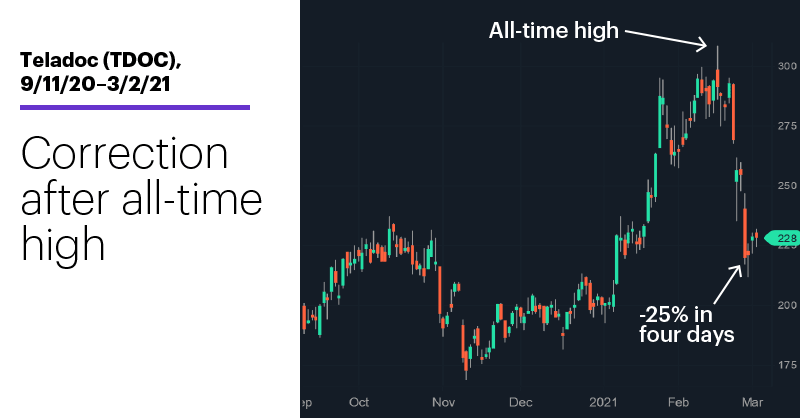 Source: Power E*TRADE
---
But the stock's stabilization so far this week has been accompanied by a noticeable contraction in options implied volatility IV, which the following chart shows was below its 30-day average across the March and April expirations: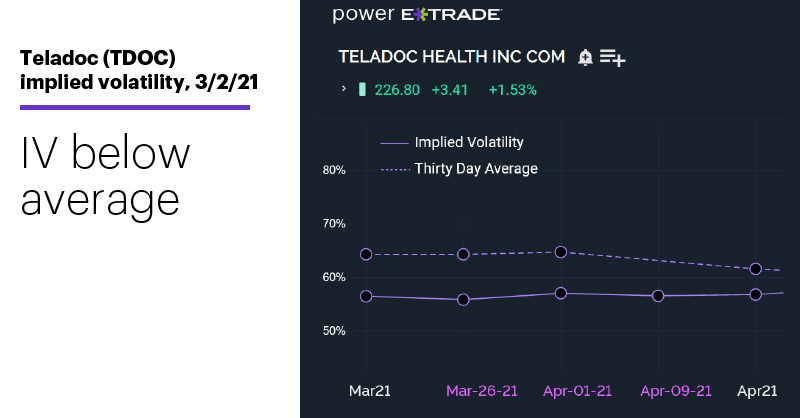 Source: Power E*TRADE
---
Lower IV often translates into lower options premiums, although in this case that discount was icing on the cake, since the stock sell-off has been the major driver in producing options prices that are, in some cases, less than one-fifth of what they were fewer than 10 days ago: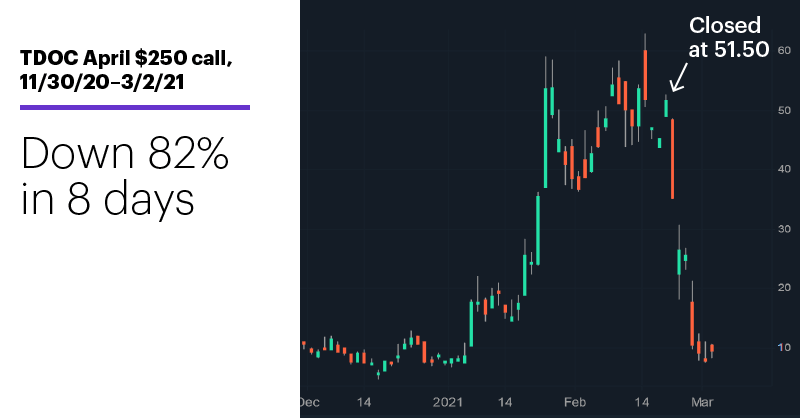 Source: Power E*TRADE
---
While a very bullish trader may expect a formerly uptrending stock to quickly rally back toward its recent highs, this type of situation can help illustrate why some traders often prefer to combine options in a spread rather than trade them outright.
A long call position can profit if the underlying stock rallies quickly and dramatically. But in the event a rebound (if one occurred at all) took longer than expected, it could gain much less—or even lose money—because time decay would inevitably eat away at some of its value. The challenge can be even greater for out-of-the-money options like the one shown above. For example, unless TDOC was above $250 by April expiration (around 14% above where it was trading yesterday afternoon), this option would expire worthless.
Using TDOC as an example, a trader who instead sold the April $250 call (which was trading around $840 at 1 p.m. ET on Tuesday) while also buying an April $230 call (trading around $1,500) would have created a position (a bull call spread) for about the same price as the $250 call, but which also had the potential to profit at any point up to expiration as long as the stock was trading somewhere between the two strike prices. No matter how far the stock drops, the maximum loss is limited to the price paid to establish the position.
The compromise? While the outright option position could rally indefinitely along with the stock, the spread's profit maxes out on a move to the upper strike price. But for traders looking for limited profit targets and time horizons, that trade-off can sometimes be less of a compromise than an advantage.
Today's numbers: Mortgage Applications (7 a.m.), ADP Employment Report (8:15 a.m.), PMI Composite Final (9:45 a.m.), ISM Services Index (10 a.m.), EIA Petroleum Status Report (10:30 a.m.), Beige Book (2 p.m.).
Today's earnings include: American Eagle Outfitters (AEO), Wendy's (WEN), Dycom Industries (DY), Dollar Tree (DLTR), Marvell Technology (MRVL), Snowflake (SNOW), Vroom (VRM), Okta (OKTA).
Today's IPOs include: Oscar Health (OSCR).
Click here to log on to your account or learn more about E*TRADE's trading platforms, or follow the Company on Twitter, @ETRADE, for useful trading and investing insights.  
---
What to read next...
03/02/21
Sector strength, options activity may raise financial stock's profile among traders.
---
03/01/21
February ends in the plus column, but continued tech dump drags down market in final week of month.
---
02/26/21
Barge operator's options positions soar as shares push to one-year high.
---