Telehealth market's temp rises
OTRK retreated more than 30% after 500%-plus rally
Company focuses on growing telehealth field
Pullback approached recent breakout level
Volatility tends to get a bad rap. But since it really just means "movement," always remember that if you're lucky enough to own a stock that embarks on, say, a three-day, 79% rally, you're experiencing extreme volatility. It's only because the move is in your favor that you may not think of it that way.
Of course, screaming rallies like this are susceptible to volatility in the other direction. It's just a fact of market life.
For example, "telehealth" company Ontrak (OTRK), which specializes in applying adaptive artificial intelligence (AI) to help patients remotely manage chronic health issues, pulled back sharply over the past three days, erasing almost all of the 44% surge it made after releasing earnings on August 5, and putting a medium-sized dent in its 573% rally since March 23. Yesterday morning the stock had fallen as much as 34% from its August 7 high: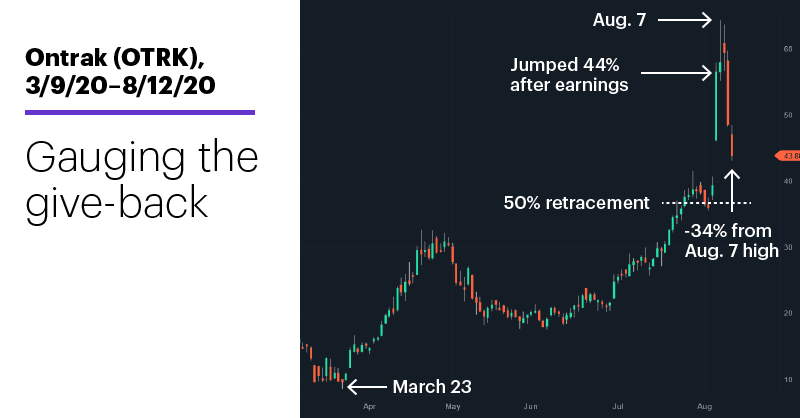 Source: Power E*TRADE
---
Ontrak's surge from $9.55 to $64.33 in a little more than four months speaks to a few intersecting market themes, first and foremost the explosion of interest in telehealth—virtually administered health care—in the pandemic era. Fewer people willing or able to go to the doctor's office in person means greater demand for virtual healthcare, a trend that many industry analysts believe will outlast the COVID crisis.1 (Two of the higher-profile players in the arena, Teledoc (TDOC) and Livongo (LVGO)—both of which also rocketed higher over the past several months—recently announced an $18.5 billion merger.)
Take that story, toss in possible tailwinds from the strongest market cap group of the past five months (small caps) and the company's niche in one of the hottest areas of tech (AI), and you have a recipe for the type of rally that OTRK put together.
Sometimes a sharp reversal simply means extreme volatility in one direction is being balanced by volatility in the other direction.
For the record, OTRK missed its earnings number but topped revenue estimates (more than doubling its take from a year ago), and reported a record-high 11,989 users.2 The average Street analyst target of $58.33 is roughly 36% above where the stock was trading yesterday morning.3
Yesterday's decline dropped OTRK close to the bottom of the August 5-6 price gap (the August 5 high of $40.70), and a little below that is the 50% retracement level of the March–August rally—a general zone that traders may look to provide support.
It's always tempting to see big reversals as evidence that a trend has definitively run its course. Sometimes that's true, but other times it means extreme volatility in one direction is being balanced by volatility in the other direction—a correction process that can put a market back in sync with the trend that was in place before the volatility surge.
Breakout watch: Since rallying 48% from March 23 to June 10, Visa (V) has been on summer vacation, forming a nearly perfectly horizontal trading range between roughly $187–$202:
Source: Power E*TRADE
---
It's the stock's longest, narrowest consolidation since its January–April 2018 pause. Short-term traders could be circling to play a potential breakout move—regardless of the direction.
Market Mover Update: After falling as low as $1,865—and tagging the trendline described in "Gold tumbles, traders eye chart"—October gold futures (GCV0) bounced as much as $86 intraday on Wednesday.
Today's numbers (all times ET): Weekly Jobless Claims (8:30 a.m.), Import and Export Prices (8:30 a.m.).
Today's earnings include: Applied Materials (AMAT), Baidu (BIDU), Dillard's (DDS), IQIYI (IQ).
Click here to log on to your account or learn more about E*TRADE's trading platforms, or follow the Company on Twitter, @ETRADE, for useful trading and investing insights.  
---
1 Politico.com. Why virtual care will outlast the pandemic. 6/12/20.
2 TheStreet.com. 5 Stock Gainers for Thursday: Celsius Holdings, Vista Outdoor, Nikola. 8/6/20.
3 TipRanks. Ontrak Stock Forecast & Price Targets. 8/12/20.
What to read next...
08/12/20
After a historic run, the yellow metal has posted its biggest pullback in months. What could traders being seeing in the price chart?
---
08/11/20
Big options trade crosses the tape as stock busts out of trading range.
---
08/10/20
Stocks press higher, balancing encouraging economic data against US–China tensions.
---