Tech without the target
Tech has led the US stock market this year
Feds reportedly launching antitrust probe aimed at specific tech companies
Many "below-the-radar" tech stocks have produced strong returns in 2019
Here's an apparent conundrum: Tech has led the US market higher by a wide margin this year, and late Tuesday the Department of Justice (DOJ) announced it was opening an antitrust investigation into "Big Tech."1
What's a momentum trader to do?
Probably start by putting things in perspective. While in early trading yesterday the news clearly weighed on the stocks of a few companies reported to be of interest to the DOJ (e.g., Amazon, Google, Facebook, Apple), it didn't exactly bring them to their knees: Halfway through the day, only one of them was down more than -1%.
The tech-centric Nasdaq 100 (NDX), meanwhile, had rallied to a new all-time high.
Nonetheless, cautious types could argue that a successfully prosecuted antitrust suit—something, by the way, that is not a foregone conclusion, or something that could occur overnight—would pressure the stock market, and tech in particular. In which case, there's no reason not to look at other corners of the tech world, perhaps those more removed from the spotlight's glare.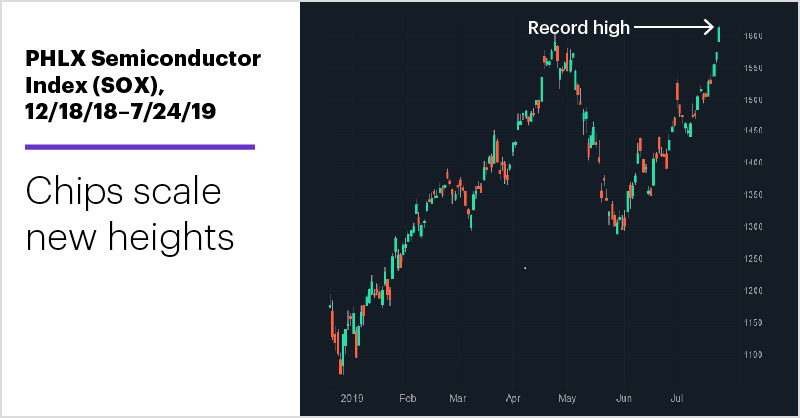 Source: Power E*TRADE
---
Most active traders are aware that the semiconductor space has rebounded from its May nosedive in a big way. In fact, the S&P 500 (SPX) semiconductor and equipment industry is up more than 13% over the past month, and the chart above shows the PHLX Semiconductor Index (SOX) banged out its own record high yesterday.
Traders searching for a slightly less-crowded space may also have looked at computer and peripheral stocks, which is the second-strongest SPX tech group over the past month. And while it was up "only" around 5% as of yesterday, that's more than double the SPX's return (roughly 2.2%) over the same period. Take a look at computer and printer manufacturer HP (HPQ), aka Hewlett Packard, for example:
Source: Power E*TRADE
---
The stock, which rock and rolled at the beginning of the year, took a 17% hit in late February after releasing earnings, then formed a choppy consolidation that bottomed around $18 on May 15.
Since then, though, HPQ (next scheduled to release earnings on August 22) has rallied more than 19% to around $21.50, breaking out of the top of its congestion phase in June and rebounding off a nearly picture-perfect pullback to the top of that consolidation earlier this month.
Bulls looking for more upside would likely point to that successful "test" of the former breakout level, as well as the technical target provided by the top of the February gap (around $23.60). And in addition to getting some press earlier this month for being potentially undervalued,2 HP is also reportedly moving a significant chunk of its notebook production out of China to reduce its exposure to potential tariffs.3 (PC shipments were strong in Q2, in part because of suppliers' efforts to move inventory before more shots were fired in the trade war.4)
Pullbacks in HPQ have been scarce over the past several weeks, although yesterday's slip into the red after being up on the day may have suggested another could be forming. If tech successfully navigates any rough seas, pullbacks in stocks like HPQ may offer something for traders to chew on in a sector that has more depth to it than many people think.
Market Mover Update: Despite a big earnings miss yesterday by Boeing (BA), American Airlines (AAL) and Spirit Airlines (SAVE) both rallied, following up on JetBlue's (JBLU) bullish performance from Monday and helping airlines remain one of the hottest S&P 500 industries over the past month.
Crown Holdings (CCK) jumped another 2.8% intraday yesterday to hit a second-straight record high.
Today's numbers: Durable Goods Orders (8:30 a.m.), International Trade in Goods (8:30 a.m.), Retail Inventories (8:30 a.m.), Wholesale Inventories (8:30 a.m.), EIA Natural Gas Report (10:30 a.m.), Kansas City Fed Manufacturing Index (11 a.m.).
Today's earnings include: Alphabet (GOOGL), Amazon.com (AMZN), Alaska Air Group (ALK), Southwest Airlines (LUV), Rockwell Automation (ROK), Bristol-Myers Squibb (BMY), Baxter International (BAX), Intel (INTC), Raytheon (RTN), Starbucks (SBUX), Cypress Semiconductor (CY), Newmont Goldcorp (NEM), Verisign (VRSN), Juniper Networks (JNPR).
Click here to log on to your account or learn more about E*TRADE's trading platforms, or follow the Company on Twitter, @ETRADE, for useful trading and investing insights.
---
1 Barron's. Apple and Other Big Tech Stocks Are Slumping on Report the DoJ Has Launched an Antitrust Probe. 7/23/19.
2 Zacks Equity Research. Is HP (HPQ) Stock Undervalued Right Now? 7/15/19.
3 Bloomberg.com. HP, Dell to Shift Up to 30% of Laptop Production From China, Report Says. 7/3/19.
4 Dow Jones Newswire. PC shipments rise in Q2 on improved processor supply, tariff fears. 7/11/19.
What to read next...
07/24/19
Breakout watch: Implied volatility surges in a range-bound stock.
---
07/23/19
Options volume highlights a stock's rebound from recent earnings report.
---
07/22/19
Market pulls back from highs, oil slides, and gold holds.
---