Navigating tech's twists
Tech fell more sharply than broad market on Tuesday
Wednesday's intraday rebound highlights longstanding pattern
Higher tech volatility a potential plus for traders?
While the "story" for many investors yesterday was likely the market's slide into negative territory after an early rebound from Tuesday's sell-off, there was another dynamic playing out slightly below the surface. It's something many traders have probably become aware of in recent months, even if they weren't before—the short-term relationship between tech and the broad market.
While the S&P 500 (SPX) lost 1.8% on Tuesday, the Nasdaq 100 (NDX) tech index fell a much heftier 2.6%—just another example of tech's underperformance in recent months as the sector has come under pressure because of rising interest rates. More often than not, when the market has taken a sharp downturn, tech has led the way.
Some necessary perspective: Since the March 2009 market lows, the NDX has gained more than twice as much as the SPX. But the two indexes have been much more competitive over the past year or so, and the NDX has notably underperformed the SPX since mid-November: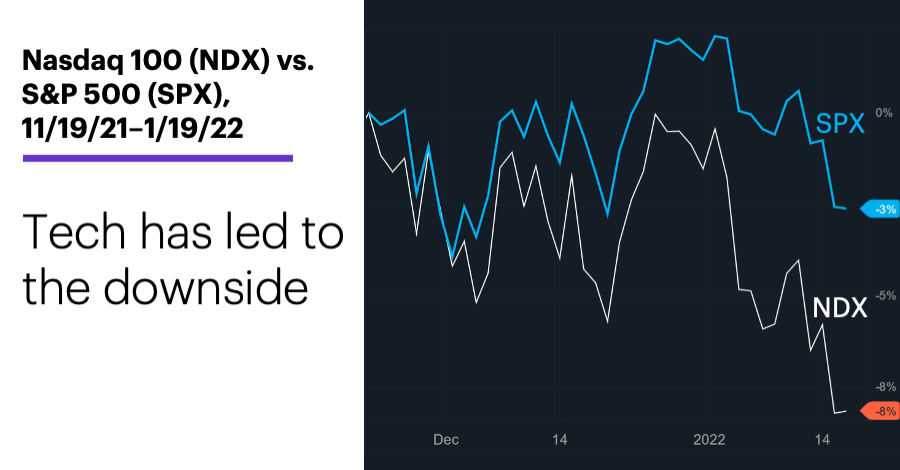 Source: Power E*TRADE. (For illustrative purposes. Not a recommendation.)
---
That may seem like a modest bit of bullishness (the stock later dipped into the red), but at the time the S&P 500 (SPX) was down around 1.7% and the Nasdaq 100 (NDX) tech index was down more than 2%, and on its way to its lowest close in three months.
Traders may also have noticed SNOW rebounded on January 10, erasing an -8.6% loss to close higher on the day—the type of intraday pivot that sometimes highlights "flush-out" moves, where sellers bail out of a market and leave bulls in charge, at least temporarily.
A longer-term chart shows SNOW has fallen around 30% from its November record highs above $400 (much more than the NDX), retracing around 60% of its March–November 2021 rally in the process: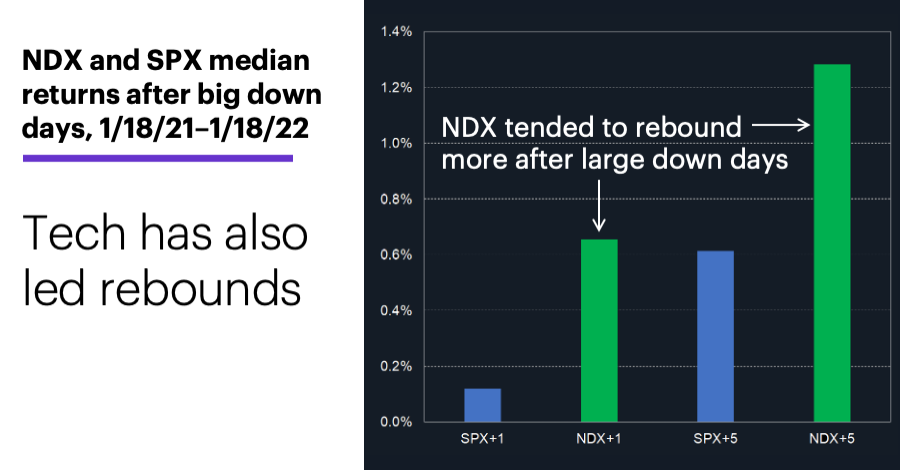 Source (data): Power E*TRADE. (For illustrative purposes. Not a recommendation.)
---
After one day, the NDX's typical gain was more than five times the size of the SPX's typical gain, and after five days, the NDX was still up more than twice as much as the SPX.1
This dynamic may have another angle in the options market, since tech's tendency to sell off harder than the broad market on big down days means the sector's put options may be (because of higher implied volatility) temporarily overpriced—which may interest traders looking to sell puts as a way to trade a potential bounce.
The lesson isn't that tech sell-offs should be bought reflexively (as yesterday showed, a rebound isn't a given), but that regardless of the market's longer-term direction, tech's tendency to outgain the broad market after leading it to the downside may give traders more to think about—in a good way—than investors.
Market Mover Update: Speaking of market direction, in noting the potential for a retrenchment in the first half of this year in the face of a more-aggressive Fed, Morgan Stanley strategists highlighted some "good news"—that markets have been adjusting to this reality for months, with 40% of the Nasdaq already having corrected by 50% or more.2
Today's numbers include (all times ET): Weekly Jobless Claims (8:30 a.m.), Existing Home Sales (10 a.m.), EIA Natural Gas Report (10:30 a.m.), EIA Petroleum Status Report (11 a.m.).
Today's earnings include: American Airlines (AAL), Fifth Third Bancorp (FITB), Union Pacific (UNP), KeyCorp (KEY), CSX (CSX), Netflix (NFLX), Intuitive Surgical (ISRG).
Click here to log on to your account or learn more about E*TRADE's trading platforms, or follow the Company on Twitter, @ETRADE, for useful trading and investing insights.
---
1 All figures reflect S&P 500 (SPX) and Nasdaq 100 (NDX) daily closing prices, 1/18/21–1/18/22. Supporting document available upon request.
2 MorganStanley.com. Thoughts on the Market podcast: Pricing a More Hawkish Fed. 1/18/22.
What to read next...
01/19/22
Will traders take note of this data stock's contrarian behavior on Tuesday?
---
01/18/22
Outside the oil patch, volatility continued to reign in the stock market.
---
01/14/22
Dating app's test of support shows why traders always have to be wary of rushing into relationships that may not work out.
---