Tech tops with earnings on tap
Nasdaq 100 set records all five days last week
S&P 500 closed near high of recent consolidation
This week: Earning season begins—cue the bank stocks
Despite—what else?—a bunch of new records for the Nasdaq 100 (NDX) index, the US stock market spent most of last week in a holding pattern as traders geared up for earnings season and kept a cautious eye on the current coronavirus surge.
After a big jump last Monday that followed a mega-rally in Chinese stocks, the S&P 500 (SPX) essentially marched in place for the next three days before posting a strong Friday rally that pushed it to the top of the week's range:

Source: Power E*TRADE
---
The headline: Broad market cools, tech stays red hot.
The fine print: As of Friday, the Nasdaq 100 (NDX) tech index had rallied 54.9% off its March 20 close—its biggest 77-day return since March 2000.
The number: 7—the number of records the NDX set in the past seven days.
The quote: "There's quite a long history of policy makers using the media to drive up the market. It doesn't always end very well. We saw that back in 2015…[I]t worked for a while and then the market collapsed." Capital Economics chief Asia economist Mark Williams, commenting on China using state-run media to fuel stock-market buying last week.1
The scorecard: Tech led, small-caps lagged, and large-caps played the middle ground: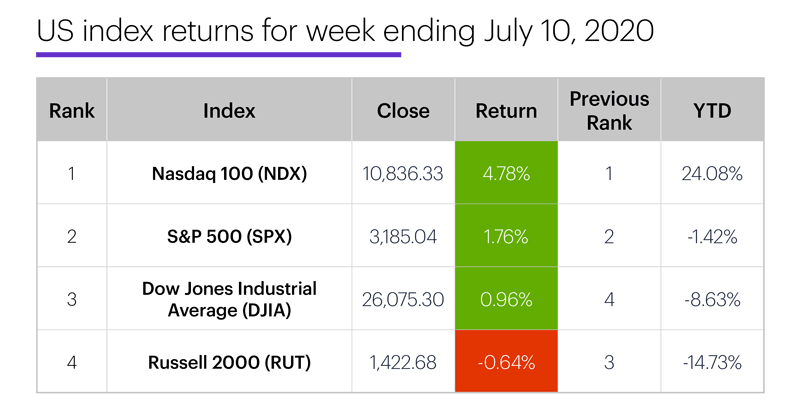 Source (data): Power E*TRADE
---
Sector roundup: The strongest S&P 500 sectors last week were consumer discretionary (+4.8%), communication services (+4.7%), and information technology (+2.7%). The weakest sectors were energy (-4.8%), real estate (-1.8%), and industrials (-1.4%).
Highlight reel: On Wednesday National General (NGHC) shot up 66% to $33.84 on news Allstate (ALL) was acquiring it in a $4 billion deal. On the downside, Mohawk Industries (MHK) fell 20% to $73.12 on Thursday.
Futures action: Spot gold traded above $1,800/ounce for the first time since November 2011 last week—August gold futures (GCQ0) rallied as high as $1,829.80 on Wednesday and settled at $1,801.90 on Friday. After a sharp Thursday sell-off, August WTI crude oil (CLQ0) rebounded on Friday to close the week virtually unchanged at $40.55/barrel.
Last week's biggest futures up moves: July lumber (LBSN0) +20.3%, September Wheat (ZWU0) +8.5%, September copper (HGU0) +5.9%. Last week's biggest futures down moves: September coffee (KCU0) -5.6%, October sugar (SBV0) -3.9%, September rough rice (ZRU0) -3%.
Coming this week
The second earnings season of the pandemic era has arrived—time to see how expectations measure up to reality:
●Monday: PepsiCo (PEP), Delta Air Lines (DAL)
●Tuesday: JPMorgan Chase (JPM), Citigroup (C), Fastenal (FAST), Wells Fargo (WFC)
●Wednesday: Alcoa (AA), U.S. Bancorp (USB), Progressive (PGR), eBay (EBAY), UnitedHealth (UNH), Goldman Sachs (GS)
●Thursday: Abbott Laboratories (ABT), Microsoft (MSFT), Dover (DOV), Domino's Pizza (DPZ), Honeywell International (HON), Netflix (NFLX), Johnson & Johnson (JNJ), Morgan Stanley (MS)
●Friday: BlackRock (BLK), Kansas City Southern (KSU), NVR (NVR)
This week's numbers:
●Monday: Consumer Inflation Expectations
●Tuesday: NFIB Business Optimism Index, Consumer Price Index (CPI)
●Wednesday: Import and Export Prices, Industrial Production, Capacity Utilization, Fed Beige Book
●Thursday: Retail Sales, Jobless Claims, NAHB Housing Market Index, Business Inventories
●Friday: Housing Starts and Building Permits, Michigan Consumer Sentiment
This week's IPO: Financial cloud-software company nCino (NCNO) is set to begin trading on Wednesday, with a $22–$24 target price.
Go to the E*TRADE market calendar (login required) for an up-to-date earnings schedule and a complete list of splits, dividends, IPOs, and economic reports. The Active Trader Commentary also lists earnings announcements, IPOs and economic report times each morning.
'Tis the season
Per Street tradition, this week big banks will kick off earnings season, which most analysts predict will produce some of the worst quarterly numbers since 2008–2009. Bank earnings are expected to amplify themes that emerged last quarter—loan losses driving the downside, with increased trading revenue a potential bright spot.2
Financial stocks are still the S&P 500's weakest sector this year (down around 24%), and the S&P Financial Index has mostly consolidated in recent weeks, hugging the support level defined by its May highs and June lows. But on Friday financials helped close the week with a gain, and every big bank scheduled to release numbers this week jumped 5% or more.
Of course, with the consensus appearing to be so solidly bearish, there's always the potential for surprise moves if a given company's "bad" numbers aren't as bad as forecasted. But traders may also recall that last earnings season some bank stocks rallied leading up to their earnings releases, but traded flat to lower after them, despite topping expectations in some cases.
Click here to log on to your account or learn more about E*TRADE's trading platforms, or follow the Company on Twitter, @ETRADE, for useful trading and investing insights.
---
1 CNBC.com. China told citizens to buy stocks, boosting market—'We have the Fed...China has its state media.' 7/6/20.
2 Bloomberg.com. Top U.S. Banks Set for Worst Quarter Since Financial Crisis. 7/10/20.
What to read next...
07/10/20
Soaring "talent marketplace" stocks highlight another area of the economy that may be evolving because of the pandemic.
---
07/09/20
Will travelers avoiding the skies hit the highways instead—and will they take certain stocks along for the ride?
---
07/08/20
Large options trade highlights recently high-flying stock consolidating near its all-time highs.
---