Tech talk
NDX coming off consecutive 3%-or-larger weekly losses
Pattern has occurred less than once a year
Examples from 2020 highlight potential volatility
The Nasdaq 100 (NDX) has fallen nearly twice as much as the S&P 500 (SPX) this year, and last week it closed down 3%. That followed a 3.6% loss the week before, marking just the 25th time since 1985 that the tech index has lost 3% or more in consecutive weeks following an up week: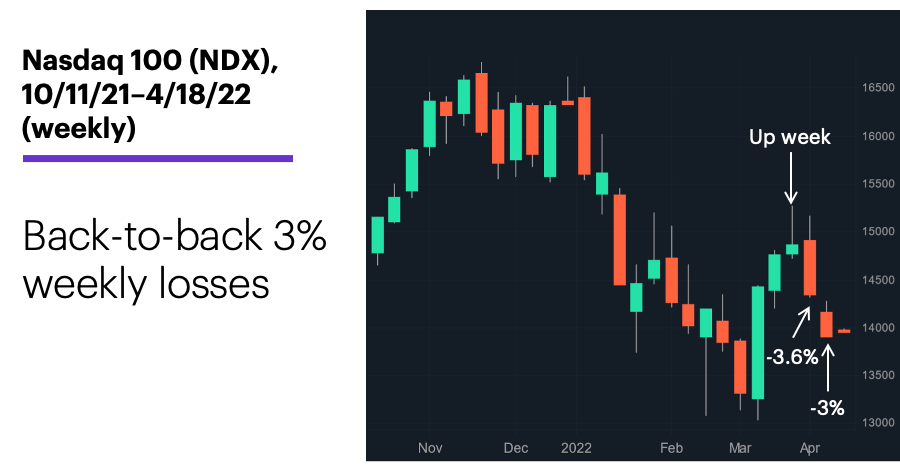 Source: Power E*TRADE. (For illustrative purposes. Not a recommendation.)
---
Besides being rare (occurring once every 76 weeks, on average), many of these moves have formed during larger, high-volatility market episodes, including March 2020 and February 2018. In other words, such moves didn't generally materialize out of thin air—they were more often to form after the market had already been pressed to the downside.
Yesterday the NDX repeatedly swung above and below breakeven before closing slightly higher for the day. If the index follows through and posts a gain for the week, it will actually be in line with its typical historical performance for the week after consecutive 3%-or-larger weekly losses:
1. The NDX closed higher 63% of the time.
2. The median return was 0.7%.1
By the way, both of those figures are better than the NDX's typical one-week performance since September 1985—a one-week median return of 0.5%, with just 57% of weeks closing higher.
But that's just one week. The chart below compares the index's median returns one, two, four, eight, 12, and 26 weeks after consecutive 3%-or-larger weekly losses (blue line) to its overall median returns (green line):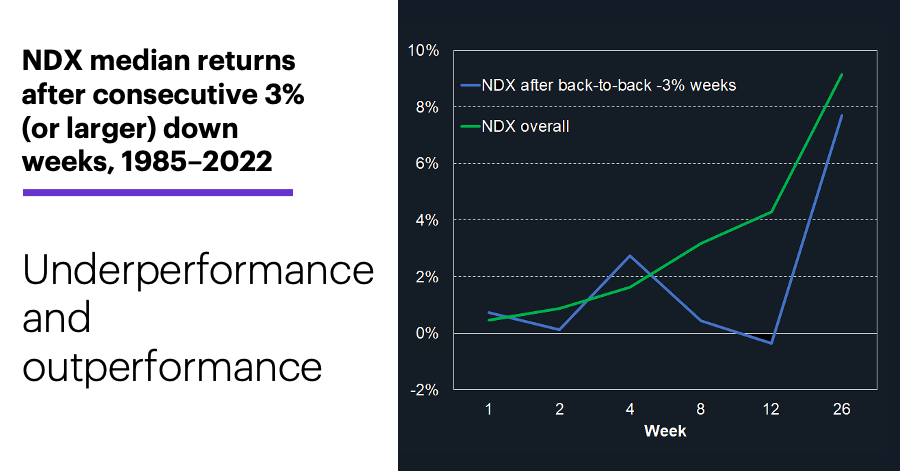 Source (data): Power E*TRADE. (For illustrative purposes. Not a recommendation.)
---
At the 26-week mark, the NDX's median return after the consecutive down weeks wasn't too far behind its overall 26-week median return (7.7% vs. 9.1%). Before that, though, the performance differences were much more interesting:
1. After one week (as previously noted) and four weeks, the index's gain after consecutive down weeks was higher than its typical gain.
2. After two, eight, and 12 weeks, the returns after the consecutive down weeks were below average.
In fact, the NDX closed lower the second week after the consecutive losing weeks 54% of the time.
The last time the index made similar moves was in 2020. The March example was more representative of the NDX's "typical" performance, in that it rebounded the first week after the back-to-back down weeks, closed lower the second week, and posted a fairly large gain after four weeks: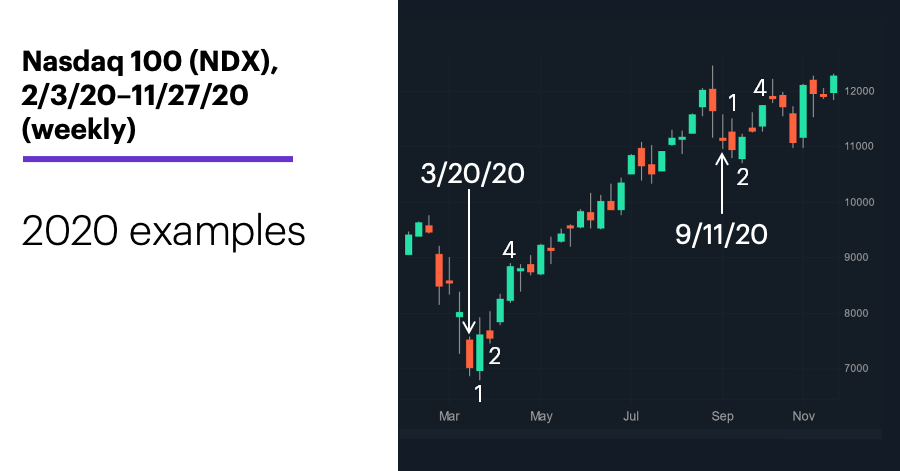 Source: Power E*TRADE. (For illustrative purposes. Not a recommendation.)
---
But its performance after the September example shows how every situation is unique. In this case, the NDX closed lower the first week, and traded to a lower low the second week before pivoting higher.
Overall, the historical record suggests the NDX's performance after back-to-back 3%-or-larger weekly losses is potentially more volatile than usual, with periods of upward momentum and outperformance (e.g., larger gains after one week and four weeks) interspersed with underperformance. The takeaway: A longer-term sustained trend may continue to be elusive, in which case traders may be paying more attention to shorter-term momentum patterns.
Market Mover Update: Bicycle Therapeutics (BCYC) rallied more than 3% intraday on Monday, and its May $22.50 puts fell by more than 65% from where they were trading last Thursday (see "Trial by knife").
Energy led the commodity surge that kicked off the week: June WTI crude oil futures (CLM2) rallied more than 2% to a three-week high of $109.20 on Monday, but that paled in comparison to the move in May natural gas (NGK2), which jumped more than 8% to a new contract high of $8.065. Meanwhile, May corn (ZCK2) topped $8/bushel, the market's highest price since 2012.
Today's numbers include (all times ET): Housing Starts and Building Permits (8:30 a.m.).
Today's earnings include: Halliburton (HAL), Fifth Third Bancorp (FITB), Johnson & Johnson (JNJ), Lockheed Martin (LMT), Netflix (NFLX), International Business Machines (IBM).
Click here to log on to your account or learn more about E*TRADE's trading platforms, or follow the Company on Twitter, @ETRADE, for useful trading and investing insights.
---
1 All figures based on Nasdaq 100 (NDX) weekly and daily closing prices, 1985–2022. Supporting document available upon request.
What to read next...
04/18/22
Stocks slump mid-month amid the latest inflation data and disappointing news out of Ukraine.
---
04/14/22
Sharp sell-off in biopharma stock highlights impact of volatility on options prices.
---
04/13/22
What's the options market's "forecast" for this streaming stock's upcoming earnings release?
---