Tech support
GDDY bounced this week after 16% sell-off last week
Stock dropped to long-term support before rebounding
Copper attempts to extend rally
As far as the tech sector goes, web hosting stock GoDaddy (GDDY) hasn't had a bad 2022. While the Nasdaq 100 (NDX) tech index was down around 33% for the year as of Wednesday, GDDY was only in the red by 18%.
A little more than a week ago, that year-to-date loss was less than 3.5%, but a four-day, 16% slide dropped shares to their lowest level since April 2020: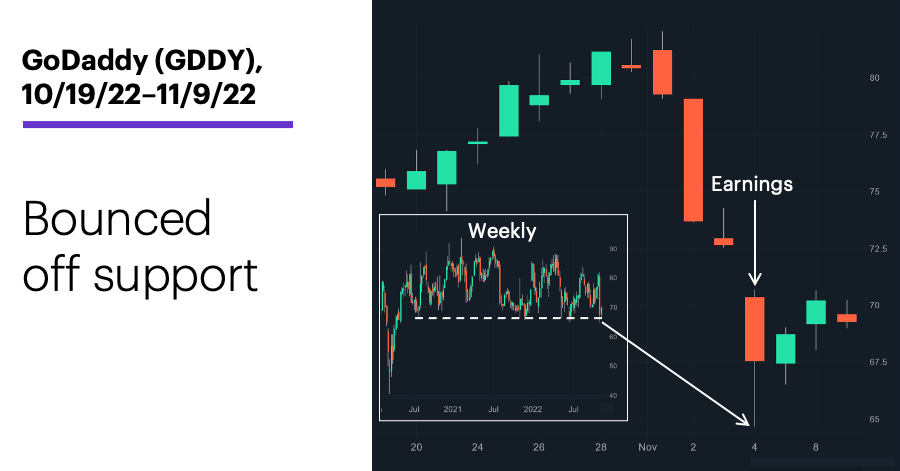 Source: Power E*TRADE. (For illustrative purposes. Not a recommendation.)
---
As of yesterday, the downturn had climaxed with a 7% sell-off on November 4 after the company reported its Q3 numbers—topping earnings estimates, but guiding lower for Q4 and 2022 overall.1
Although GDDY retreated modestly on Wednesday, it's still up nearly 3% over the past three days—and more than 7% from its November 4 intraday low of $64.65, which the weekly chart inset shows was the most recent test of an extended support level.
From this longer-term perspective, the stock has been "stuck" in a broad range, trading mostly between $66–$90 since July 2020. But the individual upswings off the bottom of that range—which have often been brief, high-momentum bursts—have represented percentage gains of 20% or more.
Meanwhile, GDDY's implied volatility (IV) profile shows options volatility for the next few expirations is close to the 30-day average, but January options have slightly lower IV overall: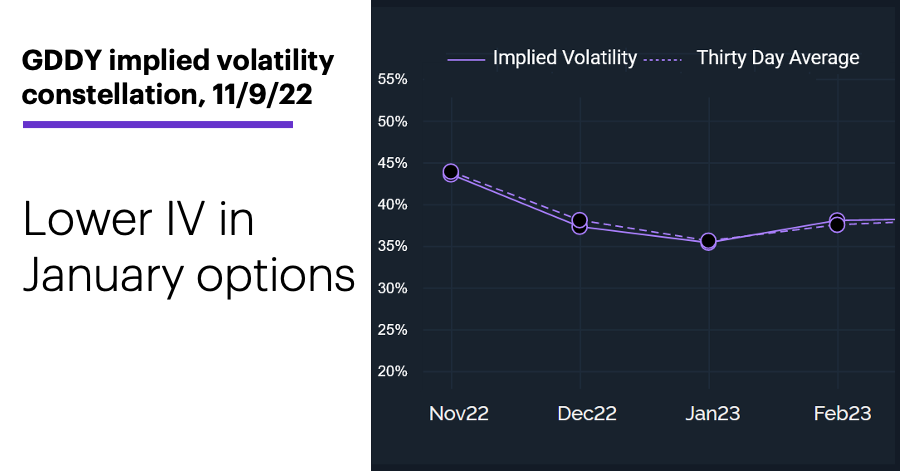 Source: Power E*TRADE. (For illustrative purposes. Not a recommendation.)
---
It's just one facet of the trading environment, but because lower-IV options sometimes have lower premiums relative to high-IV options, January options may be slightly more attractive to option buyers, while sellers may focus on expirations with higher IV.
Copper topper: Metals and mining stocks have been on a tear over the past five days, and while gold and other precious metals have rallied, one industrial metal has made an even bigger move. December copper futures (HGZ2) pushed to a 10-week intraday high on Wednesday, challenging resistance at their August high: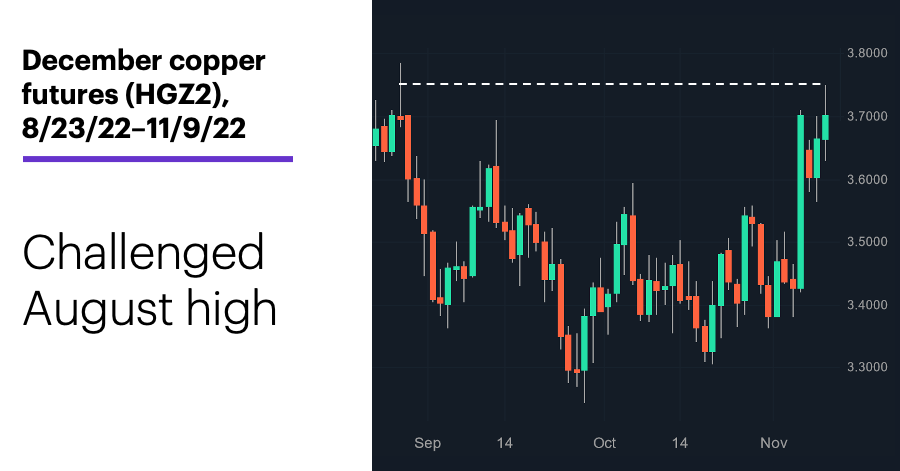 Source: Power E*TRADE. (For illustrative purposes. Not a recommendation.)
---
Although prices pulled back to close lower, copper nonetheless maintained the up move that began on November 4 when the market posted its biggest up day since 2009, amid a falling US dollar and reports that China (the world's biggest copper importer) would lift some of its COVID restrictions.2 Despite the recent bounce, though, copper is down nearly 25% from its March highs.
Market Mover Update: On Wednesday, Meta (META) announced it was laying off 13% of its workforce—more than 11,000 employees—and its stock rallied nearly 9% intraday.
Today's numbers include (all times ET): Consumer Price Index, CPI (8:30 a.m.), Weekly Jobless Claims (8:30 a.m.), EIA Natural Gas Report (10:30 a.m.).
Today's earnings include: Ralph Lauren (RL), Tapestry (TPR), Beazer Homes (BZH).
Click here to log on to your account or learn more about E*TRADE's trading platforms, or follow the Company on Twitter, @ETRADE, for useful trading and investing insights.
---
1 StreetInsider.com. GoDaddy (GDDY) Tops Q3 EPS by 9c. 11/3/22.
2 Bloomberg.com. Copper Has Best Day Since 2009 as Metals Rocket on Dollar Drop. 11/4/22.
What to read next...
11/09/22
This stock's recent momentum move suggests price gaps may not mean what some traders think they do.
---
11/08/22
Matching options trades in software stock suggest a large trader may be making a volatility play.
---
11/07/22
Stocks take a step back as Fed throws cold water on "pivot" chatter.
---