Tech check
NDX skid reaches four weeks as tech retrenchment continues
Consumer prices rise, retail sales pause, hot commodities cool
This week: Retail earnings, FOMC minutes, home starts and sales
After a bullish start to the month, bears gained the upper hand for most of last week as signs of inflation appeared to rattle the market, especially tech and other growth stocks.
Although the S&P 500 (SPX) concluded the week with a vigorous Thursday–Friday rebound, it wasn't enough to offset a 4% Monday–Wednesday pullback—the index's worst three-day stretch since October:
Source: Power E*TRADE
---
The headline: Tech leads market stumble as rising prices stoke inflation anxiety.
The fine print: Yes, last week's inflation data reflected genuine price pressures, but the headline-grabbing year-over-year increases were somewhat misleading because (like last month) they were exaggerated by the unnaturally low levels from April 2020. It still remains to be seen if they are harbingers of damaging long-term inflation or, to borrow a page from the Fed, the product of a revamping economy grappling with supply bottlenecks and other "transitory" challenges.
The numbers: 0.8%, the Consumer Price Index's (CPI) April increase. The "core" CPI reading, which excludes food and energy prices, jumped 0.9%—the biggest monthly uptick since 1982. The Producer Price Index (PPI) also increased more than expected (0.6%), but that represented a contraction from March (1%). April retail sales were flat.
The quote: "I think it's too early to talk taper here." St. Louis Federal Reserve President James Bullard, commenting on whether the Fed may start scaling back the monthly asset purchases that have been a key element of its stimulus efforts.1
The scorecard: Large caps held up best, while the Nasdaq 100 (NDX) suffered its first four-week losing streak since August 2019: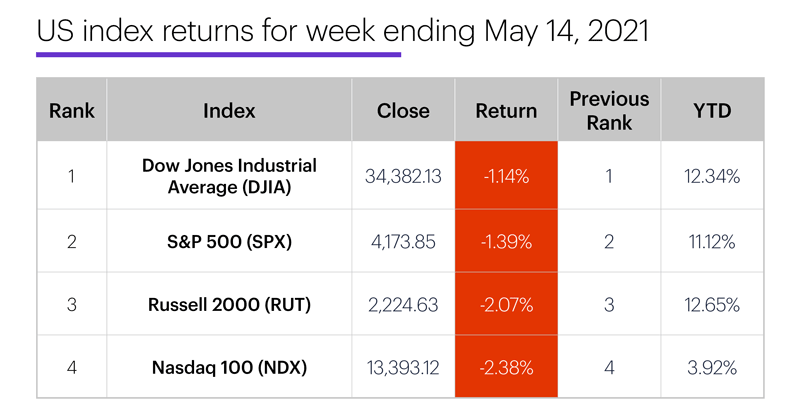 Source (data): Power E*TRADE
---
Sector roundup: The strongest S&P 500 sectors last week were consumer staples (+0.5%), financials (+0.4%), and materials (+0.1%). The weakest sectors were consumer discretionary (-3.7%), information technology (-2.1%), and communication services (-1.8%).
Highlight reel: 3-D Systems (DDD) +35% to $24.03 on Tuesday, Curis (CRIS) +66% to $16.27 on Wednesday. On the downside, The Trade Desk (TTD) -26% to $489.60 on Monday, Array Technologies (ARRY) -46% to $13.46 on Wednesday.
Futures action: June gold (GCM1) consolidated last week, but closed Friday toward the top of its range  at $1,838.10/ounce. June WTI crude oil (CLM1) pulled back nearly $2 on Thursday, but got almost all of it back on Friday to close the week with a small gain at $65.37/barrel.
Some of the biggest commodities gainers in recent weeks, including lumber, corn, copper, steel, and coffee, pulled back last week—some of them sharply. Biggest gains: July soybean oil (ZLN1) +4.8%, May feeder cattle (FCK1) +4.4%. Biggest declines: July lumber (LBSN1) -16.8%, July corn (ZCN1) -12%.
Coming this week
Minutes from the latest FOMC meeting are sandwiched between housing numbers and leading indicators:
●Monday: Empire State Manufacturing Index, NAHB Housing Market Index
●Tuesday: Housing Starts and Building Permits
●Wednesday: FOMC minutes
●Thursday: Leading Indicators
●Friday: Existing Home Sales
Not too many earnings announcement this week, but plenty worth watching, including several high-profile retail names:
●Monday: Advance Auto Parts (AAP), Tencent Music (TME)
●Tuesday: Analog Devices (ADI), Baidu (BIDU), Home Depot (HD), Macy's (M), Walmart (WMT), Take-Two Interactive Software (TTWO)
●Wednesday: e.l.f. Beauty (ELF), L Brands (LB), TJX Companies (TJX), Target (TGT), Lowe's (LOW), Eagle Materials (EXP), Keysight Technologies (KEYS)
●Thursday: Applied Materials (AMAT), Palo Alto Networks (PANW), BJ's Wholesale Club (BJ), Kohl's (KSS), Ralph Lauren (RL), Canadian Solar (CSIQ), Ross Stores (ROST)
●Friday: Deere (DE), Foot Locker (FL)
This week's IPOs include:
●Wednesday: Squarespace (SQSP)
●Thursday: Procore Technologies (PCOR), Oatly Group (OTLY)
Check the Active Trader Commentary each morning for an updated list of earnings announcements, IPOs, economic reports, and other market events.

Tech w**** 2021: Nothing to see here (for now)
While the Nasdaq 100's underperformance in recent months has been a dramatic departure from its outperformance over the past dozen years, and it's current four-week losing streak has certainly been no fun for tech investors, it's a little early to start throwing around the "wreck" word. Consider:
1. The NDX is only 11 trading days removed from its all-time high.
2. The NDX's four-week loss stood at 4.6% on Friday—less than half the size of its average four-week losing streak loss of 9.5%.
Also, the NDX closed higher the week after a four-week losing streak 24 out of 39 times since 1985.2
So, while the tech index's current skid could certainly be the beginning of something that ultimately produces more than a fender bender, the car hasn't veered off the road yet.
Click here to log on to your account or learn more about E*TRADE's trading platforms, or follow the Company on Twitter, @ETRADE, for useful trading and investing insights.
---
1 CNBC.com. Fed's Bullard says 'it's too early to talk taper' while the pandemic continues. 5/4/21.
2 All figures based on Nasdaq 100 (NDX) weekly closing prices, September 1985–May 2021. Supporting document available upon request.
What to read next...
05/14/21
The options market appears to be expecting big things from this biotech stock.
---
05/13/21
These combination trades may offer advantages in some situations, but they have drawbacks, too.
---
05/12/21
Restaurant tech stock may provide food for thought for traders as it nears previous lows.
---