Weighing options in a sell-off
ZS down 50% since Nov. after rallying more than 830%
Options volatility exceptionally high
Stock testing recent lows a little above longer-term support
If you had to pick two types of stocks that have fallen disproportionally in recent months, tech and "pandemic winners" would be two reasonable choices.
Certain stocks have a foot in each camp. Zscaler (ZS), for example, is a tech company specializing in cybersecurity—an industry that got a huge boost as the 2020 lockdown made it critical for companies to ramp up network protection as their workforces were suddenly scattered throughout hundreds or thousands of locations.
Zscaler was one of the beneficiaries of the new remote environment. Between March 2020 and November 2021, the stock rallied more than 830%, jumping 129% in just the final six months of the move: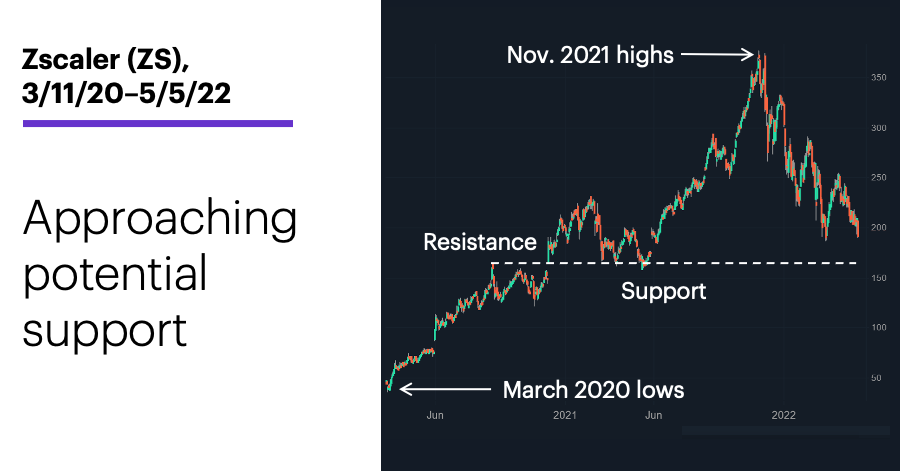 Source: Power E*TRADE. (For illustrative purposes. Not a recommendation.)
---
As of yesterday, though, ZS was down roughly 50% from its highs amid the rotation away from tech and growth stocks, as well as waning enthusiasm for many of the stocks that gained the most during the height of the work-at-home era.
Yesterday's nearly 10% drop as tech suffered one of its worst days since 2020 left ZS testing its mid-March lows around $189–$190, and not too far removed from a longer-term support-resistance level (roughly $160–$161) that held back prices in the second half of 2020 and propped them up in the first half of 2021.
It should come as no surprise the stock's sell-off has manifested itself in another way—high options volatility. Yesterday, ZS's 30-day implied volatility (IV) was at a 52-week high: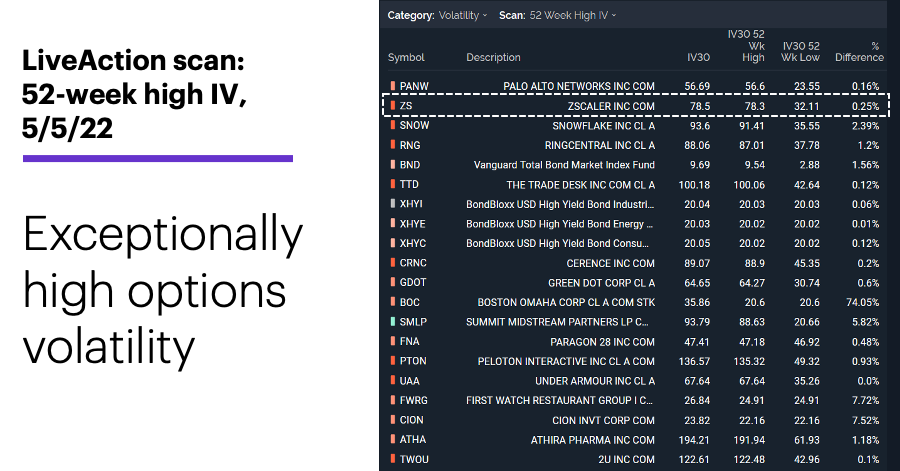 Source: Power E*TRADE. (For illustrative purposes. Not a recommendation.)
---
Big sell-offs often attract bargain-hunters, who face the risk of buying "low" only to see their stock fall even lower. But options traders also need to factor in volatility (and, of course, time). In a situation like the one in ZS, a trader may be convinced the stock is going to move in certain direction, but then has to decide which side of the volatility equation to be on.
For example, traders who expected ZS to rally off one of its technical levels (or at least pause for a while) would essentially be forecasting a decline in the IV that has climbed so high during the sell-off. That, in turn, could cause options premiums to shrink, which could make selling put options preferable to buying calls. Of course, for traders expecting an even deeper sell-off—which could push volatility levels even higher—buying high-IV options may be less of a concern.
Ultimately, traders and investors have no way of knowing when a stock or the market as a whole will bottom or top. What they can do is select the instrument and time frame that best minimizes risk and maximizes potential reward, based on their forecast. Sometimes that can mean not buying options when it may be better to sell them, and vice versa.
Note: ZS is currently scheduled to release earnings during the final full week of May.
Market Mover Update: Open interest in Performance Food Group's (PFGC) June $40 puts was up 1,400 contracts Thursday, which suggests the 1,700 contracts that traded on Wednesday were mostly new positions, not liquidations of existing ones (see "Traders making earnings adjustment?").
Today's numbers include (all times ET): Employment Report (8:30 a.m.).
Today's earnings include: DraftKings (DKNG), Cigna (CI).
Click here to log on to your account or learn more about E*TRADE's trading platforms, or follow the Company on Twitter, @ETRADE, for useful trading and investing insights.
---
What to read next...
05/05/22
Consumer defensive stock's put volume jumps with a week to go until earnings.
---
05/04/22
Industrial stock tests support after pulling back from March record highs.
---
05/02/22
Losing streak extends to four weeks as market enters key reporting stretch.
---