Tech bounce highlights spreads
Nasdaq 100 bounced after hitting major retracement level
Tech sell-off has pushed up volatility levels in recent weeks
Long-short spreads may help balance volatility, time challenges
So far, the Nasdaq 100 (NDX) tech index has done what many traders probably expected it do after giving back 50% of its March 2020–September 2021 rally—bounce: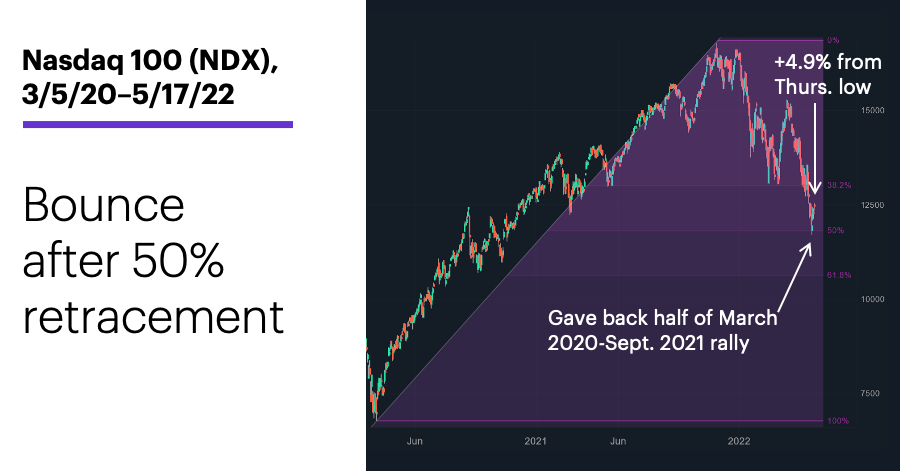 Source: Power E*TRADE. (For illustrative purposes. Not a recommendation.)
---
True, it's only been three trading days, but since reaching that 50% retracement level last Thursday, the NDX had climbed nearly 5% as of Tuesday morning.
The same goes for the tech index's most heavily weighted stocks, including Apple (AAPL) and Microsoft (MSFT). Both have, so far, retraced less than 50% of their 2020–2021 rallies (especially AAPL), and yesterday morning, both were up more than 7% from last Thursday's lows.
Whether the market as a whole, the tech sector, or bellwethers like AAPL and MSFT will be able to build on their bounces remains to be seen. But even options traders who expect more near-term upside need to be aware of how volatility—specifically, options implied volatility (IV)—could affect their positions.
For example, three of MSFT's recent IV highs marked temporary lows in the stock, although the bounces that followed were relatively modest: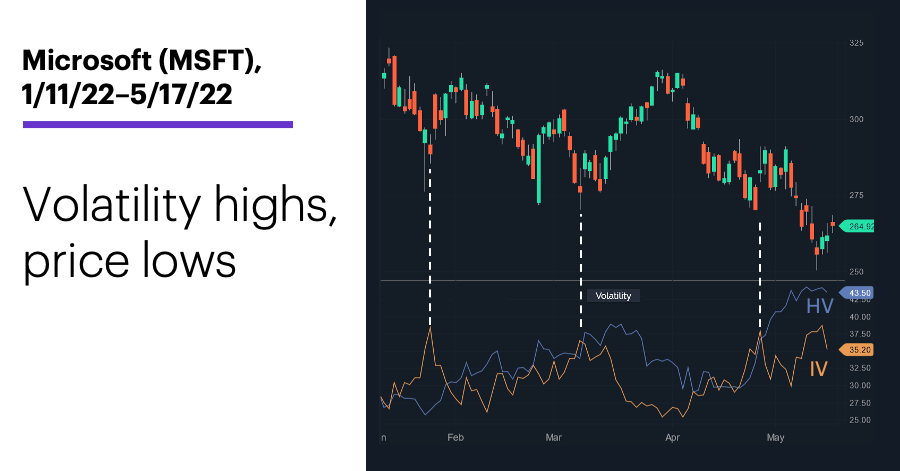 Source: Power E*TRADE. (For illustrative purposes. Not a recommendation.)
---
Even if the most recent bounce turns out to be larger or longer-lived than its predecessors, the stock's sharp sell-off over the past several weeks pushed both IV and historical volatility (HV) as high as they've been in several months. And while IV is currently below historical volatility (HV)—suggesting the options market is expecting the stock's volatility to be lower in the near future than it has been in the recent past—it's still closer to its highest levels of the past few months than it is to its lowest levels.
In high-IV situations, some traders prefer to create spreads that combine long options and short options, since the latter benefit from the high volatility and time decay working against a long-only position. For example, if a trader expecting a stock to rally was inclined to buy an at-the-money call option, adding a short, higher-strike (out-of-the-money) call option creates the limited-risk, limited reward bull ("vertical") call spread.
That potential benefit comes at the expense of a long call's theoretically unlimited upside—the bull spread won't generate any additional profit above the short option's strike price—but for fixed-horizon traders in a battle against volatility and time, "theoretically unlimited" probably doesn't carry much weight.
Market Mover Update: Eagle Bulk Shippers (EGLE) June $70 calls traded as high as $4.80 yesterday, more than double where they closed last Thursday (see "Ranges, rallies, and volatility").
After hitting their highest price since late January on Monday, July WTI crude oil futures (CLN2) pushed to a higher intraday high of $113.20/barrel on Tuesday before pulling back to close down for the day.
Today's numbers include (all times ET): MBA Mortgage Applications (7 a.m.), Housing Starts and Building Permits (8:30 a.m.), EIA Petroleum Status Report (10:30 a.m.).
Today's earnings include: Lowe's (LOW), Analog Devices (ADI), Target (TGT), TJX (TJX), Bath & Body Works (BBWI), Cisco (CSCO), Sociedad Quimica y Minera De Chile S.A. (SQM).
Click here to log on to your account or learn more about E*TRADE's trading platforms, or follow the Company on Twitter, @ETRADE, for useful trading and investing insights.
---
What to read next...
05/17/22
Few market moves are without precedent: Find out what the stock market has done in situations like the one it's in now.
---
05/16/22
That '80s Show: Stocks hit fresh lows as inflation continues to hug 40-year highs.
---
05/13/22
Shipping stock's recent price action could attract volatility traders.
---