As goes tech…
Traders dump tech, market snaps 5-week win streak
Friday intraday rebound spurred by solid jobs data?
This week: Inflation data and some high-profile earnings
While it's too early to say September's living up to its reputation as a bearish month, the US stock market's stumble late last week—highlighted by Thursday's 5% sell-off in the Nasdaq 100 (NDX) tech index—was its biggest setback in nearly three months.
But early Friday things looked much worse than they turned out be by the closing bell.
The S&P 500 (SPX) followed a 3.5% slide on Thursday with an early 3.1% drop on Friday, but rebounded late in the day to close down only -0.8% in the wake of another better-than-expected jobs report. Still, it wasn't enough to avoid a weekly loss—just the second for the SPX since June:
Source: Power E*TRADE
---
The headline: Tech retreat pumps up volatility despite hopeful employment data.
The fine print: A day after the weekly jobless claims number came in lower than expected at 881,000, Friday's monthly jobs report showed unemployment dropped unexpectedly from 10.2% to 8.4%. Although most stock-index futures turned positive in Friday's pre-market trading after the employment numbers came out, follow-through tech selling in the regular trading session dragged the broad market lower—until the last 90 minutes of the day.

The number: -10.3%, the NDX's Thursday-Friday downturn, at its deepest—the index's biggest two-day pullback since March.

The scorecard: While the NDX was the week's biggest loser, it's year-to-date return is still exceptionally high—and is perhaps explanation enough for a pivot away from tech: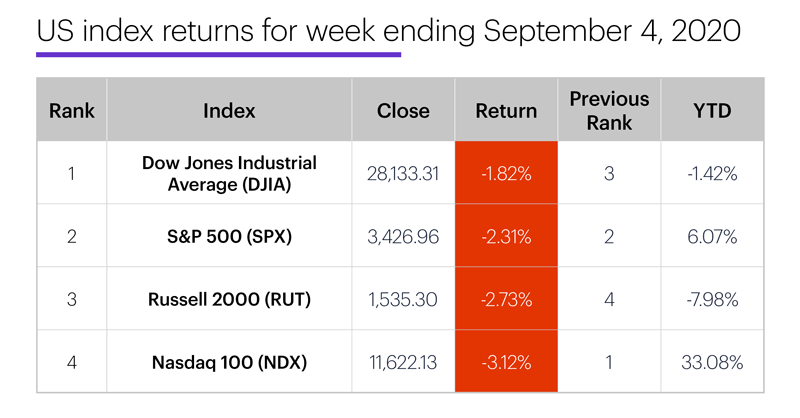 Source (data): Power E*TRADE
---
Sector roundup: The strongest S&P 500 sectors last week were materials (+0.7%), utilities (+0.5%), and financials (+-0.4%). The weakest sectors were energy (-4.7%), information technology (-4%), and consumer discretionary (-2.5%).

Highlight reel: On Monday, Aimmune Therapeutics (AIMT) blasted 172% to $34.22 on news it was being acquired by Nestle, while Corcept Therapeutics (CORT) jumped 58% to $19.87 on Wednesday. On the downside, At Home (HOME) slid 26% to $17.26 on Tuesday, and PagerDuty (PD) fell 26% to $25.97 on Thursday.
Futures action: Despite getting close to $2,000/ounce last Tuesday, October gold (GCV0) slumped as low as $1,914.60 on Friday, just above the support level defined by its August lows. October WTI crude oil (CLV0) followed stocks to the downside—except for the Friday turnaround—closing below $40/barrel for the first time since July. 
Last week's biggest futures up moves: October VIX (VXV0) +14.2%, October hogs (HEV0) +11.5%, September milk (DCU0) +8.7%. Last week's biggest futures down moves: September bitcoin (BTCU0) -9%, October WTI crude oil (CLV0) -8.1%, October heating oil (HOV0) -7.6%.
Coming this week
Numbers coming out this week include:
●Tuesday: NFIB Business Optimism Index, Consumer Credit
●Wednesday: MBA Mortgage Applications, JOLTs (Job Openings)
●Thursday: Initial Jobless Claims, Producer Price Index (PPI), Wholesale Inventories
●Friday: Consumer Price Index (CPI)
This week's earnings calendar is relatively light, but includes some high-profile names:
●Tuesday: Lululemon (LULU), Casey's General Stores (CASY), Coupa Software (COUP), Calavo Growers (CVGW), HealthEquity (HQY), Slack Technologies (WORK), RH (RH)
●Wednesday: G-III Apparel Group (GIII), BigCommerce (BIGC), Oracle (ORCL), Navistar (NAV), Zscaler (ZS), Verint Systems (VRNT)
●Thursday: 58.Com (WUBA), Dave & Buster's (PLAY), Chewy (CHWY), Peloton Interactive (PTON)
●Friday: Kroger (KR)
Go to the E*TRADE market calendar (login required) for an up-to-date earnings schedule and a complete list of splits, dividends, IPOs, and economic reports. The Active Trader Commentary also lists earnings announcements, IPOs and economic report times each morning.
For now, still a pullback
As of Friday, the SPX's downturn was still within the parameters of the pullback pattern outlined "Record rally gets a volatility reminder"—specifically, the historical tendency for the index to continue to decline for another two or three days, on average, after big down days like last Thursday.
And while SPX also penetrated the breakout level (around 3,400) noted in the article, it rebounded well above it by Friday's close—what some traders may interpret as a successful test of support, depending on how today's trading unfolds. If that support holds, the SPX's history suggests the potential for at least a short-term, energetic bounce: After two-day, 6%-or-larger sell-offs that followed a five-day or longer new high (i.e., last Wednesday–Friday), the SPX was higher two days later 70% of the time and had an average gain of 1%.1
Click here to log on to your account or learn more about E*TRADE's trading platforms, or follow the Company on Twitter, @ETRADE, for useful trading and investing insights.
---
1 Reflects S&P 500 (SPX) daily price data from 9/4/59–9/4/20. Statistics reflect 27 examples of the following pattern: A day with the highest high and closing price of the previous five days followed by a two-day decline (close – low) of at least 6%. Supporting document available upon request.
What to read next...
09/04/20
Yesterday's sharp downturn may raise lots of questions, but there may be only one that traders can answer.
---
09/03/20
If recent trends showing a shift toward cyclical stocks is the real deal, traders may find opportunities in unexpected places.
---
09/02/20
Tech stock's recent trading pattern shows why there's often more than one way to trade a breakout.
---