Options for tech traders
Ubiquiti (UI) bounced after 32% correction from March high
Networking stock rallied 60% between mid-January and late March
Call options much cheaper after sell-off and post-earnings volatility decline
This week kicked off with more pain for the tech sector—the Nasdaq 100 (NDX) fell more than 2.5% on Monday—which made names that bucked the selling, at least for a while, that much more noticeable.
One of them, networking company Ubiquiti (UI), also showed how traders can help identify potentially underpriced options. Shares were up nearly 2% yesterday morning before pulling back, one trading day after the company released earnings:
Source: Power E*TRADE
---
The headline numbers themselves were mixed—UI topped revenue estimates but missed earnings by a penny,1—but what may have been more interesting to traders was the fact that two days before the announcement, the stock broke down out of the bottom of a roughly one-month trading range. That drop extended UI's correction from its late-March record high to 32%.
While UI's Friday–Monday bounce back into its consolidation may have some traders thinking about the potential for a "bear trap" rally (a range breakdown that triggers selling, only to quickly reverse and force bears to cover their positions), options traders may have first noticed UI from the LiveAction scan for biggest one-week implied volatility (IV) declines:
Source: Power E*TRADE
---
One way to help avoid overpaying for options is to know if IV—which often climbs before an earnings release and declines after it—is high. And in this case, UI call options had already dropped significantly because of the stock's correction. (The June $280 calls, for example, were trading for less than half of where they were on April 8.)
The IV decline arguably let a little more air out of the tire. The following chart shows a slightly different perspective, highlighting the fact that Ubiquiti's IV was below its 30-day average for all expiration months: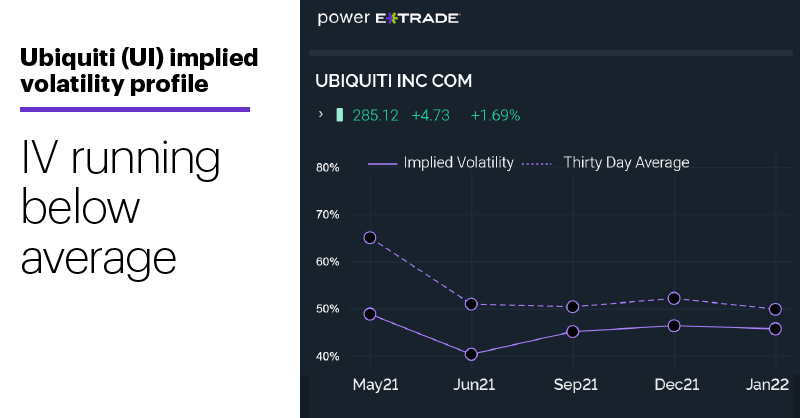 Source: Power E*TRADE
---
While none of this means the stock can't drop more or that call options won't get cheaper, it does throw some light on how traders can better determine if options are relatively overpriced or underpriced at a given time. Because unlike simply buying or selling stock, if you buy options with inflated premiums, you can be right about market direction and still lose money.
Market Mover Update: There was a lot of buzz over the weekend about the cyberattack that crippled one of the biggest petroleum pipelines in the US,2 but yesterday's market response was subdued: Both crude oil and gasoline futures slipped into the red after jumping in early trading.
And those weren't the only notable pivots yesterday: July copper (HGN1), July corn (ZCN1), and July lumber (LBSN1)—leaders in the recent commodity surge—all closed lower after initially hitting new all-time or contract highs yesterday.
Today's numbers include (all times ET): NFIB Business Optimism Index (6 a.m.), JOLTS (10 a.m.).
Today's earnings include: Electronic Arts (EA), BigCommerce (BIGC), Hyliion (HYLN), FuboTV (FUBO), Schrodinger (SDGR).
Today's IPOs include: Flora Growth (FLGC), TransCode Therapeutics (RNAZ).
Click here to log on to your account or learn more about E*TRADE's trading platforms, or follow the Company on Twitter, @ETRADE, for useful trading and investing insights.
---
1 MarketBeat.com. Ubiquiti Earnings Date, Estimates & History. 5/10/21.
2 Wall Street Journal. U.S. Pipeline Cyberattack Forces Closure. 5/8/21.
What to read next...
05/10/21
Up-and-down trading in the first week of May ends with new record for broad market.
---
05/07/21
No, not those metals, the other ones: Industrial metals—and some of their stocks—have been on a roll.
---
05/06/21
Gaming stock's decline helps illustrate basic options spread strategy.
---