Tech on, tech off
Tech stocks have outperformed broad market since Tuesday
Tech relative strength often sign of "risk-on" mentality
CSCO, which has limited China exposure, bounced off support
And just like that, tech is back—at least for now.
One sign of bullish sentiment that wasn't mentioned yesterday in "Testing the market's mettle" was the fact that tech stocks sold off less than the broad market in early trading on Wednesday, and outperformed when the market reversed to the upside. Check out a five-minute chart comparing the tech-centric Nasdaq 100 (NDX) to the S&P 500 (SPX):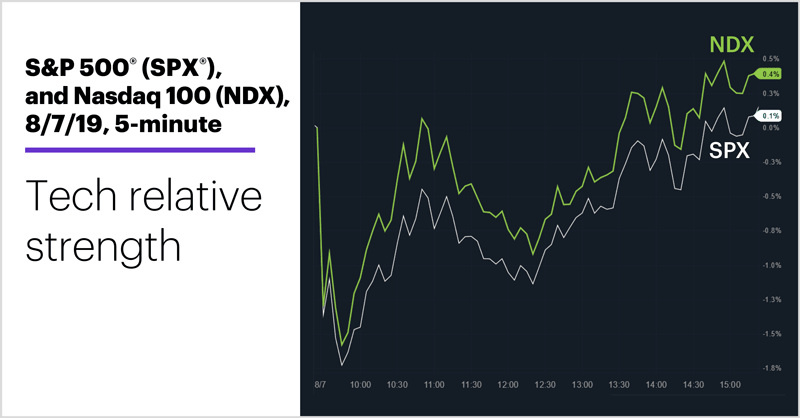 Source: Power E*TRADE
---
Pretty much wire-to-wire NDX relative strength.
Basically, when traders are in "risk-off" mode, they typically bail on tech stocks—especially lately, because many of them have high "China exposure." When the switch flips to "risk-on," tech tends to get extra juice. (Whether that juice lasts a day or two, or months, is another matter.)
So, Wednesday wasn't the exception to the rule. The NDX lost more ground than the S&P 500 (SPX) every day but one during the July 29–August 5 sell-off, and has outperformed it each day since. On Wednesday, which started out deep in the red and finished in the green, the NDX rallied a solid 0.4% while the SPX scratched out a marginal 0.08% gain. Halfway through yesterday's trading session, the NDX was up around 1.8%, compared to a 1.5% gain for the SPX.
One tech stock that outpaced the NDX early yesterday was networking big dog Cisco (CSCO), which has slightly outperformed the NDX so far this year, despite making only marginally higher highs on successive upswings since April: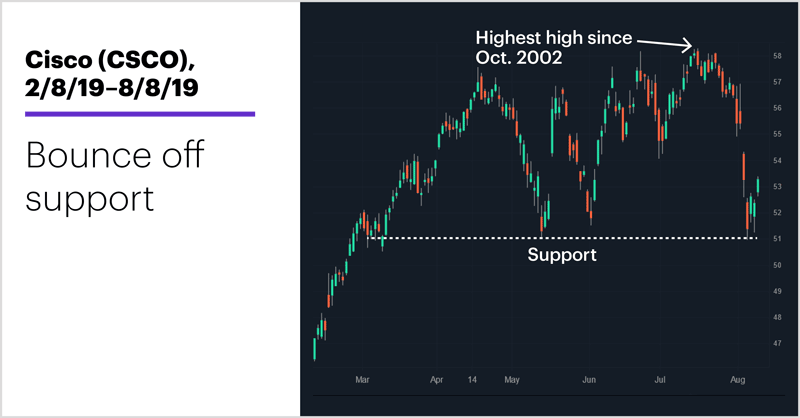 Source: Power E*TRADE
---
Cisco's July peak of $58.26 was the stock's highest level in almost 17 years, but the chart also highlights the stock's bounce over the past three days came after prices dropped to a support level in the vicinity of the May and June lows (and even the March pullback lows).
That's a pretty conspicuous support level, one that may have led some bulls to buy when the stock approached it, and one that, if broken to the downside, could produce a flurry of selling if stop orders protecting long positions are triggered.
Monday's lows—in CSCO as well as the broad market—may very well get subjected to a more severe test than the one they experienced on Wednesday. Even in the midst of yesterday's big rally, for example, there were voices warning that the sell-off probably hadn't run its course because traders weren't scared enough yet1—that is, the selling hadn't reached a panic-inducing level that would presumably clear the decks for a sustained rebound.
Cisco announced it was downsizing its China footprint to protect itself against the possibility of more tariffs.
With trade headlines buffeting the market on an almost daily basis lately, it's something to keep in mind. And it also brings up something interesting about Cisco, which is scheduled to release earnings next Wednesday (August 14).
The company, which made a big push in 2015 to expand its Chinese operations,2 announced in May that it was downsizing that footprint to protect itself against a deepening trade war3—a move that now looks prescient, given recent tariff developments.
Until proven otherwise, the pattern of tech leading the market lower during risk-off episodes and higher during risk-on phases is likely to continue. But there's tech and there's tech, and traders may be looking at stocks that have taken steps to limit their exposure to a trade war that shows no signs of abating.
Today's numbers (all times ET): China unemployment (1:45 a.m.), Great Britain GDP (4:30 a.m.), US Producer Price Index, PPI (8:30 a.m.), Baker-Hughes oil rig count (1 p.m.).
Today's earnings include: Tribune Media Co (TRCO), US Concrete Inc (USCR).
Click here to log on to your account or learn more about E*TRADE's trading platforms, or follow the Company on Twitter, @ETRADE, for useful trading and investing insights.
---
1 CNBC.com. Stocks can still go lower because investors aren't scared enough. 8/7/19.
2 Reuters. Cisco is investing $10 billion to expand in China. 6/17/15.
3 Financial Times. Cisco cuts back China manufacturing to ease tariffs hit. 5/15/19.
What to read next...
08/08/19
Amid the gloom, there were signs of potential bullish momentum yesterday.
---
08/07/19
Just as with a stock, the goal is to sell volatility high and buy it low.
---
08/06/19
History—both recent and more distant—has some interesting things to say about yesterday's stock sell-off.
---