Tech corrects
Nasdaq 100 retreats more than 10% from record high
Oil tumbles with stocks, breaks out of range
This week: FOMC meeting, latest housing data
This week's trading will start with US stocks attempting to rebound from their first two-week losing streak in more than four months, as tech-sector weakness pressured the market over four days of volatile trading.
The biggest hit came on Tuesday, as the S&P 500 (SPX) followed through on the previous weeks' sell-off with a 2.8% drop. After a couple of days of choppy  trading—punctuated by a big intraday reversal to the downside on Thursday—the SPX extended its pullback from September 2's all-time high to -7.6% on Friday before paring its losses in the final hour of trading: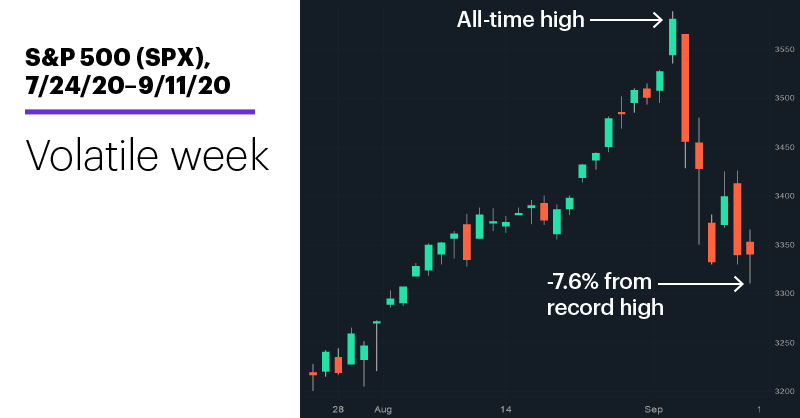 Source: Power E*TRADE
---
The headline: Tech hits correction territory as market slumps for second week.
The fine print: Last week traders picked up where they left off the previous week—selling tech stocks, including many of the high-profile names they'd bid up the most over the past several months.
The number: -12%—the Nasdaq 100's (NDX) correction (from its September 2 record close) at Friday's low.

The scorecard: It was red across the board for the major US indexes, but the Dow (DJIA) took the smallest hit: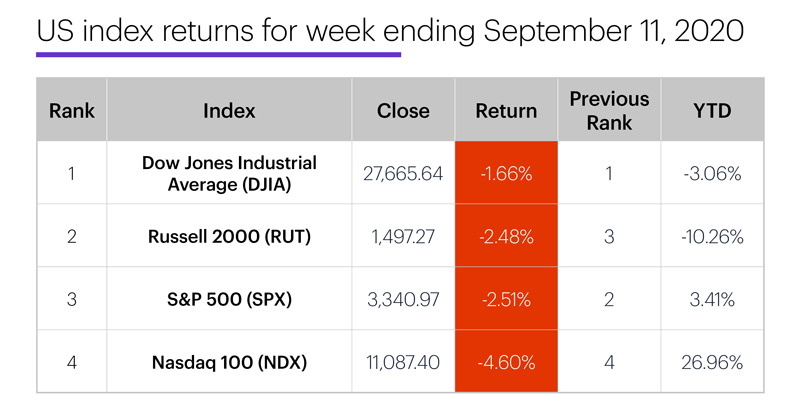 Source (data): Power E*TRADE
---
Sector roundup: The strongest S&P 500 sectors last week were materials (+1.2%), industrials (+0.1%), and utilities (-1.2%). The weakest sectors were energy (-6.6%), information technology (-5.6%), and communication services (-5.2%).
Highlight reel: On Thursday, RH (RH) jumped 20% to $385.42, while PDC Energy (PDCE) tumbled 21% to $11.66.
Futures action: Crude oil's biggest downturn since April—a five-day, -16% trading-range breakout—dropped October WTI oil (CLV0) to a seven-week low of $36.13/barrel last Tuesday. The market stabilized the remainder of the week to close above $37/barrel. October gold (GCV0) continued to consolidate, though, trading between $1,904.60 and $1,966.60 last week.
Last week's biggest futures up moves: September lumber (LBSU0) +14.2%, October hogs (HEV0) +12.4%, October platinum (PLV0) +5%. Last week's biggest futures down moves: October VIX (VXV0) -19.6%, October natural gas (NGV0) -9.5%, October WTI crude oil (CLV0) -9.5%.
Coming this week
Numbers coming out this week include:
●Monday: Eurozone Industrial Production, Consumer Inflation Expectations
●Tuesday: Import and Export Prices, Empire State Manufacturing Index, Industrial Production, Capacity Utilization
●Wednesday: MBA Mortgage Applications, Retail Sales, Business Inventories, NAHB Housing Market Index, FOMC Interest Rate Decision
●Thursday: Housing Starts and Building Permits, Jobless Claims
●Friday: Q2 Current Account, Consumer Sentiment (prel.), Leading Indicators
This week's earnings include:
●Monday: Lennar (Len)
●Tuesday: Adobe (ADBE), FedEx (FDX)
●Wednesday: Herman Miller (MLHR)
●Thursday: Cantel Medical (CMD), Scholastic (SCHL)
Go to the E*TRADE market calendar (login required) for an up-to-date earnings schedule and a complete list of splits, dividends, IPOs, and economic reports. The Active Trader Commentary also lists earnings announcements, IPOs and economic report times each morning.
Keeping tabs on the VIX
The SPX's 2%-plus jump last Wednesday came after the Cboe Volatility Index (VIX) signaled Tuesday's follow-through sell-off may have been overdone: Even though the SPX traded well below the previous day's  low, the VIX made a lower high on Tuesday, suggesting there was less fear in the market despite the further decline in stock prices.
The VIX, which is based on the implied volatility of SPX options and tends to move in the opposite direction of the index, will typically make a higher high when the SPX makes a lower low (see "When the VIX talks, smart traders listen").
Traders keeping an eye on the market's "fear gauge" likely noticed the same pattern play out again two days later: On Friday the SPX fell below Thursday's low, but the VIX made a lower high instead of a higher high. The VIX's high on Friday was also below its September 4 high, which means the pattern also played out on the weekly time frame.
Click here to log on to your account or learn more about E*TRADE's trading platforms, or follow the Company on Twitter, @ETRADE, for useful trading and investing insights.
---
What to read next...
09/11/20
Can the stock market help forecast how things might play out in Washington this November?
---
09/10/20
Find out why options traders know being right about implied volatility is sometimes more important than being right about market direction.
---
09/08/20
Sharp tech-sector pullback burns market on Thursday, but partial Friday recovery lessens the sting.
---