Tech equipment check
Tech strengthened this week, reversing recent trend
Opportunities in less overheated areas of the sector?
CIEN, CALX testing key price levels
Who knows what tomorrow or next week will bring, but if tech's rebound so far this week turns out to be more than a blip, traders may want to look beyond the high-profile names in search of potential opportunities.
Why? Many of the big names in the two industries that have driven the tech sector over the past week or so—semiconductors and computers/peripherals—are so hot that many traders may (wisely) be afraid of chasing them. 
But a couple of stocks in the communications equipment group—only the third-strongest S&P 500 tech industry over the past week, but the strongest over the past month—highlight why it's worthwhile to search for opportunities outside the spotlight. Calix (CALX), for example, which rallied more than 300% off its March low to its mid-October high, has pulled back to a key level: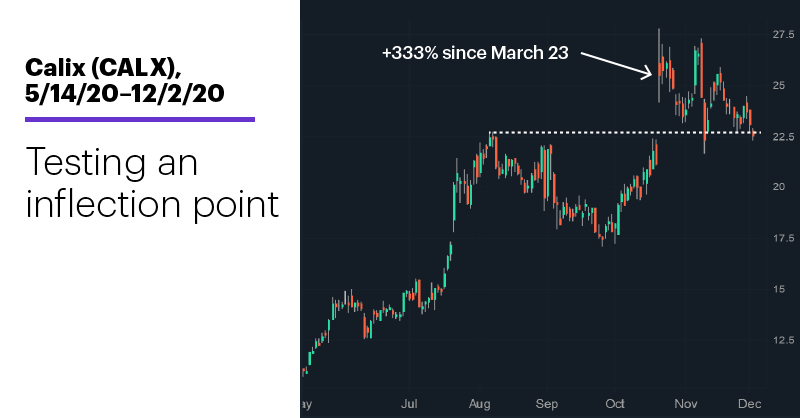 Source: Power E*TRADE
---
Yesterday the stock was again testing the August highs it gapped above after its last earnings release on October 20—a support level bulls will likely want to see remain intact before initiating any long-side plays.
Another stock in this group, Ciena (CIEN), which is scheduled to release earnings a week from today (December 10), presents a different picture. It had been riding high into August, but took a nasty hit on September 3 after it last announced numbers. Although it topped estimates, the company also said it expected "several quarters" of diminished growth,1 and traders responded by dragging the stock 24% lower that day.
That sell-off extended to 35% by September 24, at which point CIEN began the rebound that is still, arguably, intact today: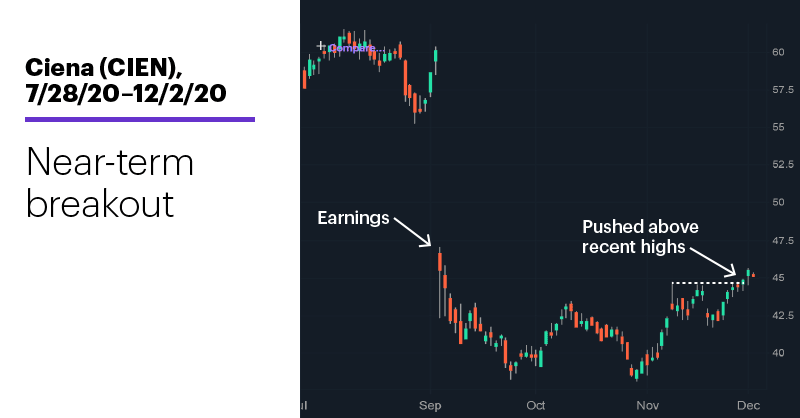 Source: Power E*TRADE
---
Since testing its September lows in late October, the stock has rallied around 18%—and this week it staged a mini-breakout above its November highs. What may especially interest traders who think CIEN has a shot at making up more of the ground it lost in September are next week's earnings—in short, the possibility that CIEN represents an "all the bad news is already out there" situation.
Also, options traders may have noticed that while the December options have higher-than-average implied volatility (IV)—and possibly overpriced premiums as a result—the IV for January options is right around its 30-day average. (Yesterday, for example, the IV for December $45 calls was around 65% while it was only 47% for the January $45 calls.)
The January options may represent the better deal for traders with a slightly longer time horizon, and who think the stock could extend its rebound into the New Year. Yesterday morning, for example, a relatively low-risk January $45–$50 bull call spread (long the $45 and short the $50) was trading around 1.85 ($185) with the potential return of 3.15 ($315) on a move to $50 or higher.
Given the Nasdaq 100 (NDX) has joined the other major indexes in making new highs, instead of asking whether "tech is back," it may be more appropriate to consider the possibility that it never really went away. Every stock has unique catalysts that can provide the basis for trades, but it usually works to your advantage when they're in sync with larger market trends—like potential sector tailwinds.
Today's numbers (all times ET): Challenger Job-Cut Report (7:30 a.m.), Weekly Jobless Claims (8:30 a.m.), PMI Composite Final (9:45 a.m.), ISM Services Index (10 a.m.).
Today's earnings include: Ulta Beauty (ULTA), Dollar General (DG), Kroger (KR), DocuSign (DOCU), Marvell Technology (MRVL).
Click here to log on to your account or learn more about E*TRADE's trading platforms, or follow the Company on Twitter, @ETRADE, for useful trading and investing insights.  
---
1 StreetInsider.com. CIENA (CIEN) PT Lowered to $54 at Stifel Following 3Q. 9/4/20.
What to read next...
12/02/20
There may be more than one way to trade a high-momentum earnings move—even if you don't know which direction it may be in.
---
12/01/20
Traders may see retailer's recent price action and heavy options volume as a near-term momentum signal.
---
11/30/20
Four-day week doesn't slow down stock rally, as market heads toward December setting new records.
---