Tech bounce paces market
Tech leads, small caps lag, crude oil and energy stocks cool
Biden signals tax flexibility while lobbying for infrastructure bill
This week: Earnings season kicks off, retail sales
With Q1 earnings ready to roll in, the US stock market is coming off its third consecutive up week—and five straight days of new records—as a resurgent tech sector helped bulls put their stamp on the first full week of April.
Big rallies on Monday and Friday bookended the week's action, but the broad market got the job done the rest of the week, too. Even on the one day the S&P 500 (SPX) didn't set a record close (Tuesday, the day after the VIX signaled potential weakness), it still hit an all-time intraday high: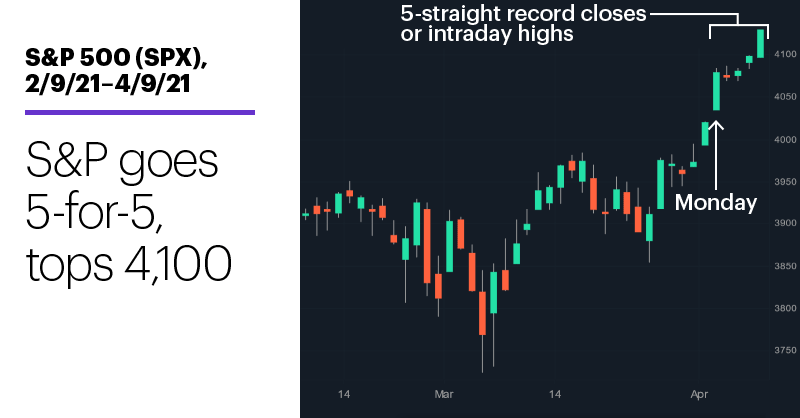 Source: Power E*TRADE
---
The headline: Tech rebound fuels market's push to fresh highs as rates ease.
The fine print: With the Fed (again) signaling it has no intention of tightening monetary policy1 and Treasury yields falling to their lowest levels in nearly two weeks, infrastructure has taken center stage. Last week President Biden appeared to dig in regarding the necessity of passing an infrastructure bill, but also said he's willing to compromise on the corporate tax hike he's proposed to help pay for it—one of the main sticking points for congressional Republicans.2
The number: 4.2%, the year-over-year increase in the Producer Price Index (PPI)—the biggest jump since September 2011.3
The scorecard: The Nasdaq 100 (NDX) enjoyed back-to-back weeks as the strongest major US stock index for the first time in five months, and ended the week with a new record closing price: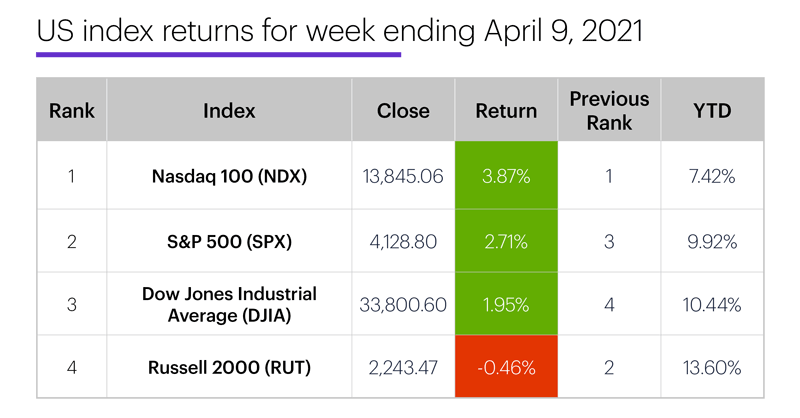 Source (data): Power E*TRADE
---
Sector roundup: The strongest S&P 500 sectors last week were information technology (+4.7%), consumer discretionary (+4.2%), and communication services (+3.2%). The weakest sectors were energy (-4.1%), real estate (+0.5%), and materials (+0.7%).
Highlight reel: DMY Technology (DMYD) +41% to $22 on Monday, Cara Therapeutics (CARA) +14% to $27.15 on Tuesday, Par Technology (PAR) +26% to $78.21 on Thursday. On the downside, Scholar Rock (SRRK) -20% to $35.97 on Tuesday, Fibrogen (FGEN) -43% to $19.74 on Wednesday.
Futures action: May WTI crude oil (CLK1) traded as high as $61.50 and as low as $57.63 in a volatile session last Monday, but remained trapped in that range the rest of the week, closing Friday at $59.32. June gold (GCM1) extended its rebound off its March 30 low of $1,678.30/ounce, ending the week at $1,744.80, despite pulling back on Friday.
Last week's biggest futures up moves: May lumber (LBSK1) +11.1%, May canola (RSK1) +9.5%, May wheat (ZWK1) +9.1%. Last week's biggest futures down moves: May VIX (VXK1) -5.6%, May natural gas (NGK1) -4.6%, May WTI crude oil (CLK1) -3.4%.
Coming this week
Cue the banks—earnings season is underway:
●Monday: PAM Transportation Services (PTSI)
●Tuesday: Fastenal (FAST)
●Wednesday: Bed Bath & Beyond (BBBY), JPMorgan Chase (JPM), Wells Fargo (WFC), Goldman Sachs (GS)
●Thursday: Alcoa (AA), Delta Air Lines (DAL), Rite Aid (RAD), Bank of America (BAC), J.B. Hunt Transport (JBHT), BlackRock (BLK), U.S. Bancorp (USB), Citigroup (C), Progressive (PGR), UnitedHealth Group (UNH), Pepsi (PEP)
●Friday: Bank of New York Mellon (BK), State Street (STT), Kansas City Southern (KSU), PNC Financial Services (PNC), Morgan Stanley (MS)
This week's numbers:
●Tuesday: NFIB Business Optimism Index, Consumer Price Index (CPI)
●Wednesday: Import and Export prices, Fed Beige Book
●Thursday: Retail Sales, Industrial Production and Capacity Utilization, NAHB Housing Market Index, Business Inventories
●Friday: Housing Starts and Building Permits, Consumer Sentiment (preliminary)
This week's IPOs include:
●Wednesday: Alkami Technology (ALKT)
●Thursday: Applovin (APP), agilon health (AGL), TuSimple (TSP)
Check the Active Trader Commentary each morning in for an updated list of earnings announcements, IPOs, economic reports, and other market events.
Tech perspectives
While it may be premature to declare the end of tech's underperformance phase (relative to the S&P 500 over the past seven months), the sector's rebound over the past couple of weeks may compel some traders and investors to rethink the Great Rotation—or at least look at tech with a fresh set of eyes.
After all, not only did the NDX set a new closing high on Friday, the tech gauge's year-to-date return is now just a couple of percentage points behind the SPX's. Also, tech is much more than the handful of mega-cap names that capture the most investor and press attention, and Morgan Stanley Analysts have pointed out the potential for mid-size cloud-computing and "low-code/no-code" companies—among other disrupters—to transform the tech landscape.
Click here to log on to your account or learn more about E*TRADE's trading platforms, or follow the Company on Twitter, @ETRADE, for useful trading and investing insights.
---
1 Bloomberg. Stocks Climb on Powell's Reassurance; Dollar Falls: Markets Wrap. 4/8/21.
2 U.S. News & World Report. Biden Signals Flexibility on Funding Infrastructure Plan. 4/1/21.
3 Reuters. U.S. producer prices surge in March. 4/9/21.

What to read next...
04/09/21
What are traders seeing in gold's recent rebound?
---
04/08/21
"Hybrid" pharma stock's consolidation may have breakout traders testing the momentum waters.
---
04/07/21
Addition to S&P 600 small-cap index pushes biopharma stock toward all-time highs.
---