Tariff deal price surge
HOG jumped 11% intraday Monday on US-EU tariff deal
Stock had retreated 32% from May high
Call options volume more than 14 times average
Companies often see their options volume spike around earnings, but traders were very busy in motorcycle maker Harley-Davidson (HOG) yesterday even though it released its numbers last week.
LiveAction scans showed HOG's total options volume was more than 11 times average, with call options volume even heavier at more than 14 times average: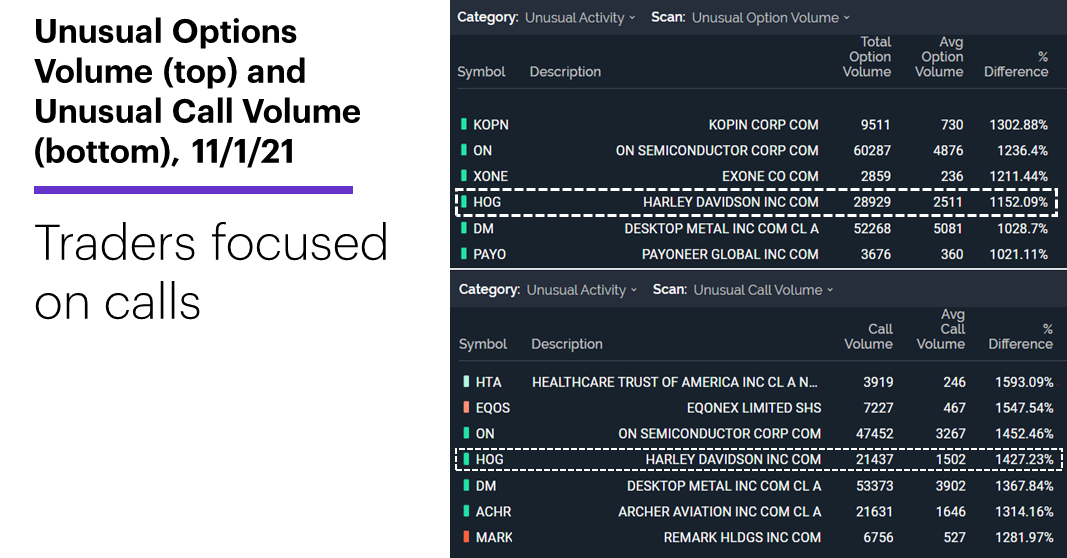 Source: Power E*TRADE (For illustrative purposes. Not a recommendation.)
---
Harley–Davidson topped its headline earnings and revenue numbers handily,1 something that may have surprised some analysts since, even before being confronted with the rising commodity costs that have affected so many companies, HOG had been a victim of the tariff dilemma that broke out during the previous presidential administration—specifically, HOG was getting hit with a 56% tariff by the European Union (EU) in retaliation for US tariffs on aluminum and steel.2 (The stock, which topped $61 in early 2017, fell below $15 in March 2020 before recovering.)
Yesterday, news broke that the US and the EU had decided to resolve the issue.3 The early reaction in HOG stock was an 11% intraday rally, although shares later pared that gain to single digits. The following chart shows the move, which pushed prices to their highest level since August, broke the stock out of the congestion phase it formed after falling as much as 32% below its May highs: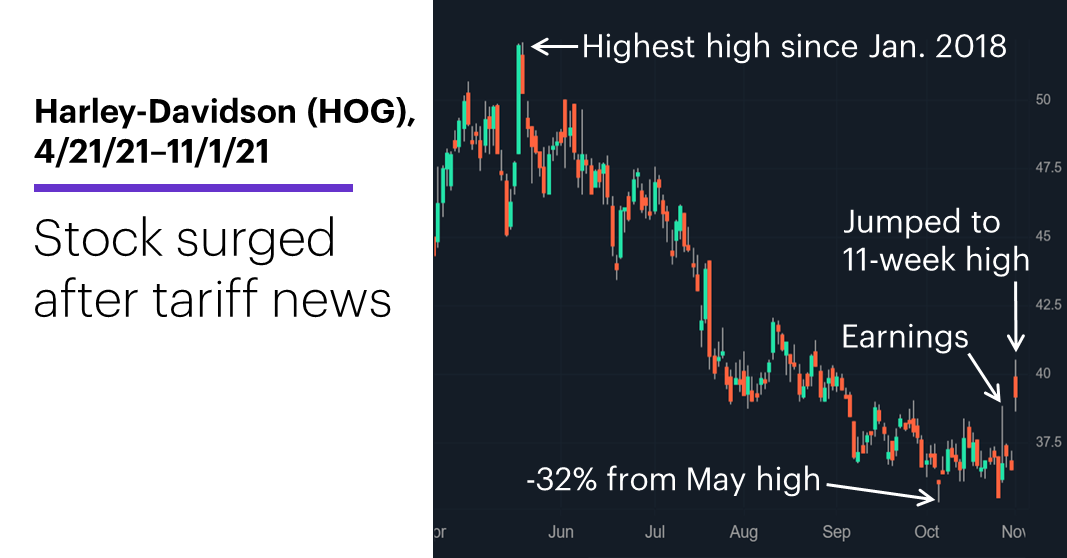 Source: Power E*TRADE (For illustrative purposes. Not a recommendation.)
---
While bargain-hunting investors looking at a stock still relatively close to an eight-month low may see the tariff news as a potential catalyst for an upside reversal, experienced traders appreciate a couple of things about huge intraday moves driven by unexpected headlines:
1. They often pause or reverse in the short term before resuming the move (if it resumes at all).
2. Big price moves usually increase options implied volatility (IV).
In this case, one need only look back three days to HOG's intraday pullback after it released earnings on October 27 to appreciate the first point. The stock rallied more than 9% intraday but settled for a 3.5% closing gain, and two days later it closed lower than it had on earnings day.
And since high IV tends to inflate options premiums, knowledgeable traders considering buying options also tend to wait for the dust to settle—since, for example, a stock pullback accompanied by a decline in IV can reduce the price of a call option on two fronts.
Patience, after all, isn't a virtue just for investors.
Market Mover Update: While on the topic of the open road, Ferrari (RACE), which announces earnings today and jumped to a new record high of $244.12 yesterday, was recently tagged by Morgan Stanley analysts as a player in the electric vehicle space.4
Today's earnings include: Match Group (MTCH), Ralph Lauren (RL), LGI Homes (LGIH), Pfizer (PFE), ConocoPhillips (COP), Global Payments (GPN), Martin Marietta Materials (MLM), Exact Sciences (EXAS), Lyft (LYFT), SolarEdge Technologies (SEDG), Paycom Software (PAYC), Zillow (ZG), Activision Blizzard (ATVI).
Today's IPOs include: SurgePays (SURG).
Click here to log on to your account or learn more about E*TRADE's trading platforms, or follow the Company on Twitter, @ETRADE, for useful trading and investing insights
---
1 StreetInsider.com. Harley-Davidson (HOG) Tops Q3 EPS by 48c. 10/27/21.
2 MarketWatch.com. Harley-Davidson shares rally on U.S.-E.U. tariff deal. 11/1/21.
3 Reuters. U.S., EU end Trump-era tariff war over steel and aluminum. 11/1/21.
4 CNBC.com. Morgan Stanley's Jonas says Ferrari is his favorite electric vehicle stock. 11/1/21.
What to read next...
11/01/21
Stocks hold near highs heading into a busy week of earnings and economic data.
---
10/29/21
Silver recently showed why some traders like to monitor support and resistance levels.
---
10/27/21
Recent price action shows the importance of knowing which options to trade in a given situation.
---