A tale of two pullbacks
Gold rebounded intraday Monday after hitting one-month low
Financial stocks—especially banks—have retreated this month after big gains
Both markets at or near potential price inflection levels
While no one expects the Fed to announce it will hike interest rates tomorrow, many people are on pins and needles regarding any signs that the central bank is thinking about changing its easy-money policies amid signs of rising inflation.
Rising prices—and the steps the Fed could take to cool them off—have potential implications for all markets, although there's plenty of debate about the nature of the impact. For example, some market watchers, including those who disagree with the Fed's assessment that price pressures are likely to be temporary, have expressed the opinion that a continued downplaying of inflation risks would be reason to pursue various "inflation trades."1
That may make recent pullbacks in a couple of inflation-centric areas of the market—gold and financial stocks—more interesting for some traders.
A little more than two months after we noted gold's attempt to rebound after testing its March lows (see "Gold holds its ground"), on Monday the market found itself tagging a one-month low around its early-May highs: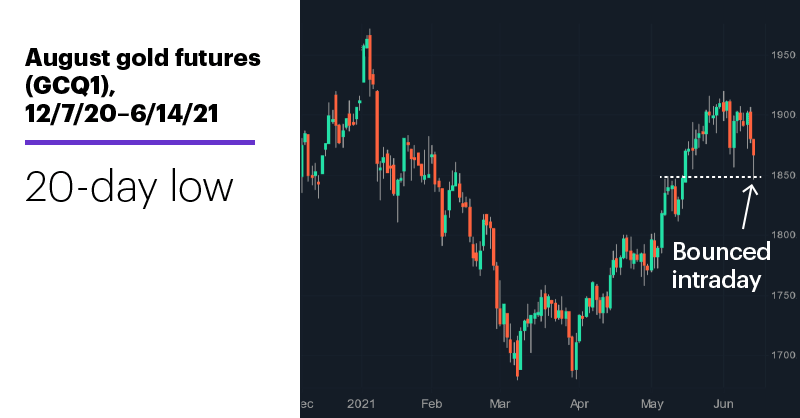 Source: Power E*TRADE
---
At yesterday's low August gold was down $73.50 (3.8%) from its June 1 intraday high of $1,919.20. Despite its less-than-ironclad track record as an inflation hedge,2 gold is still arguably a haven for investors during periods of market uncertainty (including when fear of inflation is on the rise), as its 14% March–June rally may attest.
The other side of the coin is represented by the financial sector, which had gotten a boost in past months on the prospects of a reopening economy, as well as the (longer-term) expectation of higher interest rates and a steeper yield curve—conditions that make it easier for companies in the borrowing/lending game to turn a profit. (Morgan Stanley strategists also recently noted that financial stock valuations are still relatively close to their historical lows.)
But financials have pulled back this month. It was the most bearish S&P 500 sector last week, and commercial banks were its shakiest corner, with Fifth Third Bank's (FITB) pullback providing a snapshot of what many stocks in the group have done: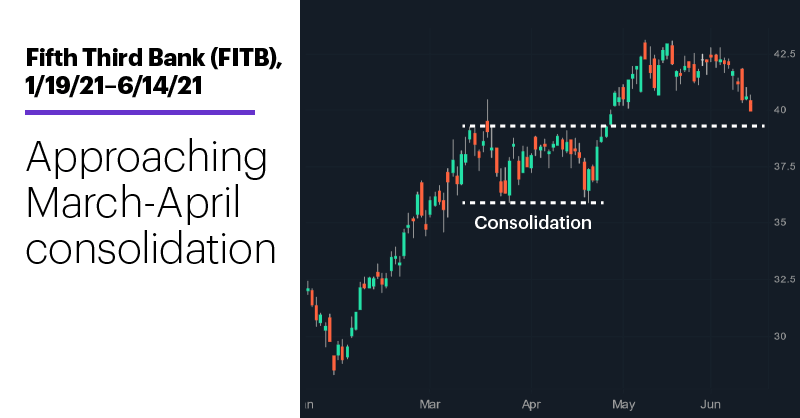 Source: Power E*TRADE
---
Monday's 2%-plus intraday sell-off dropped FITB more than 7% below May 10's 14-year high of $43.06—not much more than a dent in the fender of the 51%, three-and-a-half month rally that preceded it, and still a little above the highs of the consolidation (around $39) that the stock escaped from in April.
No one knows what twists, if any, Wednesday may bring to the inflation debate, but with inflation-sensitive markets like gold and financials near possible short-term inflection points, traders may be looking for their recent moves to accelerate—or reverse, depending on what news emerges from the FOMC announcement.
Market Mover Update: United Natural Foods (UNFI) has bounced nearly 8% since last Wednesday's sell-off (see "Earnings-day breakdown")
Today's numbers include (all times ET): Retail Sales (8:30 a.m.), Producer Price Index, PPI, (8:30 a.m.), Industrial Production (9:15 a.m.), Capacity Utilization (9:15 a.m.), Business Inventories (10 a.m.), NAHB Housing Market Index (10 a.m.).
Today's earnings include: La-Z-Boy (LZB).
Today's IPOs include: Acurx Pharmaceuticals (ACXP), Engine Media (GAME).
Click here to log on to your account or learn more about E*TRADE's trading platforms, or follow the Company on Twitter, @ETRADE, for useful trading and investing insights.
---
1 CNBC.com. Paul Tudor Jones says 'go all in on the inflation trades' if Fed keeps ignoring higher prices. 6/14/21.
2 S&P Global Market Intelligence. Once a safe haven, gold no longer a hedge against stocks, inflation – BlackRock. 5/18/21.
What to read next...
06/14/21
S&P 500 sets new records as tocks brush off the latest reminder of rising consumer prices.
---
06/11/21
Key economic data on the horizon may help clarify the near-term outlook for lumber—and the companies that revolve around it.
---
06/10/21
Food stock's sell-off shows the potential for concrete data to cut through the market "noise."
---