Taking earnings volatility in stride
CTXS posted strong gains during COVID lockdown
Tech company pulled back in July after strong earnings report
Pullback rebounded off longer-term support level
Yesterday virtual workspace company Citrix Systems (CTXS) rallied more than 2%, something that wouldn't be particularly remarkable on what was a strong day overall for tech, except for what the stock had been doing before that.
Yesterday's gain was the fifth day of a bounce off a key support level CTXS tested after a dramatic post-earnings sell-off in late July: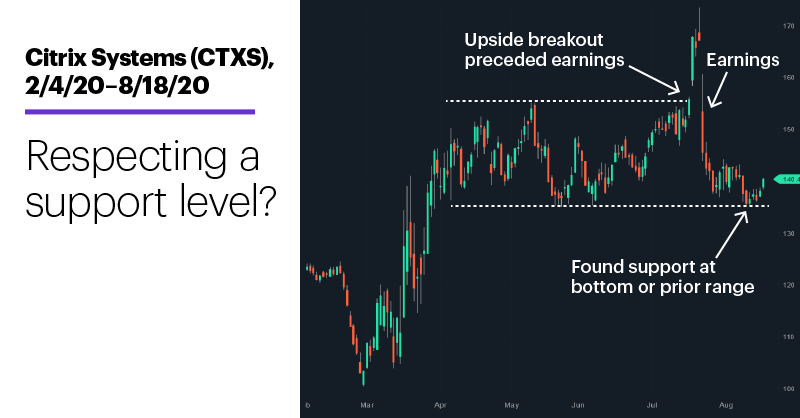 Source: Power E*TRADE
---
Citrix pretty much crushed its earnings and revenue numbers—and upped its full-year outlook, too1—so its huge pullback was yet another example of the type of "good news" sell-offs that crop up during earnings season. Two possible factors in this case:
1. The stock has a history of retreating after earnings.2
2. It had jumped more than 14% in the previous four days.
That final parabolic portion of the stock's 69% rally off its February low may have (understandably) been fast money crowding into a bullish earnings play in a company that had the good fortune of finding itself in the cloud/virtual-connectivity sweet spot created by the COVID crisis.
But good news is, in fact, sometimes already baked into prices, in which case what goes up can indeed come down—and just as fast. What traders may be looking at now is the fact that CTXS seemed to find at least a temporary floor at an obvious technical level. If the fast money has been flushed out, bulls may be more inclined to play the long side, using the support level as their risk point.
Citrix also appeared on the LiveAction scan for tickers with near-term implied volatility (IV) below their near-term historical volatility (HV):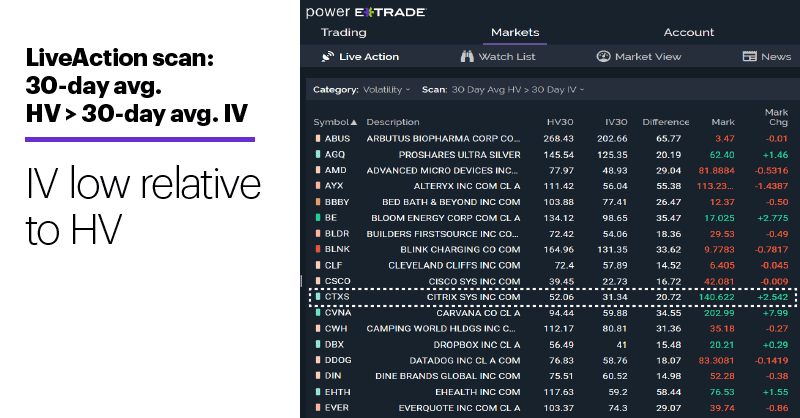 Source: Power E*TRADE
---
Because lower IV can mean option premiums are, all else being equal, relatively cheap, bulls may find opportunities for long-call strategies, including bull spreads (for example, a $140–$145/$150 call spread) that could profit on another near-term price jump.
Market Mover Update: By the way, if you wonder why some traders still pay attention to simple concepts like support and resistance in the digital age, First Solar's (FSLR) price action over the past month or so may offer a clue. The stock rallied as much as 40% after breaking out above the resistance level noted in "Stock eyes sunny side of the Street:"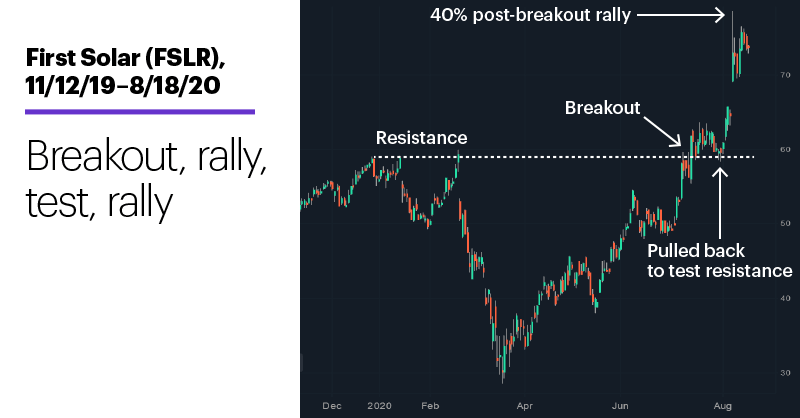 Source: Power E*TRADE
---
In mid-July the stock initially broke out above the resistance defined by its December–February highs. After a brief pop it pulled back to test the breakout/former resistance level, then surged 40% over the next five days.  
Options watch: A trader (or traders) liquidated more than 30,000 Vistra (VST) September $21 call options yesterday as the electricity provider's shares rallied more than 4% intraday to above $20. Options volume was nearly 100 times its daily average.
A record's a record: And yes, one week after trading to within 0.5% of its all-time high of 3,393.52, the S&P 500 (SPX) finally set new records yesterday—tagging 3,395.06 intraday and closing at 3,389.79. The Nasdaq 100 (NDX), which notched its 22nd record high since June, yawned.
Today's numbers (all times ET): Mortgage Applications (7 a.m.), EIA Petroleum Status Report (10:30 a.m.), FOMC minutes (2 p.m.).
Today's earnings include: Analog Devices (ADI), L Brands (LB), NVIDIA (NVDA), Target (TGT), TJX (TJX), Lowe's (LOW), GoHealth (GOCO).
Click here to log on to your account or learn more about E*TRADE's trading platforms, or follow the Company on Twitter, @ETRADE, for useful trading and investing insights.  
---
1 Investor's Business Daily. Citrix Earnings Top Views On Higher Demand, But Shares Fall. 7/23/20.
2 StreetInsider.com. Citrix Systems, Inc. (CTXS) Earnings. 7/23/20.
What to read next...
08/18/20
Two stocks—one little, one big—show why we shouldn't assume too much about market trends in the pandemic era.
---
08/17/20
Stocks press higher, balancing encouraging economic data against US–China tensions.
---
08/14/20
Virtual car dealer hits brakes on recent rally, but traders may see opportunity to take it for a test drive.
---