Synthesizing a trade plan
Many Chinese stocks outpaced broad-market gains yesterday
Chinese coffee chain LK jumped more than 7% intraday
"Synthetic" stock position offering an edge?
Yesterday's US stock-market rebound was far from an "all clear" signal on the coronavirus front, but it does highlight the potential for some "relief buying" whenever traders and investors decide the story has, in fact, run its course. Beaten-down stocks sometimes fight back with a vengeance.
Aside from the across-the-board bounces in European and US equity markets, several high-profile Chinese stocks, including Alibaba (BABA), JD.com (JD), Tencent (TCEHY), Momo (MOMO), and Pinduoduo (PDD), outperformed the indexes on Tuesday, recouping some of their oversized losses from the past few days.
One of the biggest moves was in Chinese coffee chain Luckin Coffee (LK), which jumped more than 7% intraday after taking a 26% hit between January 17 and Monday: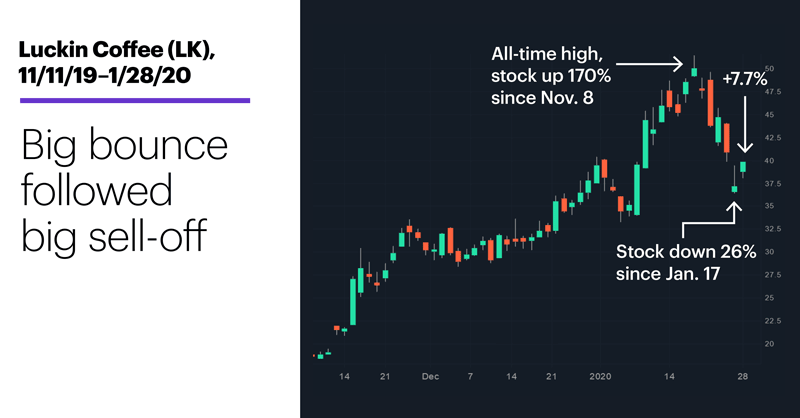 Source: Power E*TRADE
---
Luckin began trading in the US last May, and spent several months trading mostly below its IPO price before taking off to the upside in November (see "A whole latte price action"). Actually, some traders would likely argue that LK was due for a pullback—coronavirus or no coronavirus—given it rallied 170% from November 8 to January 17, skyrocketing 45% in the final nine days of that push.
The unanswerable questions, of course, are whether Monday's sell-off marked "peak coronavirus fear," and if LK's cup of joe has cooled enough that bulls want to continue sipping. Yes, the stock could continue to rebound immediately, but it's also plausible that it would at least test Monday's low before moving higher. (If nothing else, that would fulfill the market's responsibility to scare as many "weak hands" out of the market as possible.)
Aside from the size of its bounce, LK may have piqued the interest of short-term traders for another reason yesterday morning: At-the-money (ATM) put options were trading slightly higher than ATM calls, which may have made a "synthetic" long-stock position an attractive play for bulls who expected more upside.
Some traders may find a synthetic position even more attractive if they can put it on at a credit instead of a debit.
A standard synthetic long-stock position consists of a long ATM call and a short ATM put with the same expiration. The combination mimics the performance of a long stock position—unlimited reward, unlimited risk. So why not just buy stock? Because the synthetic position is usually less expensive to establish: Instead of the minimum 50% margin requirement for stock, a synthetic can usually be established for a small debit—the difference between what you pay for the call and the premium you collect from the short put.
More often than not, ATM calls are slightly more expensive than ATM puts, which makes situations like the one in LK yesterday somewhat unusual. Sometimes ATM puts are more expensive than ATM calls, often when a market has recently sold off sharply and/or traders are worried about a sell-off. Ring any bells?
Source: Power E*TRADE
---
For example, when LK stock was trading around $40 (at roughly 12:30 p.m. ET), a trader could have bought a March $40 call for $670 and shorted a March $40 put for $690, thus collecting a $20 credit for putting on the synthetic long (vs. a minimum $2,000 margin for a 100-share stock position). The chart above shows the synthetic has the same reward-risk profile as a stock trade, which means traders who use it would have to implement the same type of risk controls they would if they had bought the stock.
But for short-term traders anticipating near-term upside, a synthetic long can sometimes be an attractive alternative to a stock position, especially when you can collect a few bucks by using it.
Today's numbers (all times ET): Retail Inventories (8:30 a.m.), Wholesale Inventories (8:30 a.m.), International Trade in Goods (8:30 a.m.), Pending Home Sales Index (10 a.m.), EIA Petroleum Status Report (10 a.m.), FOMC meeting announcement (2 p.m.).
Today's earnings include: AT&T (T), Boeing (BA), Facebook (FB), General Electric (GE), McDonald's (MCD), Microsoft (MSFT), Tesla (TSLA), General Dynamics (GD), Meritage Homes (MTH), Progressive (PGR), Mastercard (MA), Textron (TXT).
Click here to log on to your account or learn more about E*TRADE's trading platforms, or follow the Company on Twitter, @ETRADE, for useful trading and investing insights. 
---
What to read next...
01/28/20
As the coronavirus story spreads, we take a closer look at the market moves surrounding past outbreaks.
---
01/27/20
Friday downturn helps usher in the first losing week of 2020.
---
01/24/20
Does options action in gaming tech stock support the picture on the price chart?
---