Nothing artificial about synthetic positions
Synthetic long position combines calls and puts to mimic stock position
Typically cheaper to trade than stock, but gives up key benefit
MKTX example highlights potential benefits, limitations
The word "synthetic" may not be as warmly embraced as it was a generation ago, but for options traders it can still represent something quite positive—in the right circumstances.
Basically, a synthetic is a combination of options (or stock and options) designed to replicate the performance of a different position. One of the most basic is the "synthetic long," which pairs a long at-the-money call option with a short at-the-money put option—a combination that has the same reward-risk profile as a long stock position: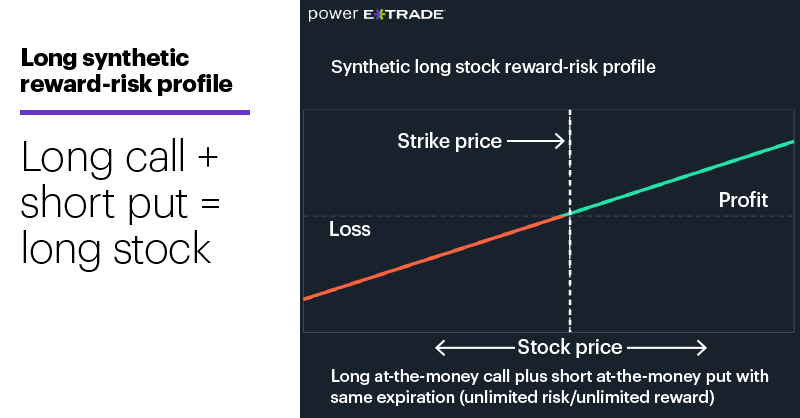 Source: Power E*TRADE
---
A logical question is why anyone would go to the trouble of cobbling together two options simply to mimic the performance of a straight stock trade. The answer is simple enough—leverage.
While a synthetic long's dollar gains will closely track those of its equivalent stock position, the synthetic is much cheaper to establish: Margin is typically around half that of a stock trade, or even less. For example, if you needed $10,000 to buy a certain stock but only $5,000 for the synthetic long, and your dollar profit from either trade was $1,000, the rate of return (ROR) for the stock position would be only 10% (1,000÷10,000), while the synthetic's ROR would be ($1,000÷$4,000). Of course, if the trade went against you, your loss as a percentage of margin would be equally magnified.
This leverage can sometimes make a synthetic position an attractive option for traders interested in relatively short-term trades—and especially in higher-priced stocks that require more margin. Institutional trading platform MarketAxess (MKTX), which recently retraced half of its 116% March–November 2020 rally, provides an example of how some traders think about using synthetics.
Midday Wednesday the stock was trading around $440, which means it would have cost $44,000 to buy 100 shares ($22,000 if trading on margin):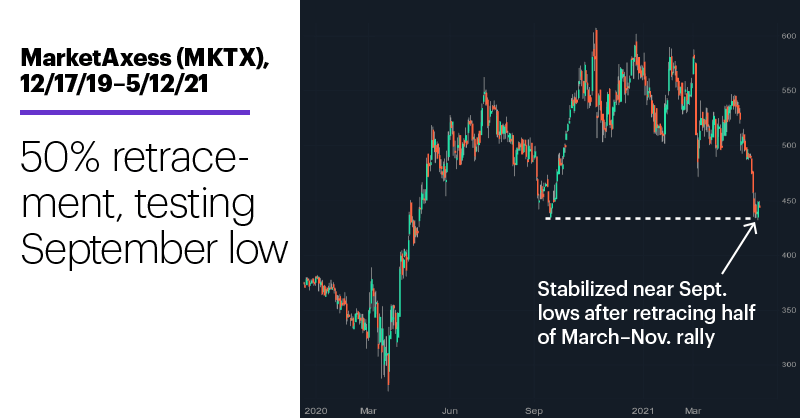 Source: Power E*TRADE
---
Instead of buying stock, bulls who saw the potential for MKTX to rebound in the near term after holding firm around its September lows could have created a synthetic long by purchasing a June $440 call and selling a $440 put.
Although margin requirements can change, the total cost of a synthetic position is typically:
1. the short put margin (20% of the stock position's value), plus
2. the price of the put, plus
3. any debit required to establish the trade (i.e., when the calls are more expensive than the puts).

Around midday yesterday, those requirements for MKTX were:
1. $44,000 x 0.2 = $8,800
2. $2,100 for the June $440 put
3. $350 debit
That makes the synthetic's total cost $11,250—around one-quarter of the cost of an unmargined stock position, and roughly half the cost of a margined stock position. Again, if the stock dropped, this leverage would increase the loss as a percentage of margin.
The final nuance of this strategy: The reason many traders favor synthetics as a shorter-term trading strategy rather than as a longer-term investment approach is that, in addition to the complications of dealing with options expirations, the long synthetic doesn't offer one of the major benefits of stock ownership—dividends.
But for traders with the appropriate time horizons and risk-tolerance levels, synthetics can be useful additions to the toolbox.
Market Mover Update: Morgan Stanley analysts recently upgraded U.S. Steel (X),1 which has rallied 57% so far this year amid a surge in steel prices (see "Metals stocks ride reopening trade").
Microsoft's (MSFT) continued pullback dropped its June $245 call options below the former contract lows noted in "Stock-options interaction."
Today's numbers include (all times ET): Producer Price Index, PPI (8:30 a.m.).
Today's earnings include: Alibaba (BABA), Airbnb (ABNB), Walt Disney (DIS), DoorDash (DASH), Yeti Holdings (YETI).
Today's IPOs include: Genworth Mortgage (ACT).
Click here to log on to your account or learn more about E*TRADE's trading platforms, or follow the Company on Twitter, @ETRADE, for useful trading and investing insights.
---
1 Barron's. Buy U.S. Steel Stock Because This Market Cycle Will Be 'Stronger for Longer.' 5/11/21.