Supporting signals
Many travel-related stocks dropped early last week amid COVID fears
Airline stocks bounced back after hitting multi-month lows
Some had exceptionally high net options premiums and deltas on Monday
While some traders may view unusual call volume and exceptionally high call-put ratios as confirmation  of potential bullish interest in a symbol, there are other signals that may provide some insight into which way traders are leaning.
For example, as the broad market struggled to stay in positive territory yesterday morning, airline stocks popped—including United Airlines (UAL), which was soon up more than 2% intraday:
Source: Power E*TRADE (For illustrative purposes. Not a recommendation.)
---
Aside from the fact that this bullishness stood out against the day's sluggish trading, it also highlighted a reversal in UAL's short-term fortunes. Last Monday (the day before earnings), UAL was down 28% from its June 2 high. That was more than most other airlines, although almost all of them had sold off fairly sharply since early June after hitting year-plus highs in March or April.
As last week's fresh lows showed, airlines and other travel-related stocks have continued to be acutely sensitive to sentiment surrounding COVID (although as mentioned here yesterday, that's not the only catalyst driving the market).
United's 5.5% turnaround on Tuesday followed the company's earnings beat, and as of yesterday, the stock was still bucking its historical tendency to slump the week after releasing its numbers.1 Traders may also have noticed that UAL also appeared on the scan for largest positive net deltas: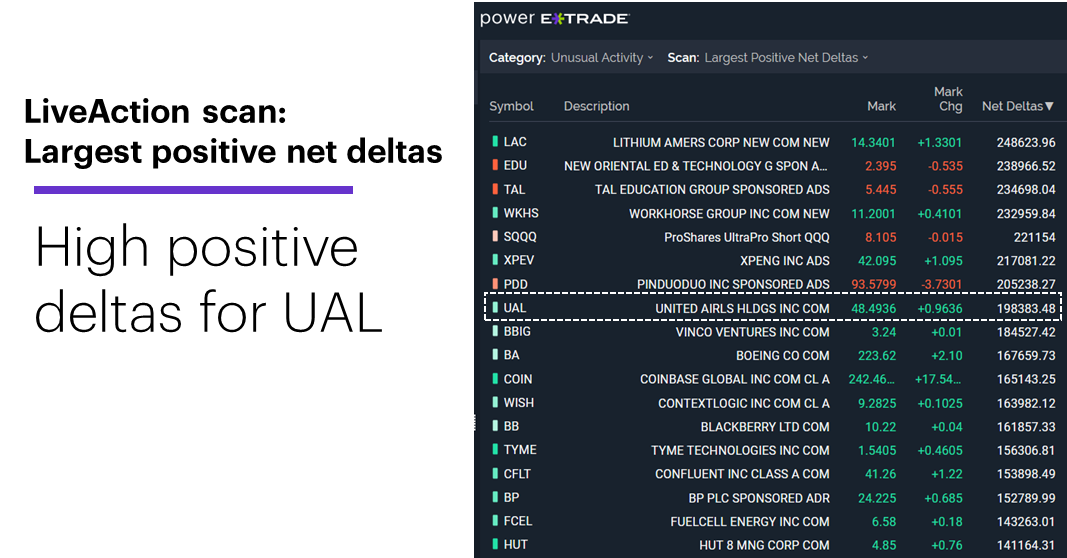 Source: Power E*TRADE (For illustrative purposes. Not a recommendation.)
---
Delta represents how much an option gains or loses relative to its underlying instrument, ranging from 0 to 1.00 (100%) for calls and 0 to -1.00 for puts—e.g., a call with a delta of 0.5 would gain $0.5 (and a put with a delta of -0.5 would lose $0.5) for every $1 up move in the underlying stock.
Aside from the fact that a higher delta means a call option is providing more bang for the buck in the event the underlying rallies, higher net positive deltas means call deltas are outweighing put deltas to a greater degree than usual, which may reflect a bullish bias. (Similarly, UAL—and other airline stocks—appeared on the LiveAction scan for largest net positive options premiums.)
No single piece of information in the markets is definitive, but sometimes it can be helpful to look into corners that other traders may be ignoring.
Market Mover Update: Just like on July 12, yesterday the S&P 500 (SPX) hit a new high and the Cboe Volatility Index (VIX) also closed higher (see "VIX in spotlight as the market hugs highs").
September coffee futures (KCU1) started the week by hitting their fourth-straight contract high amid continued uncertainty over the extent of the freeze damage to Brazil's java crop.2 The market has jumped more than 40% over the past five days, trading as high as 215.20 on Monday—its highest level in more than six years.
In advance of today's earnings announcement, Mattel (MAT) rallied more than 9% intraday yesterday as fellow toymaker Hasbro (HAS) jumped more than 13% after beatings its numbers.
Today's numbers include (all times ET): Durable Goods Orders (8:30 a.m.), S&P Case-Shiller Home Price (9 a.m.), FHFA House Price Index (9 a.m.), Consumer Confidence (10 a.m.).
Today's earnings include: QuantumScape (QS), Rockwell Automation (ROK), Raytheon (RTX), United Parcel Service (UPS), Apple (AAPL), Advanced Micro Devices (AMD), Boyd Gaming (BYD), Crispr Therapeutics (CRSP), Mattel (MAT), Alphabet (GOOGL), Starbucks (SBUX), Teladoc (TDOC), Visa (V).
Today's IPOs include: Outbrain (OB), Ocean Biomedical (OCEA).
Click here to log on to your account or learn more about E*TRADE's trading platforms, or follow the Company on Twitter, @ETRADE, for useful trading and investing insights.
---
1 StreetInsider.com. United Airlines (UAL) Earnings. 7/26/21.
2 Bloomberg.com. Brazil's Frost May Kill Young Coffee Trees, Hurt Crops for Years. 7/20/21.
What to read next...
07/26/21
Stocks reverse deepest pullback in more than two months, enter final week of July at record levels.
---
07/23/21
That may not be the best question to ask about earnings.
---
07/22/21
Semiconductor stock falls to new lows: Where do its options fit into the picture?
---