Supporting stock tests support
UCTT fell more than 6% intraday on Monday
Semiconductor equipment support stock up 45% since Dec.
Put-call ratio high, but is it bearish?
After spending three weeks as the strongest major US stock index, the Nasdaq 100 (NDX) helped drag the market lower on Monday, and the semiconductor industry was one of tech's biggest weights, selling off twice as much intraday as the NDX.
Amid an ongoing chip shortage, semiconductor stocks are rarely out of the news for long. Even so, many traders may be unfamiliar with Ultra Clean Holdings (UCTT), which fell twice as much as the PHLX Semiconductor Index (SOXX) yesterday. While UCTT isn't a chipmaker itself, it's one of the companies that supply the physical infrastructure—particularly, gas delivery systems used throughout the production process—to those that do.
Since December 2018, UCTT has gained nearly 500%, perhaps bringing to mind the adage about the advantage of selling shovels vs. mining for gold, since this return has topped that of most of the best-known chipmakers. And although yesterday UCTT dropped much more than semiconductors, the following chart shows it's still gained around three times as much as the SOXX over the past four-plus months: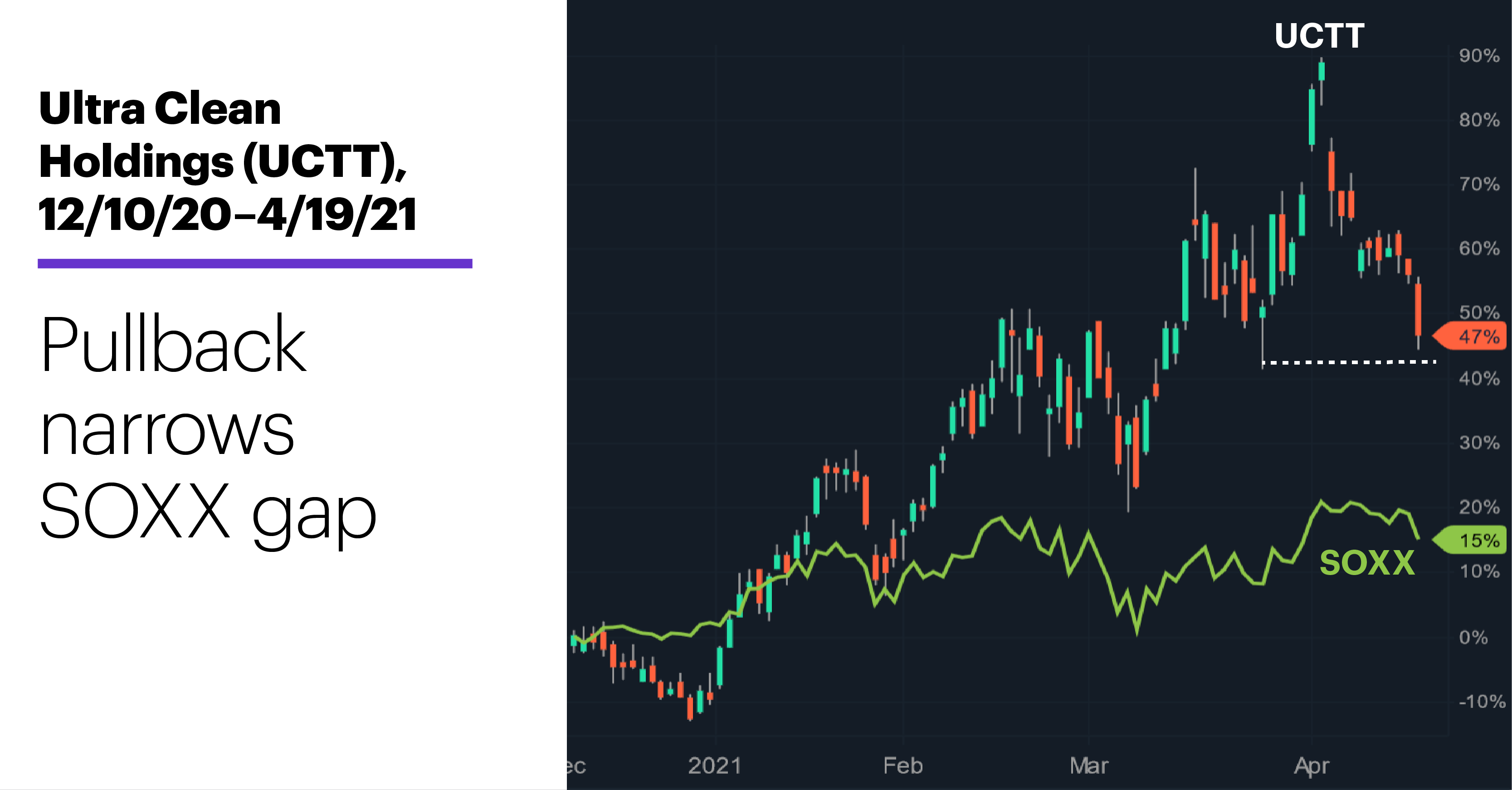 Source: Power E*TRADE
---
Yesterday UCTT approached the March low, which may be a line in the sand for some bulls, since one of the most basic definitions of an uptrend is a series of higher highs and higher lows: When prices break the pattern by falling to a lower low, it can be interpreted as a sign that bears have taken control of the reins, at least temporarily.  
Also, yesterday's down move appeared to be mirrored in UCTT's high put-call ratio, with puts outnumbering calls by more than three to one: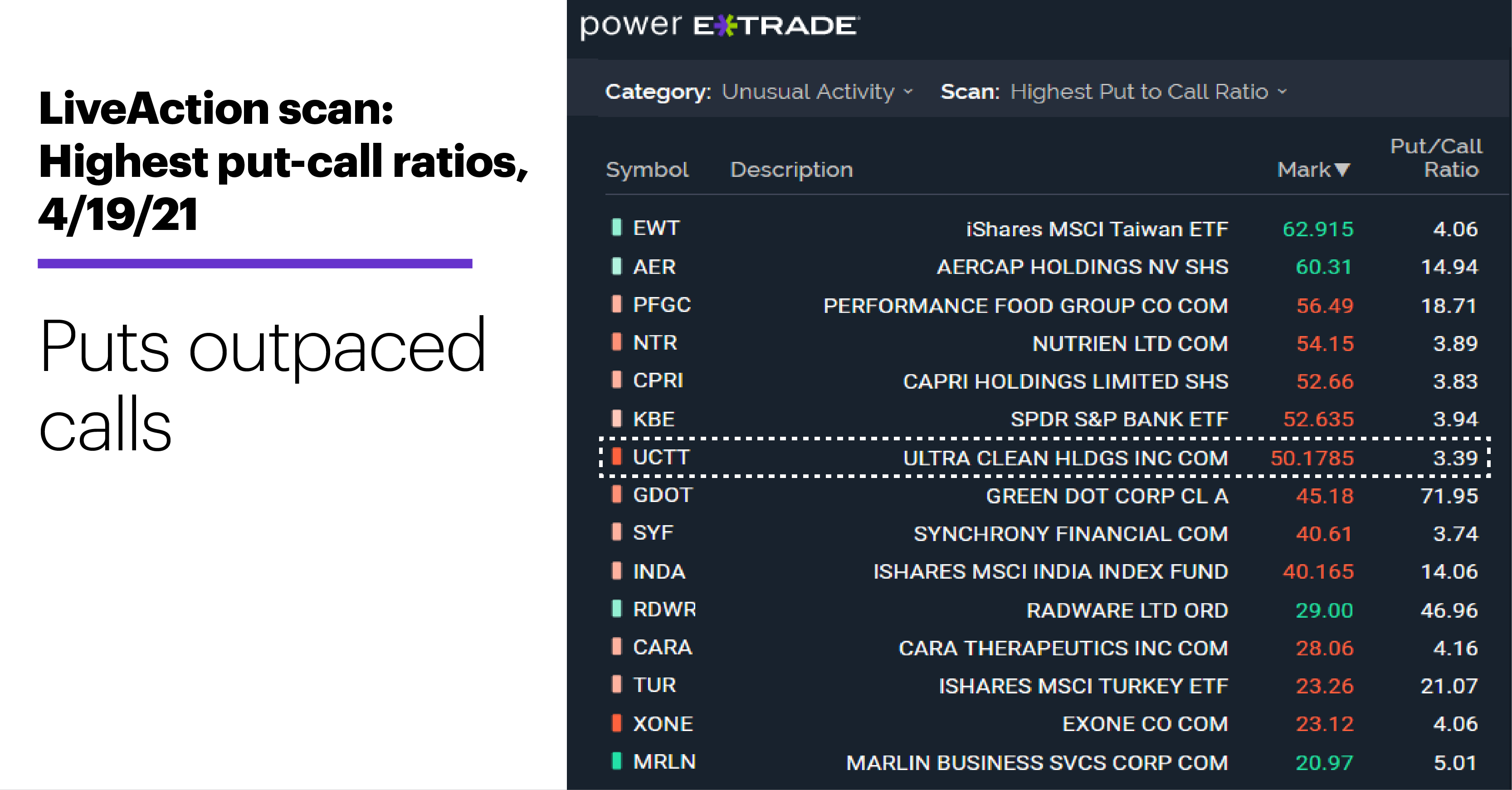 Source: Power E*TRADE
---
Most of the activity was in two options, the roughly at-the-money May $50 put (540 contracts) and the May $55 put (537 contracts). But since the open interest in the $50 put was less than its volume, at least some traders were getting out of positions rather than getting into them—something that may have led some traders to re-evaluate the apparent bearishness of this development.
As noted in "Sector deep dive," stocks at the periphery of an industry sometimes exhibit even more momentum than those within it. If the semiconductor space reasserts its longer-term bullishness (the SOXX set a new record high as recently as April), traders may be closely watching pullbacks in some of its strongest performers—as well as in its supporting stocks.
Market Mover Update: WD-40 (WDFC) WDFC options open interest was more than six times average Monday morning (see "Volatility loosens grip").
Today's earnings include: AutoNation (AN), Abbott Laboratories (ABT), Lockheed Martin (LMT), Las Vegas Sands (LVS), Procter & Gamble (PG), CSX (CSX), Dover (DOV), Netflix (NFLX), Philip Morris (PM), Johnson & Johnson (JNJ), Key (KEY).
Today's IPOs include: Troika Media Group (TRKA).
Click here to log on to your account or learn more about E*TRADE's trading platforms, or follow the Company on Twitter, @ETRADE, for useful trading and investing insights.
---
What to read next...
04/19/21
Nasdaq stays hot, but defensive sectors also warm up as stocks extend run.
---
04/16/21
Options prices tumble as volatility slides after stock's big earnings move.
---
04/15/21
The stock market accomplished a relatively rare feat this month—and traders may be taking note for next month.
---