Labor jolt highlights options
Deere (DE) pulled back Wednesday on labor dispute news
Put options jumped, volatility remained elevated
Stock up more than 25% this year despite months of sideways price action
One of the odder aspects of trading is when markets rally on what appears to be "bad" news or sell off on "good" news. Sometimes this is simply a matter of an initial misunderstanding of what's good or bad, but other times it's a reflection of the way markets process and discount information.
Yesterday, though, price action appeared to be in sync with the news, as Deere (DE) fell more than 5% intraday after the United Auto Workers (UAW) union rejected the machinery maker's latest contract offer:1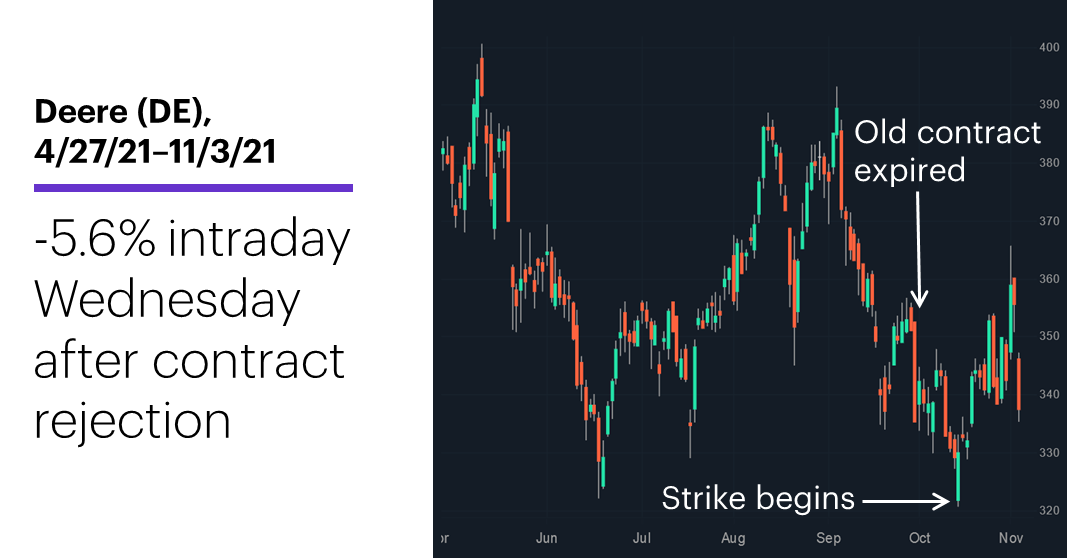 Source: Power E*TRADE (For illustrative purposes. Not a recommendation.)
---
Ten thousand Deere employees have been on strike since October 14—which, as the chart shows, marked the precise date DE launched a two-week, 12% rally off a four-month low. Why would a stock rally when the company's workers go on strike? For starters, strikes don't occur overnight. The stage was set no later than September 30 when the old labor agreement expired,2 and the stock took a sharp dive on October 11 when workers rejected DE's first contract offer.
The fact that the stock rallied when the strike began wasn't the market saying it thought the walkout was good for business, but rather a reflection of the reality that the sooner a strike begins, the sooner it will end—i.e., the uncertainty surrounding a negative event sometimes can be more disruptive to a stock than the event itself. (After surprises, uncertainty is arguably the biggest contributor to market volatility.)
Source: Power E*TRADE (For illustrative purposes. Not a recommendation.)
---
While it remains to be seen whether Wednesday's contract rejection is a major stumbling block or just part of the natural negotiation process, one of its immediate impacts was to trigger spikes in DE put options. The chart above, for example, shows the $300 puts more than doubled in value.
At the same time, the following chart shows DE's implied volatility (IV) was above average for the next several expirations: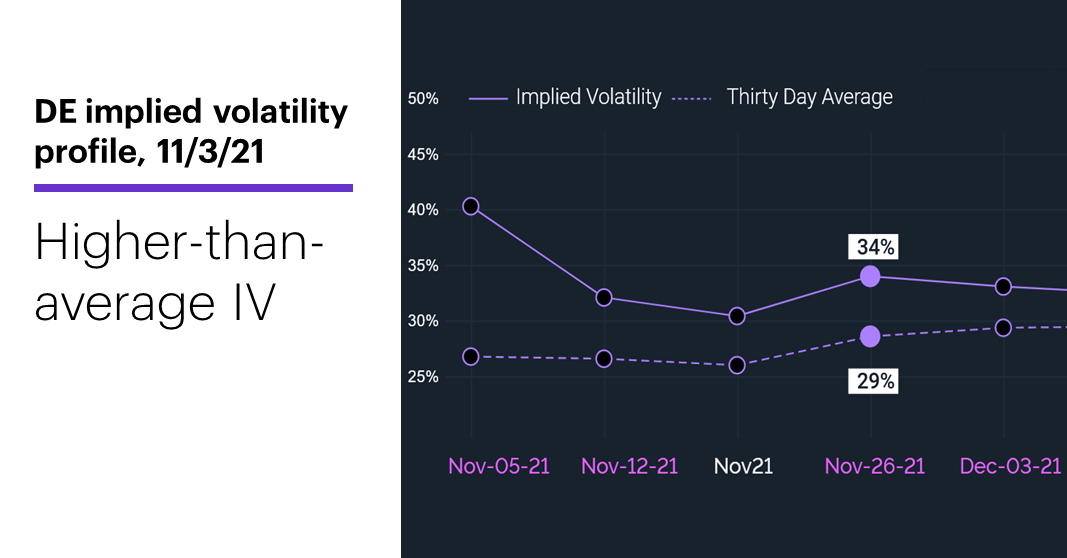 Source: Power E*TRADE. (For illustrative purposes. Not a recommendation.)
---
One implication: DE options premiums may have been relatively pricey—a possible headwind for buyers, but a potential benefit for sellers. For example, traders who thought yesterday's contract rejection was unlikely to derail an eventual settlement—something the market would likely embrace as good news—may have considered selling put options, either with the intention of getting assigned the stock or simply to collect premium. In the latter case, especially, experienced traders know the value of time, since selling options is, in large part, a matter of selling time: All options lose value over time, but that process of time decay typically accelerates in the final two to three weeks of an option's life.
So, for example, while the $300 DE puts expiring on December 17 were trading around $3.95 yesterday—almost twice the price of the November 26 $300 puts—the November contracts were likely to lose much more time value over the next three weeks, since on November 25 the December puts would still have three weeks until expiration, while the November 26 puts would have only a day of life remaining.
And for precisely the same reason, option buyers, depending on their trade horizon, often avoid soon-to-expire options. The markets are difficult enough to understand on their own—traders don't need to make things more challenging by fighting uphill battles against time and volatility.
Today's numbers include (all times ET): Challenger Job-Cut Report (7:30 a.m.), International Trade in Goods and Services (8:30 a.m.), Weekly Jobless Claims (8:30 a.m.), Productivity and Costs (8:30 a.m.).
Today's earnings include: Intellia Therapeutics (NTLA), Moderna (MRNA), Kellogg (K), Vulcan Materials (VMC), Carvana (CVNA), Pinterest (PINS), Dropbox (DBX), Airbnb (ABNB), Peloton (PTON), SunRun (RUN), First Solar (FSLR), Uber (UBER).
Today's IPOs include: Cadre Holdings (CDRE), NerdWallet (NRDS), Mainz Biomed (MYNZ), Arhaus (ARHS),
Click here to log on to your account or learn more about E*TRADE's trading platforms, or follow the Company on Twitter, @ETRADE, for useful trading and investing insights
---
1 CNN.com. Autoworkers at John Deere will remain on strike after voting down another tentative deal. 11/3/21.
2 WHO13.com. John Deere announces tentative agreement with UAW, averting strike. 10/1/21.
What to read next...
11/03/21
Renewable energy stocks have amped up recently.
---
11/02/21
Were options traders seeing more open road for this vehicle maker on Monday?
---
11/01/21
Stocks hold near highs heading into a busy week of earnings and economic data.
---