Streaming rerun
AT&T-owned HBO launched new streaming service this week
Rally in T shares corresponded to a NFLX pullback
Previous trends may reassert themselves after launch story fades
If you were looking for a reason for Netflix's (NFLX) 4% intraday sell-off on Wednesday, AT&T's (T) 3.8% rally the same day may have offered a clue.
AT&T's mid-week jump capped a 15% rally off its March 14 low, pushing shares to their highest level in more than two months, just a hair above the late-April high: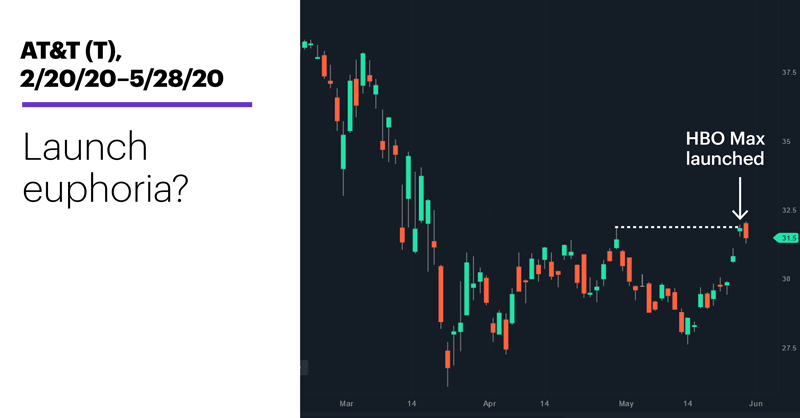 Source: Power E*TRADE
---
Why would there be any connection between a telecom conglomerate and one of the world's premier streaming entertainment services? Well, AT&T owns WarnerMedia, which just happens to own a little company called HBO—which just happened to launch its HBO Max streaming service on Wednesday.
Welcome to Streaming Wars III—or is it IV, or V?. But as is sometimes the case when a newcomer (if you can call HBO that) challenges an established player, the initial reactions of the stocks in question don't always provide a good map of what's to follow.
While more competition for a limited number of eyeballs probably isn't a positive for NFLX, the price action suggests the market's initial reaction to the HBO Max news may have been more of a blip than a breakdown.
At Wednesday's low, NFLX had pulled back around 12% from its May record high, approaching support at the April 29 swing low (a little below $400, which was also the level of its March swing highs). But the stock reversed to close up on the day, and held its ground most of yesterday despite late-afternoon selling that swept across much of the market: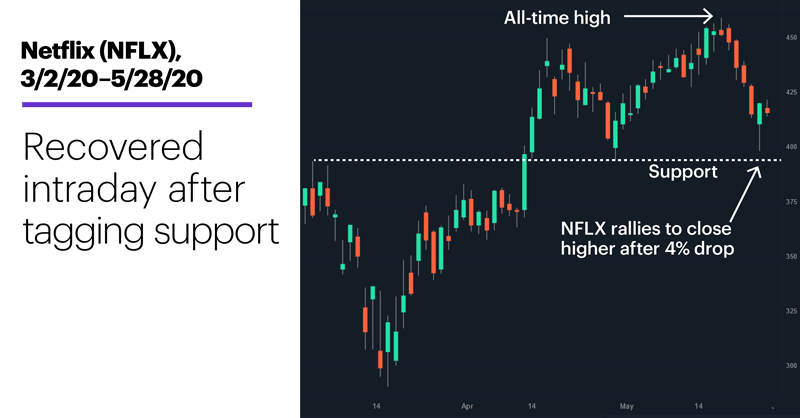 Source: Power E*TRADE
---
AT&T, on the other hand, fell more than 1% yesterday after trading to a slightly higher intraday high.
It wasn't that long ago (Q3 2019) that some analysts were writing obituaries for NFLX as the streaming entertainment space was becoming increasingly crowded. And while NFLX has undoubtedly gotten a huge boost from the stay-at-home economy—the stock shot to record highs in April and again this month—it had already rallied more than 52% off its September 2019 lows when the coronavirus panic hit in February.
Although Wednesday's intraday turnaround doesn't guarantee its pullback is over, some bulls would interpret that type of move as the market saying "Wait—maybe this news wasn't as bad as we initially thought." After all, NFLX carved out its path to record highs after challenges from Amazon (AMZN), Disney (DIS), and Apple (AAPL). For example, the relative performance of DIS and NFLX in the 10 days before and after the November 12, 2019 launch of Disney+ is interesting, to say the least.
Finally, this isn't a zero-sum game—T doesn't have to fall for NFLX to rally, and vice versa. But it's worth noting that streaming is just one part of a very big AT&T pie, and T shares were already sliding (after hitting a 14-month high around $40 last November) when the coronavirus kicked in. NFLX, by contrast, was trending higher, and that move only accelerated during the pandemic lockdown.
If NFLX's support holds in the next few days, we may see if these stocks' larger trends reassert themselves.
Jobs watch: Thursday's jobless claims data may have appeared to be the latest COVID-era storm cloud—another 2.1 million people filed for unemployment—but it had a distinct silver lining: The number of people filing to extend their existing unemployment insurance dropped by nearly 4 million, an indication that the total number of unemployed declined.1 The monthly jobs report will come out a week from today.
Today's numbers: Retail Inventories (8:30 a.m.), Wholesale Inventories (8:30 a.m.), International Trade in Goods (8:30 a.m.), Personal Income and Outlays (8:30 a.m.), Chicago PMI (9:45 a.m.), Consumer Sentiment (10 a.m.), Jerome Powell Speaks at Princeton's Griswold Center for Economic Policy Studies (11 a.m.).
Today's earnings include: Big Lots (BIG), Genesco (GCO).
Click here to log on to your account or learn more about E*TRADE's trading platforms, or follow the Company on Twitter, @ETRADE, for useful trading and investing insights.  
---
1 CNBC.com Another 2.1 million file jobless claims, but total unemployed shrinks. 5/28/20.
What to read next...
05/28/20
If the recent retreat in some Chinese stocks has been fueled by fears of delisting in the US, traders may find pullback opportunities in high-momentum names.
---
05/27/20
Some video game stocks have retreated after surging during the lockdown. Game over, or just warming up for Round 2?
---
05/26/20
Market rides optimism over potential coronavirus prevention as the Great Reopening picks up steam.
---