Straddle realities
BMBL paused this week after 79% rally off early March low
What are implications of options straddle?
Time, volatility considerations replace price forecast
While uncertainty (or ambivalence) about price direction is one of the primary reasons some traders consider using "price-neutral" options spreads like straddles and strangles, a recent market example helps illustrate the practical realities involved in applying these strategies in real time.
Let's say a trader noticed dating app Bumble (BMBL) had entered a mini-consolidation in recent days since jumping around 79% after closing at a record low of $16.23 on March 7: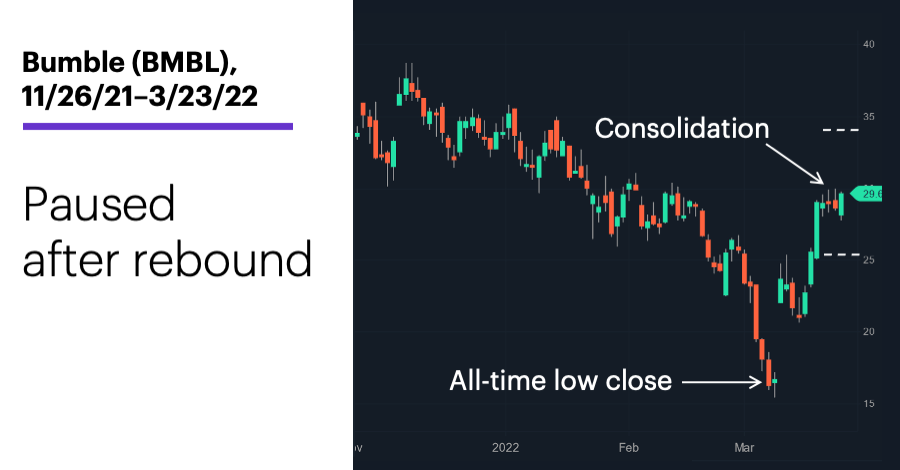 Source: Power E*TRADE. (For illustrative purposes. Not a recommendation.)
---
Now let's assume this trader expected the stock's momentum to resume in the near future, but was less certain about the direction it would take. In that case, the trader may have considered a long straddle spread, which pairs a long at-the-money call with a long at-the-money put with the same expiration date. As long as the stock moves enough, up or down, to compensate for the combined cost of the two options, the position has a chance to turn a profit: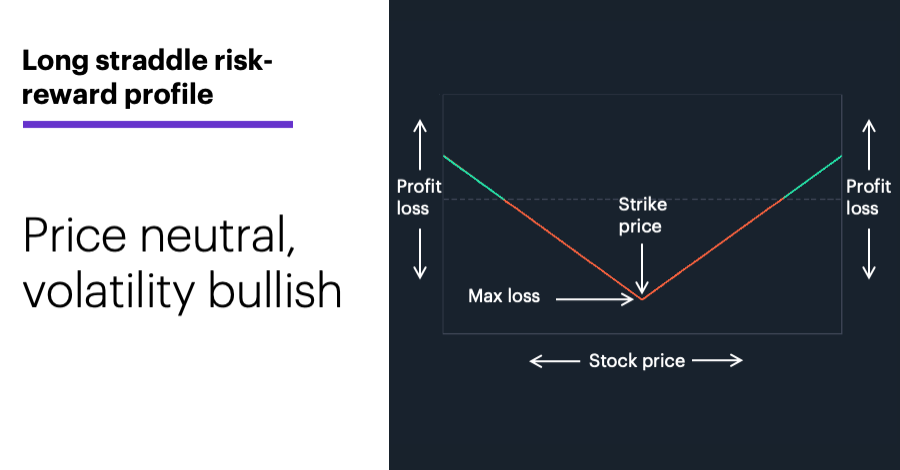 Source: Power E*TRADE. (For illustrative purposes. Not a recommendation.)
---
Yesterday morning when BMBL was at $29.63, a long straddle using the April $30 options was trading around 4.50 ($450). That means BMBL would have to either rally above $34.13 (the stock price plus the spread's cost) or below $25.13 (the stock price minus the spread's cost) to break even—that's a 15.2% price swing, either way. (The dashed lines on the price chart mark these thresholds.)
A realistic goal? One back-of-the-envelope way to get a general idea is to simply look at the stock's price history. For example, yesterday the April options had 16 trading days until expiration. Since the beginning of the year, BMBL's median 16-day price change was +/-10.5%, which means the long straddle's expected profitability required the stock to move more over the next 16 trading days than it had been accustomed to moving.
That doesn't mean it's impossible, but it provides at least one real-world benchmark, and highlights the fact that traders always need to have a solid reason for using a particular strategy. Remember, price-neutral options strategies like long straddles may remove one aspect of forecasting from the trading process, but they introduce others—the need to determine the potential size of a price move, and whether it is likely to occur within a limited time window.
Market Mover Update: Almost nowhere has the self-reinforcing web of inflation been more apparent lately than in the fertilizer market. By Q4 2021, fertilizer prices had already soared to their highest levels since 2008-2009,1 and supply constraints and rising fuel costs (natural gas is a key production input) exacerbated by the Russian invasion of Ukraine have sent prices parabolically higher in recent weeks. The same goes for the stocks of many fertilizer companies, including Intrepid Potash (IPI), LSB Industries (LXU), and Mosaic (MOS), all of which have gained more than 70% since January 21: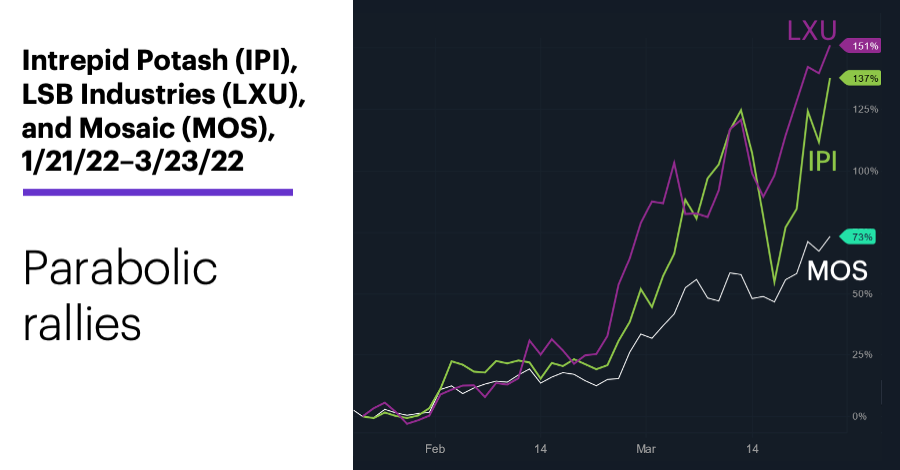 Source: Power E*TRADE. (For illustrative purposes. Not a recommendation.)
---
On Wednesday, May natural gas futures (NGK2) closed at a new contract high for a second-straight day.
Today's numbers include (all times ET): Durable Goods Orders (8:30 a.m.), Jobless Claims (8:30 a.m.), Current Account (8:30 a.m.), EIA Natural Gas Report (10:30 a.m.).
Today's earnings include: FactSet Research Systems (FDS), TD SYNNEX (SNX), NIO (NIO), Movado Group (MOV).
Click here to log on to your account or learn more about E*TRADE's trading platforms, or follow the Company on Twitter, @ETRADE, for useful trading and investing insights.
---
1 Worldbank.org. Soaring fertilizer prices add to inflationary pressures and food security concerns. 11/15/21.
Important note regarding economic sanctions. This event may involve the discussion of country/ies which are generally the subject of selective sanctions programs administered or enforced by the U.S. Department of the Treasury's Office of Foreign Assets Control ("OFAC"), the European Union and/or by other countries or multi-national bodies. The content of this presentation is for informational purposes and does not represent Morgan Stanley's view as to whether or not any of the Persons, instruments or investments discussed are or may become subject to sanctions. Any references in this presentation to entities or instruments that may be covered by such sanctions should not be read as recommending or advising on any investment activities involving such entities or instruments.  You are solely responsible for ensuring that your investment activities in relation to any sanctioned country/ies are carried out in compliance with applicable sanctions.
What to read next...
03/21/22
Stocks rebound as Fed raises rates, China pledges market support.
---
03/18/22
The Fed didn't surprise anyone on Wednesday, but that didn't prevent the markets from making some big moves.
---
03/16/22
Europe plans to accelerate renewable initiatives to reduce reliance on Russian energy.
---