Storage wars
Storage shortage slammed near-term crude prices into negative territory
Some tanker stocks have skyrocketed in recent weeks
Longer-term oil futures were not as impacted by this week's collapse
Yesterday may have been a bad day for the stock market, but it couldn't hold a candle to what was happening in the oil market.
Yesterday the US crude oil market suffered one of its worst days in history, with the May WTI crude futures (CLK0) barely fighting their way out of negative territory on their last day of trading, and the June futures (CLM0) down more than 65% at 1:45 p.m. ET to less than $7/barrel.
If you wondered how crude can trade for less than $0 at any time, or why the June futures were trading around $7 when the September futures (CLU0) were trading at $23.50 and the December futures were at $27.20, it all boils down to one word: storage.
Oil suppliers were so desperate for a place to put their oil, they were willing to pay you to take it off their hands.
The world is neck-deep in oil right now, thanks to the coronavirus-triggered global slowdown (severely curtailed demand) and an assist from the Saudi–Russia oil war, which kept crude flowing at near-record levels despite the economic contraction (oversupply).
Basically, this week's negative prices meant things got so bad that people holding crude oil were so desperate for a place to put it, they were willing to pay you to take it off their hands. The fact that September and December oil futures prices (the prices for crude oil to be delivered in those months) were still in the mid-to-upper $20s suggests that, at least right now, the problem is perceived to be an immediate one.
One of the few beneficiaries of this squeeze appears to be tanker stocks, which may sound counterintuitive, since imploding oil demand would seem to imply less fuel is being shipped around the globe.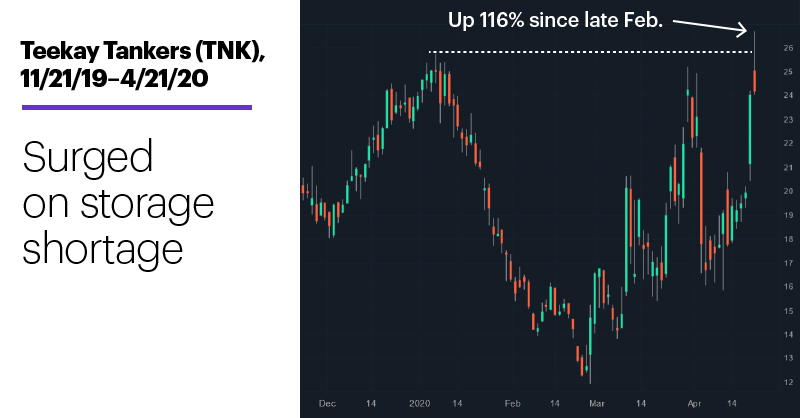 Source: Power E*TRADE
---
But tankers essentially function as floating storage facilities, which is why a stock like Teekay Tankers (TNK) jumped nearly 11% in early trading yesterday, punching temporarily above its January and March highs before retreating later in the day (above).
At yesterday's high of $26.66, the stock was up around 116% from its February 25 close—taking off to the upside just as the coronavirus lockdown was slamming almost every other corner of the stock market.
The weekly chart below shows that although the recent surge briefly pushed the stock to its highest level since June 2016, TNK is still trading well below its late-2015 levels in the $60s. (The stock topped $200 in 2008 before crude crashed that year.)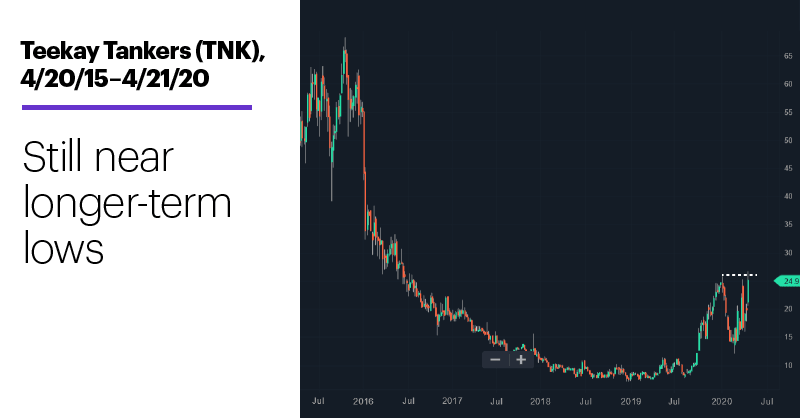 Source: Power E*TRADE
---
TNK's spike-and-retreat yesterday—by 3 p.m. ET the stock had slipped into the red—may signal to some traders that this week's oil-market developments could represent a possible "panic" extreme exacerbated by the expiration of the May futures contract. The stock tested, and fell back below, what is now an established resistance level (roughly $25.20-$25.75) after an exceptionally large rally.
It's unclear whether the oil-storage problem will persist, at least to the same degree. Global oil-production cuts are scheduled to kick in May 1, and there have been reports some major producers are considering starting earlier.1
Even if it turns out to be a longer-term issue, some short-term traders may be looking for tanker stocks like TNK to give back some of their recent gains as the immediate crisis cools. A price spike to resistance after a huge runup sometimes attracts short-term contrarians.
But traders on both sides of the aisle will likely be watching that resistance level in TNK.
Market Mover Update: Yesterday Constellation Brands (STZ) broke out of the bottom of its recent consolidation, falling more than 3% intraday (see "Bulls, bears, and booze").
Today's numbers (all times ET): FHFA Housing Price Index (9 a.m.), EIA Petroleum Status Report (10:30 a.m.).
Today's earnings include: Alcoa (AA), AT&T (T), Spirit Airlines (SAVE), Biogen (BIIB), Lam Research (LRCX), Kimberly-Clark (KMB), Quest Diagnostics (DGX), Thermo Fisher Scientific (TMO), PayPal (PYPL).
Click here to log on to your account or learn more about E*TRADE's trading platforms, or follow the Company on Twitter, @ETRADE, for useful trading and investing insights.  
---
1 The Wall Street Journal. Saudis Consider Cutting Oil Output Ahead of Schedule as Price Crashes. 4/20/20.
What to read next...
04/21/20
Liquor distributor makes a big print on the options tape, even as its stock price hunkers down.
---
04/20/20
Stocks extend gains as vaccine optimism helps offset more sobering economic data.
---
04/17/20
Surging stocks benefiting from the "lockdown economy" many present opportunities, but they come with risk. Here's how to manage it.
---