Stocks that stand out
Life in the Fastly lane: Cloud stock rises above Monday downturn
Stock up more than 700% since March
Shares have rallied off support level four times since July
When the market appears to be a one-way street, it can be a good idea to look for stocks that appear to be driving the wrong way. Sometimes it's just a confused driver. Other times, it can be a vehicle with a purpose.
Take yesterday's sell-off. Although some traders likely noticed tech stocks, which have led the market lower in recent weeks, were not the weakest link in the chain yesterday (a potentially bullish signal for some contrarians, by the way), Monday morning's downturn hit every sector of the S&P 500 (SPX), which was down more than 2% at noon ET.
But the LiveAction scan for biggest percentage price gainers showed there were some exceptions to the rule. While many of the tickers on the list were leveraged "inverse" ETFs (i.e., they rally when the market falls) and sub-$5 stocks, there were also a few stocks like cloud-platform provider Fastly (FSLY), which was up more than 6% in early trading, and on its way to an even bigger gain: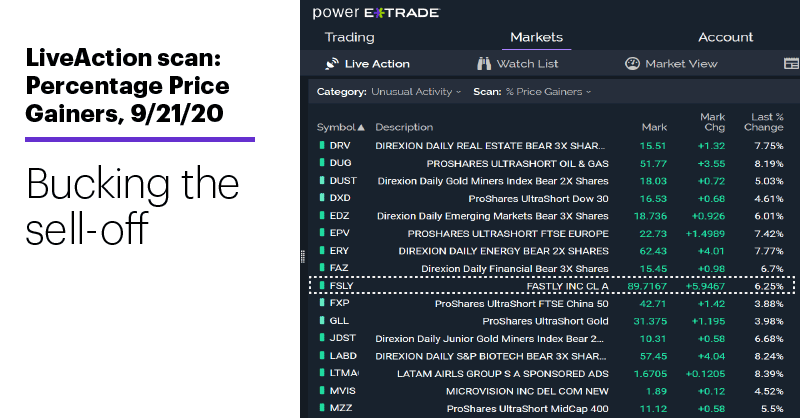 Source: Power E*TRADE
---
Monday, in fact, marked the third day of FSLY advancing against the backdrop of a faltering market. But  yesterday's rally had an important twist: The Oracle-Walmart-TikTok deal that's been the talk of the Street lately got the thumbs up from the White House, and appears to have a good shot of approval in Beijing.1
Just as worries that TikTok risked being banned in the US conspicuously knocked FSLY for a loop in August, yesterday's news appeared to give it a ride to the upside, because—surprise!—TikTok just happens to be FSLY's biggest customer.2
Fastly has turned out to be one of the better-performing IPOs from the class of 2019, which the following chart shows is thanks mostly to its epic rally off its March low—nearly 960% at the August high, and still well above 700%: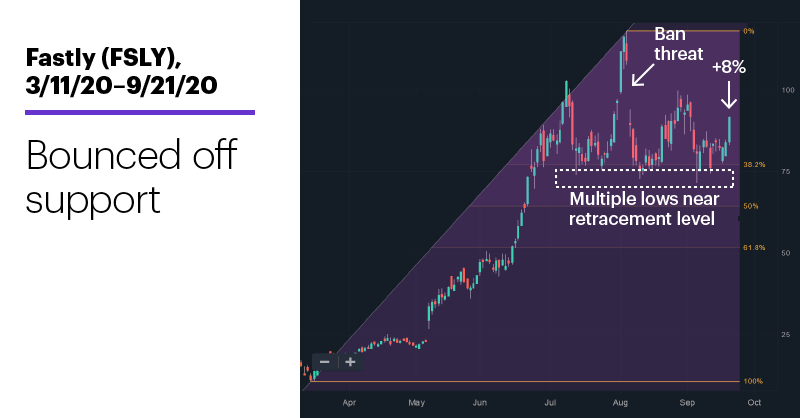 Source: U.S. Census Bureau
---
The TikTok deal aside, FSLY has been one of the beneficiaries of the massive demand for cloud-computing services in the pandemic era. It topped earnings in early August and hit a record high of $117.79 just one day before the TikTok ban threat slammed the stock to $89.64.
But the chart also shows that since early July FSLY appears to have established a line in the sand, repeatedly bouncing off a support zone (roughly $71.50–$73.50) just below the 38.2% retracement level of the March–August rally.
While most experienced traders wouldn't necessarily bet on a stock like FSLY continuing to rally in the face of a sustained market-wide sell-off, they may keep it in mind in the event of a broader rebound, since a stock that refuses to fall when almost everything else does can sometimes continue to outperform.
Market Mover Update: On the eve of today's earnings, KB Home (KBH) fell 4.3% intraday, but recovered to close toward the top of the day's range.
Today's numbers (all times ET): Existing Home Sales (10 a.m.), Fed Chairman Jerome Powell congressional testimony (10:30 a.m.).
Today's earnings include: AutoZone (AZO), Neogen (NEOG), Stitch Fix (SFIX), KB Home (KBH), Nike (NKE).
Click here to log on to your account or learn more about E*TRADE's trading platforms, or follow the Company on Twitter, @ETRADE, for useful trading and investing insights.  
---
1 The Wall Street Journal. China Has Reasons to Like TikTok's Trump-Approved Shotgun Deal. 9/21/20.
2 CNN.com. Fastly's stock plummets because its largest customer is TikTok. 8/6/20.
What to read next...
09/21/20
Tech continues to weigh on market as stocks enter final stretch of the month.
---
09/18/20
Home is where the rally is—or, that's where it's been the past five months. Can homebuilders extend their gains?
---
09/17/20
Luxury stock seeks to recapture its bling after busted acquisition.
---