Stocks that swim against the tide
Monday was S&P 500's biggest intraday sell-off since May 12
DOCN was among stocks that bucked the day's trend
Cloud provider has rebounded after correcting last week
Trading is often about watching for when a particular market does something "out of the ordinary"—say, potentially overreacting to earnings or other news, or moving in the opposite direction of similar markets or instruments.
Of course, such behavior is sometimes easier to describe as a concept than quantify precisely, but it can serve as a useful starting point for analysis. The underlying logic is that a market that gets out of line may soon get back in it—or at least move back toward it.
Monday's stock sell-off provides an example. With the S&P 500 (SPX) down around 2% halfway through the trading day, some traders may have been seeking out names that were bucking the trend, simply because such price action could highlight previously overlooked companies with bullish potential.
One of those stocks was Digital Ocean (DOCN), which squeezed its way onto the LiveAction scan for biggest percentage gainers yesterday morning with a 5%-plus rally:
Source: Power E*TRADE
---
DigitalOcean is a "cloud infrastructure" company that provides companies with server space and related tech-deployment capabilities they would otherwise have to build and manage on their own. But unlike other cloud providers—Amazon AWS and Microsoft Azure are the 800-lb. gorillas in the arena—DigitalOcean targets developers, start-ups, and smaller/medium-sized businesses instead of mega-corporations and governments.
The stock had a lukewarm early life, trading sideways to lower for several weeks after its late-March trading debut. But shares began to gain some traction in early June, rallying around 48% over the next month or so: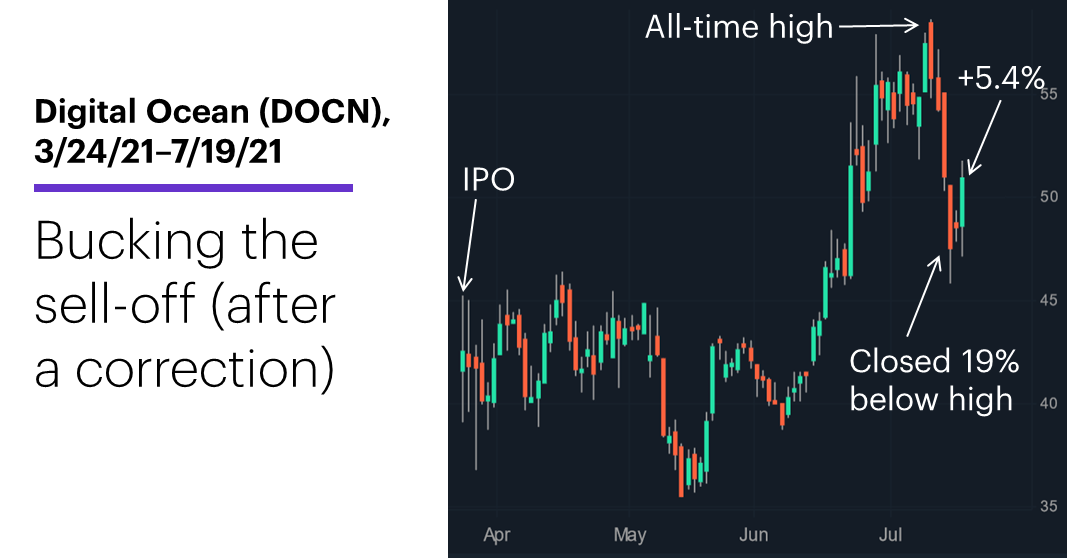 Source: Power E*TRADE
---
Yesterday was actually DOCN's second-straight market-bucking up day after it fell to a three-week intraday low of $45.80 last Thursday and closed 19% below the record high it had set just three days before that. Even after rebounding the past two days, DOCN was still roughly 10% below its average Street price target of $56.251 and around 13% below its record high of $58.65.
One thing to keep in mind regarding stocks that fight the trend: It's important to find out if there's a specific catalyst that may explain the move. For example, another stock on the LiveAction scan, Fulgent Genetics (FLGT), was up more than DOCN yesterday morning. But because it's in the COVID-19 testing business—and yesterday's sell-off was widely attributed to worries about the Delta variant2—a reasonable assumption is that it could lose momentum if these anxieties ease. DigitalOcean, on the other hand, had no parallel catalyst to explain its price action.
That doesn't guarantee DOCN and other stocks that bucked yesterday's trend are destined to keep moving to the upside—especially in the event of a continued global equity downturn. But their behavior may at least plant them on a few more trading screens.
Market Mover Update: One market that was definitely not moving in the opposite direction of stocks was oil, which suffered its worst intraday sell-off of the year after OPEC and its allies formally announced their decision to increase crude oil production into 2022. September WTI crude oil (CLU1) fell more than 8% ($6/barrel) intraday to a seven-week low of $65.56.
Today's numbers include (all times ET): Housing Starts and Building Permits (8:30 a.m.).
Today's earnings include: United Airlines (UAL), Halliburton (HAL), Citizens Financial Group (CFG), Tesla (TSLA), Intuitive Surgical (ISRG), Teledyne Technologies (TDY), Netflix (NFLX), Philip Morris (PM), Signature Bank (SBNY).


Today's IPOs include: HCW Biologics (HCWB).
Click here to log on to your account or learn more about E*TRADE's trading platforms, or follow the Company on Twitter, @ETRADE, for useful trading and investing insights.
---
1 TipRanks. DigitalOcean Holdings Stock Forecast & Price Targets. 7/19/21.
2 The Washington Post. Dow slides more than 900 points as delta variant fears spark global sell-off. 7/19/21.
What to read next...
07/19/21
Market slips as traders mull inflation, earnings, and signals from the options market.
---
07/16/21
nverting a popular call spread shows how traders use puts to make limited-risk bets on possible down moves.
---
07/15/21
Logical response or overreaction? A potential reshuffling of medical fees appears to catch traders off guard.
---