Stocks surge as earnings season approaches
Best week for S&P 500 since 1974
Biggest weekly gain for small caps—ever
This week: Get ready, earnings season is here
Two weeks ago the S&P 500 (SPX) cranked out a 10.3% return—its best week since March 2009, and its fifth-best week of the past six decades.
Last week it took the market just four days to blow those records out of the water, as the SPX's 12.1% return marked the index's best week since October 1974, and its second-biggest since 1957.
And the market did it despite another mind-blowing jobless claims number on Thursday. But that unsettling reminder of the economic impact of the coronavirus may have been offset by hope that the US outbreak could turn out to be less deadly than previously estimated.
At its high on Thursday, the SPX had erased a little more than half of its February–March sell-off, and had rallied a remarkable 28.6% off its March 23 low: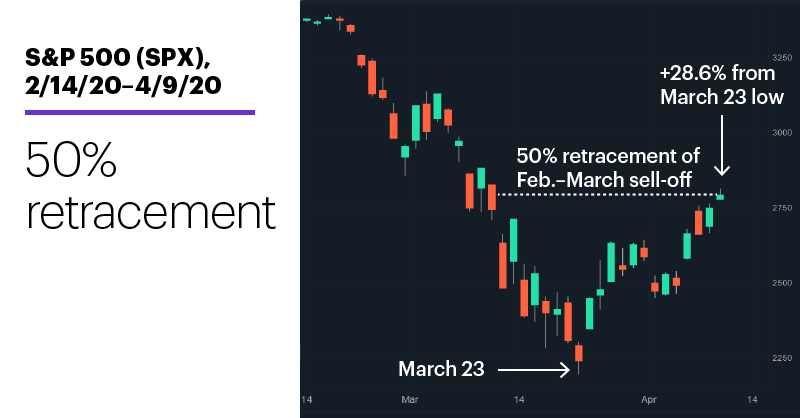 Source: Power E*TRADE
---
The headline: Stocks push higher on hopes US coronavirus outbreak is nearing peak.
The fine print: Data from Johns Hopkins University last week indicated that even though the number of daily deaths in the US was still near its highest levels, the number of new coronavirus cases was trending lower.1
The quote: "Bear markets end with recessions, they don't begin with them, making the risk/reward more attractive today than it's been in years; with the twist that the next leg of the bull market could look much different than the last[.]" Mike Wilson, Morgan Stanley U.S. equity strategist.2
The move: 59.2%, LGI Homes (LGIH) rally last week, part of a huge week for homebuilder stocks.
The number: 6.6 million, the number of people who filed for unemployment in the week ending April 4.  With the previous week's number being revised upward from 6.6 million to 6.9 million, the three-week total reached 16.8 million.
The scorecard: The S&P 500 and the Dow may have gotten the majority of last week's press, but the small-cap Russell 2000 (RUT) made the truly epic move last week—its largest one-week gain in history:
Source: Power E*TRADE
---
Sector roundup: The strongest S&P 500 sectors last week were real estate (+20.5%), materials (+17.7%), and financials (+16.5%). The weakest sectors were consumer staples (5.5%), communication services (7.5%), and health care (8.3%).
Highlight reel: Immunomedics (IMMU) skyrocketed 100% to $18.78 on Monday, while Neurobo Pharmaceuticals (NRBO) jumped 41% to $27.21 on Wednesday. On the downside, Luckin Coffee (LK) fell 18% to $4.39 on Monday before trading was halted.
Futures action: After marching in place much of last week, May WTI crude oil (CLK0) jumped 8.5% to $28.36/barrel on Thursday morning amid reports Saudi Arabia and Russia would agree to cut oil production—then slammed lower to close down 7.5% around $23.20 when the announced reduction (10 million barrel/day, for two months) was perceived to be insufficient to offset the drop in demand.3
Gold made its most significant push yet above its resistance level around $1,700 (see "Ground-floor rally"). June gold (GCM0) spiked to $1,742.60/ounce on Tuesday, and ended the week with a 3% rally on Thursday to a contract-high close around $1,733.50.
Last week's biggest futures up moves: June Brent crude oil (BM0) +24%, May gasoline (RBK0) +16%, and May WTI crude oil (CLK0) +34%. Last week's biggest futures down moves: May VIX (VXK0) -14.17%, May orange Juice (OJK0) -12.24%, and April lean hogs (HEJ0) -8.15%.
Coming this week
Buckle up, we're about to kick off the first earnings season of the pandemic era. Tuesday ushers in the first of the high-profile financial stocks:
●Monday: Washington Federal (WAFD), Pentair (PNR), Pinnacle Financial Partners (PNFP)
●Tuesday: JPMorgan Chase (JPM), Fastenal (FAST), Wells Fargo (WFC), Johnson & Johnson (JNJ)
●Wednesday: Atlassian Corporation PLC (TEAM), Bank of America Corp (BAC), Bed Bath & Beyond Inc (BBBY), U.S. Bancorp (USB), Citigroup Inc (C), PNC Financial Services Group Inc (PNC), UnitedHealth Group Inc (UNH), Goldman Sachs Group Inc (GS), Kinder Morgan (KMI), Morgan Stanley (MS)
●Thursday: Abbott Laboratories (ABT), Dover Corp (DOV), Danaher Corp (DHR), Honeywell International Inc (HON), Skechers USA Inc (SKX), KeyCorp (KEY)
●Friday: Kansas City Southern (KSU), Schlumberger (SLB)
Retail sales and housing numbers highlight this week's economic calendar:
●Tuesday: Imports and Exports     
●Wednesday: Retail Sales, Empire State Index, Industrial Production and Capacity Utilization, Business Inventories, NAHB Homebuilders' Index, Beige Book
●Thursday: Weekly Jobless Claims, Housing Starts and Building Permits   
●Friday: Eurozone Consumer Price Index (CPI)    
Go to the E*TRADE market calendar (login required) for an up-to-date earnings schedule and a complete list of splits, dividends, IPOs, and economic reports. The Active Trader Commentary also lists earnings announcements, IPOs and economic report times each morning.
Market Mover Update. Micron Technology (MU) rallied more than 3% intraday on Thursday but reversed to close in the red after tagging the 61.8% retracement of its February–March sell-off (see "Processing a chip rally").
Seasonals vs. the here-and-now
In exceptional market environments—i.e., right now—it's not necessarily a good idea to rely too much on seasonal market tendencies, since here-and-now catalysts will likely overwhelm the types of patterns that sometimes unfold around market holidays during "normal" times. That said, last Thursday marked the 17th time in the past 22 years the SPX closed higher on the Thursday before Easter.
Since 1998 the market has had a minor tendency to rally in the first four days after Easter, too: The SPX has gained ground from Monday–Thursday in 16 of 22 years (73% of the time), with a median return (0.81%) more than three times its historical four-day median return of 0.24%. (The Friday after Easter has, more often than not, closed lower—12 times in the past 22 years.)4
If the market follows this short-term bullish pattern, it would arguably be fighting against what some traders may see as a market that is overbought in the near term—last week marked the first time the SPX gained more than 20% in three weeks, after all. The index also pared its gains on Friday after punching a little above the implied resistance of the 50% retracement level of the coronavirus sell-off.
Click here to log on to your account or learn more about E*TRADE's trading platforms, or follow the Company on Twitter, @ETRADE, for useful trading and investing insights.
---
1 CNN.com. US coronavirus deaths pass 14,000, but new cases are trending down and future projections are better than expected. 4/8/20.
2 MarketWatch. 'The worst is behind us'—the most attractive risk-reward in years means it is time to buy stocks, Morgan Stanley says. 4/7/20.
3 Bloomberg.com. Oil Tumbles With OPEC+ Cut Seen Too Little to Offset Demand Loss. 4/9/20.
4 Reflects S&P 500 (SPX) daily closing prices from 1/2/98–4/30/19. Supporting document available upon request.
What to read next...
04/09/20
Initially hammered in the coronavirus sell-off, chip stocks have bounced back with a vengeance.
---
04/08/20
Retailer's rally and options volatility give traders more than one way to play potential upside.
---
04/07/20
Housing stock seeks to build on foundation, while gold regains its shine.
---